In a Premier League season that has brought silence, a strop and very little else of note, Cristiano Ronaldo proved on Sunday evening that he is still capable of making an enormous noise.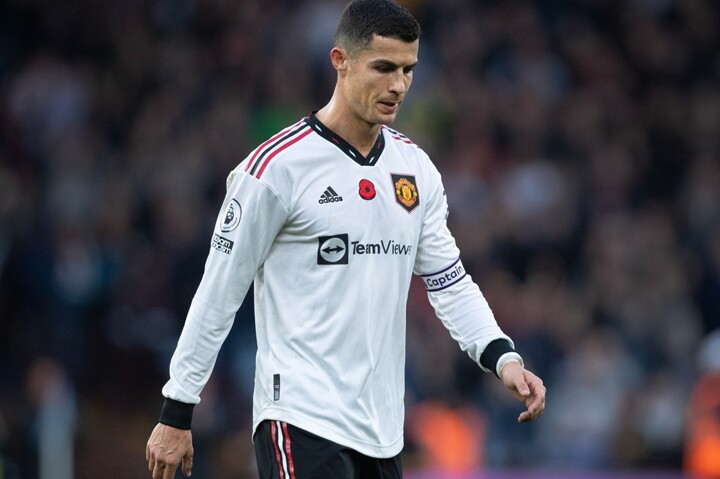 An interview with TV presenter Piers Morgan was like the pin being pulled on a grenade.
Ronaldo spoke of betrayal and disrespect, taking swipes at Manchester United's head coach Erik ten Hag and the club's hierarchy in a video already watched 11 million times. Even Wayne Rooney and Ralf Rangnick were caught in the blast.
This was almost certainly the beginning of the end for Ronaldo and United second time around; an orchestrated attack on his employers with the apparent aim of engineering a January exit.
"I feel betrayed," he said in one snippet. "Some people, I feel, don't want me here. Not just this year, but last year too."
Ronaldo can be sure that is the case now.
The Athletic analyses where United stand as they survey the damage done in an unsanctioned interview due to be aired in full this week on Wednesday and Thursday.
How did the interview come about and when did it take place?
Ronaldo and Morgan have history. They last came together in 2019 for Cristiano Ronaldo Meets Piers Morgan, a show for UK channel ITV that was shot at a time when the footballer was still with Italian club Juventus. That hour-long interview charted Ronaldo's rise to becoming one of the most recognisable sportsmen on the planet and also addressed the historic rape allegations made by American woman, Kathryn Mayorga, something the player has always denied.
Morgan has long championed Ronaldo but has so far declined to explain when the latest interview, this time for Talk TV's programme Piers Morgan Uncensored, was actually filmed.
The TV host was asked that question twice when appearing on UK radio station TalkSport on Monday morning. The Athletic understands it was filmed only last week. "I've done it recently, but that's between me and Cristiano," said Morgan. "Cristiano asked me to do it, simple as that. I didn't ask him, he asked me."
Morgan says the interview was a result of a "build up of deep frustration" after Ronaldo's stock plummeted at Old Trafford. "He knows it's going to rattle a few cages," Morgan added.
This "incendiary" moment has always been promised. Ever since the summer, when Ronaldo failed to force his exit from United after they failed to qualify for this season's Champions League, he has pledged to give his version of events to combat the "lies" being told by the media.
An Instagram post on August 16 said the "truth" would come "in a couple of weeks". Turns out it was nearly three months, but it came as promised, with the first segments released at 10pm (UK) on Sunday.
What about the timing?
For United, it is anything but ideal. And that has heightened the sense of disappointment felt within the club. The Premier League's World Cup break had just been reached with a dramatic 2-1 win away to Fulham on Sunday afternoon, a result that kept Ten Hag's side on the coat-tails of the top four.
The stoppage-time victory, courtesy of a goal by 18-year-old winger Alejandro Garnacho, had created a narrative of United going in the right direction. "We are now united, we have togetherness," said Ten Hag afterwards. "The dressing room, the staff, the directors, the whole club and the fans."
Ronaldo was not among the travelling party at Fulham, of course, again complaining of illness a week before the World Cup finals kick off. As with the Carabao Cup win over Aston Villa three days earlier, he was not in Ten Hag's matchday squad.
United were informed of Ronaldo's interview shortly before Morgan tweeted his first teaser and before that point only had suspicions that something of this nature was in the pipeline.
Gestifute, the agency founded by Jorge Mendes that has represented Ronaldo throughout his career, is not thought to have been involved. Like United, the interview caught Gestifute unaware.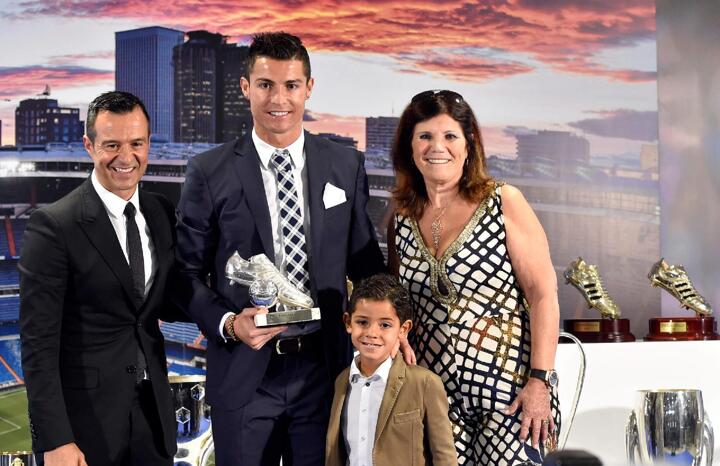 Cristiano Ronaldo with his long-term agent Jorge Mendes, his son Cristiano Jr and his mother Maria Dolores dos Santos Aveiro (Photo: Gerard Julien/AFP via Getty Images)
What is United's stance?
Nothing was said until 2pm on Monday, when United released a 53-word statement addressing the latest indiscretions of their most high-profile employee.
"Manchester United notes the media coverage regarding an interview by Cristiano Ronaldo," it reads. "The club will consider its response after the full facts have been established. Our focus remains on preparing for the second half of the season and continuing the momentum, belief and togetherness being built among the players, manager, staff, and fans."
There were echoes of what Ten Hag had said the night before about unity and common goals. Be that a thinly-veiled swipe or merely an endorsement of their strategy, it was a telling first response.
The announcement of United's NFT partnership with Tezos, planned a week in advance, had to be pushed back by two hours on Monday as United drafted their brief statement. Ronaldo was absent from promotional videos shot for the launch which include David de Gea and Bruno Fernandes.
What is Ten Hag's stance?
There is a sense that United's coaching team, led by Ten Hag, are relaxed over the latest developments. This is not August, when the newly-appointed Dutchman was having to convince supporters of his value, but a point of the season when United are showing signs of development without Ronaldo, who turns 38 in February, in the team.
Ten Hag has made it clear to United's hierarchy he is happy to see Ronaldo move on and the interview given to Morgan will only have entrenched that view. United, Ten Hag believes, can be stronger without the distractions that come with the Portuguese superstar.
There is even a belief that such caustic comments have played into the hands of Ten Hag and the club, hastening the point of separation without forcing the issue from within.
The release of this interview, a week before the first game at the World Cup (which Ronaldo insists he is now focused on), has also brought scepticism from within the United camp over the player's claims to be ill.
Question marks had already been placed over his professionalism when refusing to come on as a substitute in the home win against Tottenham in October, instead choosing to leave Old Trafford before full-time. Ronaldo subsequently trained with younger players after that fallout, away from the first team that prepared for the 1-1 draw at Chelsea three days later.
Ten Hag will push back against any suggestion he has not shown Ronaldo respect. The head coach purposely held out an olive branch after that Tottenham fixture, even making him captain for last weekend's trip to Villa.
Ronaldo's claims that United did not believe his daughter was ill during pre-season are also countered privately by the club. Time off was sanctioned and Ten Hag only referenced "personal reasons" during the tour to Thailand and Australia he missed so as not to divulge details of Ronaldo's situation.
What do other United players make of it?
Senior players are known to think his early departure from the Spurs game was awful behaviour.
There was a general feeling of surprise at the timing and content of the interview but the consensus in the squad is that this is Ronaldo trying to force his exit.
It has not caused the kind of ripples you might expect for such a major player — his team-mates already know how he feels and his relevance to the United side is diminishing. They feel spirit is being built under Ten Hag and want to move on from the episode to avoid jeopardising that mood. The attack on Rooney, in particular, was also considered needless.
Some of his team-mates watched Ronaldo's interview on phones while travelling back from the Fulham game on Sunday night.
Despite social media scrutiny of a clip that appeared to show a frosty greeting between Fernandes and Ronaldo as they met up for World Cup duty on Monday, sources close to the former (who wish to remain anonymous to protect their positions) insisted to The Athletic that it was a joke about his flight from England arriving late and that the exchange had been taken out of context.
Has there been sympathy for some of Ronaldo's complaints?
Ronaldo's grievances over the facilities atUnited will find a sympathetic ear from several players and staff who have experienced their Carrington training ground over the years. Zlatan Ibrahimovic was another big name who complained.
The complex is largely the same today as when it was originally designed, under Sir Alex Ferguson's guidance, in 2000 — although tweaks have been made according to the wishes of each subsequent manager.
United have been aware of Ronaldo's concerns, and they did make modifications in response, most notably in a refurbishment of the swimming pool and sauna, where tiling was worse for wear. There is an underwater running machine and a hydrotherapy pool.
Ten Hag has instigated some changes already too. A small auditorium has been rekitted with a new £200,000 television for tactical feedback to players, with Ten Hag requesting a tiered seating layout. Floodlights over training pitches went up in the summer.
The gym, which United believe is the biggest workout space in the Premier League, has had new flooring laid and fresh mottos painted on the walls, which Ten Hag was consulted over. "We are determined" and "We are resilient" are two examples, with the "we" in red for emphasis.
Cristiano Ronaldo was critical of Manchester United's training facilities (Photo: Ash Donelon/Manchester United via Getty Images)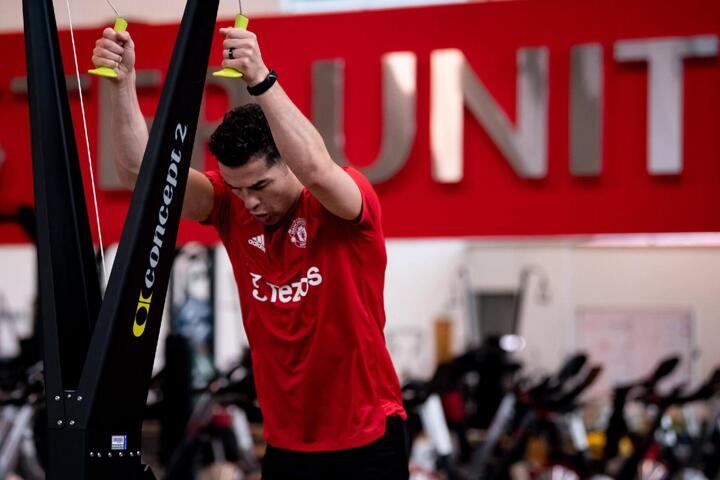 Though these incremental upgrades and slogans have not impressed Ronaldo, master-planner KSS has also been appointed for larger-scale renovations. United want to improve the flow of the training ground because extensions that have been added are not optimal for players walking from one area to the next.
Mags Mernagh, who played a pivotal role in the construction of Leicester City's superb new training ground, has been hired as programme director to take the lead.
A regular complaint, however, has been the length of time taken for projects in general to reach fruition, and some doubt this one will be any different.
Casey Stoney stepped away from her role as United women's manager after becoming exasperated at the slow pace of progress.
Her players changed in portable cabins and even now, as winter beckons, the women's gym is under a tent. A new building to house their dressing rooms, as well as the academy, is in the works but the anticipated spend has risen from £8million to £10million because of the cost of raw materials. Planning permission has been granted and United are waiting for tender offers.
Furthermore, on Monday evening, another clip of the interview was released in which Ronaldo is critical of how the Glazer family, the Americans who own United, run the club.
Ronaldo says Glazer family 'do not care about Manchester United'
Where do United stand legally?
Ronaldo's deal is likely to include terms which mean he could well have breached his contract by undertaking an interview without United's permission. Its content, so critical of his employers, could constitute misconduct.
How United interpret the interview, with so much of it yet to be heard, will be key.
Richard Arnold, United's chief executive, will have the ultimate decision. He will doubtless consult the club's legal team and could even be considering terminating the player's contract seven months before it is due to expire.
That would be considered the nuclear option, however. Before going down that route they would no doubt want clear advice that what Ronaldo said was a serious enough breach of contract. No decisions have yet been made but initial legal advice was sought by the club on Monday.
United could also have the power to hit Ronaldo with a maximum fine of two weeks' wages — which would be roughly £900,000.
One high-profile precedent is Romelu Lukaku.
The striker gave his own explosive interview, this time to Sky Italia last season, lambasting Chelsea's behaviour when failing to play regularly. Thomas Tuchel, then Chelsea head coach, said Lukaku would face "some discipline action" for his part in the interview but, unlike Ronaldo, this was a player signed for £90million just a few months earlier. Lukaku is now on a season-long loan back at Inter Milan, the club he had left for Chelsea.
What happens to Ronaldo in January?
The end is unquestionably nigh now. United and Ronaldo will both seek a separation once the transfer window opens at New Year. The only question is on whose terms the split comes.
There is a feeling within the club that Ronaldo will attempt to secure a free transfer, 18 months after an emotionally-charged reunion following 12 years with Real Madrid and Juventus and amid links with a move to Manchester City had cost United £12.9m.
Ronaldo is unlikely to meet resistance from the club but much will depend on any financial settlement that is reached to cover the final six months of a two-year deal signed to complete his transfer from Juventus. Ronaldo would still be due about £12million in wages on a contract worth £450,000 a week and so far has shown no indication he would be willing to reach a mutual termination of his deal.
The difficulty for him and Gestifute, just as it was in the summer, will be finding a new home.
Ronaldo was unable to drum up the necessary interest to force a move away from United ahead of this season, despite Chelsea, Sporting Lisbon, Napoli and Borussia Dortmund all being sounded out. The only firm offer came from Saudi Arabian side Al-Hilal.
Bayern Munich have indicated they are not interested in signing him, amid reports they had met him for talks.
A willingness to accept a pay-cut on the wages currently paid by United could see minds changed in the winter window, especially if Ronaldo had the flexibility of signing as a free agent.
A strong World Cup with Portugal might also bring suitors to the table but Ronaldo's powers are not what they were.
Where has Ronaldo been and what's next for him?
United staff had not seen Ronaldo since Wednesday morning owing to the illness that has kept him away from the club's training ground. They were content to let the veteran player recover on his own and now Ronaldo's focus shifts emphatically towards Portugal's preparations. He is captain of a 26-man squad headed to Qatar and knows this will, in all probability, be his final World Cup.
Portugal have a friendly against Nigeria in Lisbon on Thursday night — which is when the second and final part of his pre-recorded interview with Morgan is due to be aired.
After that it's off to Qatar, where Portugal face Ghana next Thursday in the first of their three Group H games. Meetings with Uruguay and South Korea follow over the next eight days to decide which two teams advance to the knockout phase.
"Total and absolute focus on the work of the national team," Ronaldo wrote on Twitter last night. "A united group, towards a single objective: to fulfil the dream of all Portuguese people!"
Cristiano Ronaldo trains with Portugal ahead of the World Cup (Photo: Pedro Fiúza/NurPhoto via Getty Images)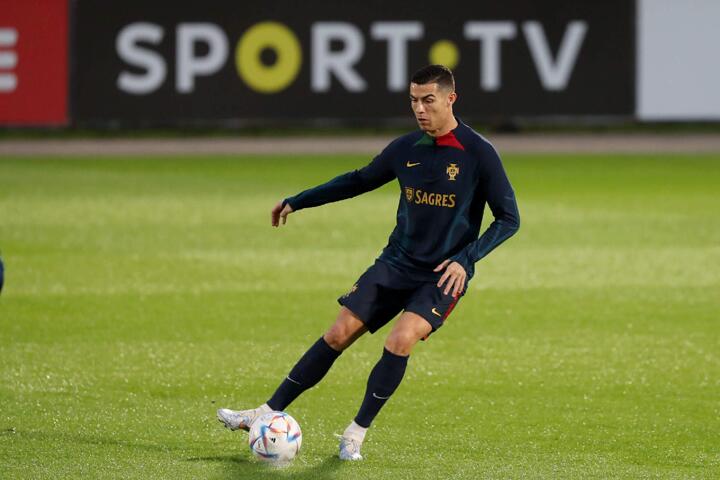 How far Portugal progress will shape how soon United have to deal with their fallen rebel but even the earliest possible exit will see Ronaldo remain with Portugal until at least that South Korea game on December 2.
United's season resumes with a Carabao Cup last-16 tie against Championship side Burnley in the midweek after the World Cup final on December 18, before post-Christmas Premier League matches against Nottingham Forest and Wolves.
By that time, the January transfer window — the point where this saga can meet its end — will be looming increasingly large.