Saudi Arabia have beaten Argentina 2-1 in one of the biggest upsets in World Cup history.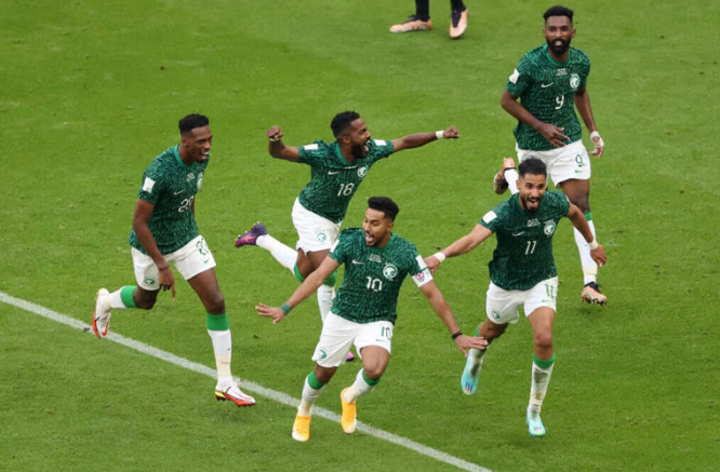 The opening match of Group C at the 2022 World Cup looked to be going as expected after Lionel Messi's early penalty. Yet two goals in the first eight minutes of the second half — from Saleh Al-Shehri and Salem Al-Dawsari — stunned the South American champions, who entered the tournament as one of the favourites to lift the trophy.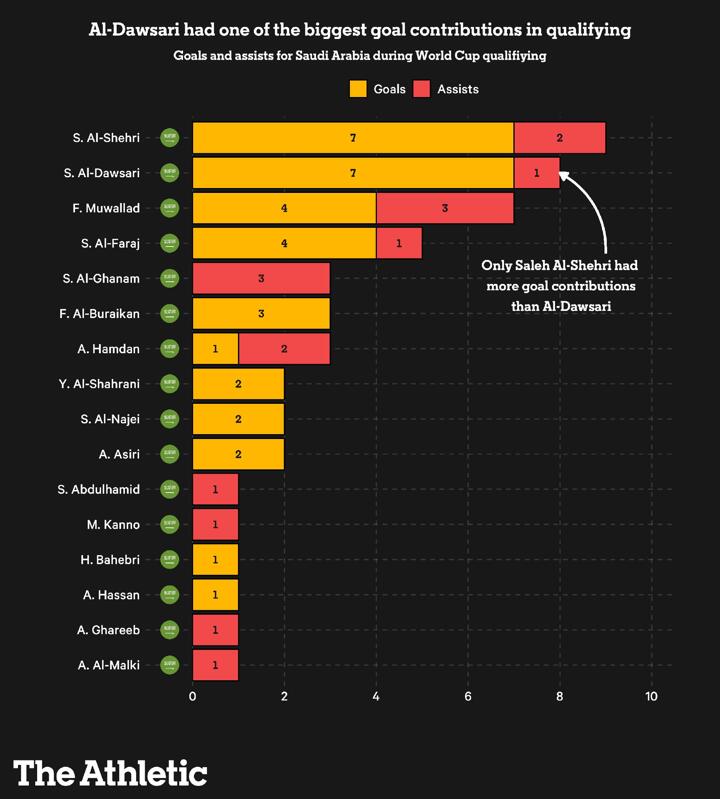 Our writers analyse the key talking points from the game.
Saudi straight to the point
Saudi Arabia's direct, efficient play should not have come as a surprise to Argentina. The two goals that sucker-punched them after the break did come in quick succession, but the Saudis' clinical output was shown in their qualifying campaign.
Saudi Arabia had the highest "big chance" conversion rate (41.2 per cent) among all Asian sides on the road to qualifying for Qatar 2022, compared with opponents who scored just 14.3 per cent of theirs against them. It feels as though this meeting with Argentina was a perfect encapsulation of that qualifying campaign.
A word must also go to Salah Al-Shehri and Salem Al-Dawsari. Their goals were the difference on the day and they were also the men most likely, based on Saudi Arabia's recent output.
As shown in The Radar, Al-Shehri and Al-Dawsari were the top two goal contributors in World Cup qualifying, and while Saudi Arabia might have only had three shots in total across the whole game and an expected goals (xG) number of 0.14 compared to Argentina's 2.23, the few opportunities they did have were taken with aplomb by the attacking pair.
Argentina are not done yet
Spain lost their first game at the 2010 World Cup and still went home with the trophy, which is probably handy to remember. This Argentina team are not done yet, especially if working on the basis that Messi's form improves as the games go on.
It's a funny one because this isn't the flaky Argentina who were embarrassed at the previous World Cup four years ago, they are a legitimately good team now, and had they picked better options in the first half they could easily have swept to a big victory here. The runs and interchanging of positions by their forward players looks like it bodes well, especially in more patient matches where there isn't the temptation to play balls in behind and end up in a frantic encounter with little control.
Their players are all-in, which was probably highlighted by the number of slide tackles made by their forwards and midfielders. It's a team that is better set up than many of their previous iterations, less reliant on Messi but, at the same time, one that provides him with much more support. And yet they have just lost to Saudi Arabia in one of the all-time World Cup shocks!
Argentina weren't hugely open in the first half, but there were gaps in the defence, and those were exploited brilliantly at the start of the second half. Is that telling of the pressure and expectation on this team? Is this the first step towards a genuinely unforeseen disaster?
Their response to going behind and failing to exploit the high line despite having approaching 60 minutes to go (including all the added time) suggests they're not quite as accomplished as expected, but this is a strong squad with top players and, as much as there were areas of concern here, and the result is certainly a disaster, the performance was not quite as bad as all that.
Bravery of Saudi high line and the reason behind it
Well, it was certainly brave! Had Argentina got their runs right in the first half, Herve Renard's team would have joined Iran as early laughing stocks of this World Cup, deploying a suicidal approach that allowed Messi and company to run through again and again. Certainly, Argentina were ready to test that high line from the very first minute, with wide men on both sides sprinting in behind as soon as one of their centre-backs got on the ball.
Argentina's approach in the first half was almost perfect — they had four, five and even six men strung out across the attack and their movements were in sync; for example, men running in behind coupled with others dropping deep, and it all worked very smoothly. If Messi dropped deep, Rodrigo De Paul would push up from midfield to replace him. Lautaro Martinez dropped deep and a runner went in behind — this is exactly what happened for Messi's eventually-disallowed early goal, but he strayed offside.
Indeed, that was Argentina's entire problem. As well-disciplined as the Saudi back line was, had Argentina made more intelligent runs, or picked their passes better, they would have been out of sight by half-time. That's football, eh?
The two Saudi goals were bolts from the blue: great strikes and not much to pick at from an Argentina point of view, although Messi was robbed for the first (not the only time) and they were unorganised at left-back for the switch of play.
After that, Saudi stuck to their high line and will be lauded for it.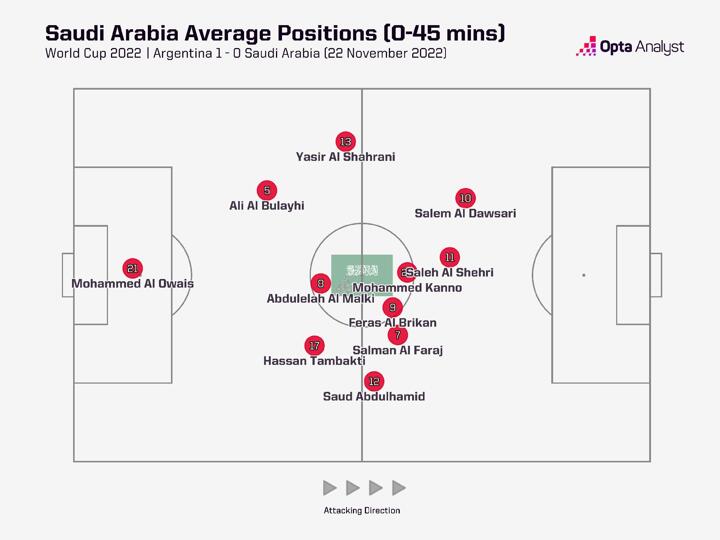 Other teams may not have, they may have reverted to a low block having got something to hold onto, but they were brave.
Again, on another day it could have gone against them, but their back line was well drilled and the players ahead of them applied exactly the kind of pressure you need, meaning Argentina's technicians, even Messi (as highlighted by him losing the ball before the equaliser) did not have a comfortable afternoon.
Argentina did manage to get in behind after that, and they were a threat from crosses, but the finishes were not quite there.
In fact, it was almost as if they had too much space to run into: rather than settle down, put their foot on the ball and build momentum, it was too tempting to play a direct pass into that space and go from there. But when the attacks faltered they lost the ball, and the momentum, and the game drifted — even into the 114th minute — and that suited their opponents, who will now go down in World Cup history.
Sam Lee and Mark Carey
Set-piece controversy
For all of Argentina's attacking talent on show, it was a set piece that broke the deadlock after 10 minutes — in somewhat controversial fashion.
Controversial in the context of the World Cup so far. A VAR-induced penalty was awarded after Ali Al-Bulaihi pulled down Leandro Paredes in the area, with no eyes on the ball when it was played in.
Referees have been asked to look out for blocking and holding of players without looking at the ball, meaning you are likely to see more penalties given for this offence across the tournament.
The penalty appeal looked very similar to another incident on Monday, which saw England's Harry Maguire wrestled to the floor at a corner by Roozbeh Cheshmi of Iran.
What is the difference between these two incidents? Well, referees are encouraged to assess whether the attacking player is prevented from making a genuine attempt for the ball when they are fouled. If that is the case, it will influence the decision of the VAR.
Whether or not you agree with the rule is one thing, but with greater scrutiny of what is going on in the box during set pieces, there is no place to hide for any defender who is getting too tight to his man.
Saudi crowd sows panic with Argentina
Thousands of Saudis crossed the border into neighbouring Qatar and tried to make the Lusail Stadium feel like the King Fahd back home.
Anyone who has been to a Riyadh derby knows how passionate the fans can be and the Saudis brought that intensity on Tuesday. They frayed nerves in the Argentina ranks when Messi and his team instead needed to settle.
Paredes sliced a pass near his own penalty area straight after Al-Shehri's equaliser and the noise in the stadium went up and up and up. The Saudi players seized their moment, pouncing on a Nicolas Otamendi mistake in the build-up to Al-Dawsari's historic winner.
This is what home advantage in the Arab world feels like. Argentina were rattled, their own diehard fans oddly subdued and frankly stunned as a 36-game unbeaten run came to an end.
James Horncastle
Messi movement
It's maybe too obvious to talk about him, but you still cannot take your eyes off Messi. He's Argentina's all-time goalscorer, their captain, and has now played in a record-equalling five World Cups across his career.
His 65 touches across this game were just the sixth-most for Argentina and largely consisted of him dropping in with runners in behind, before scurrying to support his team-mates in central areas.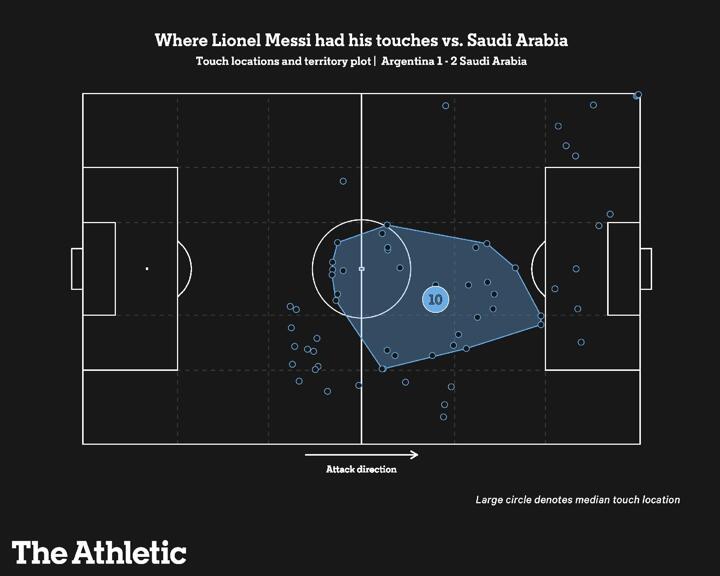 He might be disappointed that he was unable to do more with the opportunities he had.
A gilt-edged chance in the early minutes should have been converted by Messi's standards, and despite scoring Argentina's goal from the penalty spot for a quick 1-0 lead, things just didn't quite drop for him. To add insult to injury, it was Messi who was dispossessed on the halfway line for Saudi Arabia's equaliser.
Despite assuring Argentina fans he was fully fit, there were fears over Messi's physical condition after photographs emerged of his swollen ankle when he trained separately from the rest of the squad this week.
As stated above, there is plenty of time for Argentina to claw this back, but it is a less-than-ideal start for Messi and his Copa America champions.