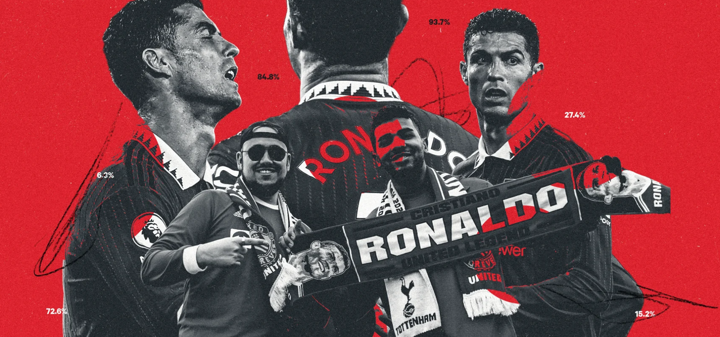 Cristiano Ronaldo spent the summer trying to leave Manchester United.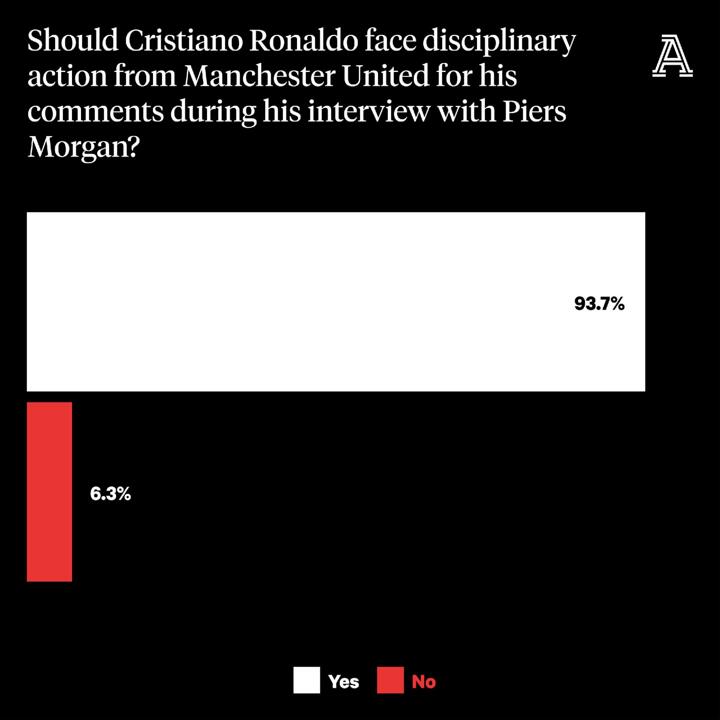 A viable suitor did not come forward and he remained at the club, where he has scored three goals in 16 appearances this season, but his position now looks to be untenable after saying he does not "respect" Erik ten Hag during an interview with TalkTV.
His comment about the United manager was just one of several damaging revelations made by the 37-year-old, which included him saying he feels "betrayed" by the Premier League side and that "some people" do not want him there.
Ronaldo first floated the idea of conducting an interview on August 16, promising the "truth" would come "in a couple of weeks".
At the time of the former Real Madrid player's Instagram post, United had lost their opening two games against Brighton and Brentford. He started neither after missing the club's pre-season tour of Australia — due to family reasons — and having to play catch-up.
The Athletic asked our Manchester United subscribers for their thoughts on Ronaldo following his interview — and the results are a damning indictment on what he said.
Over 80 per cent of those surveyed want the club to terminate his contract.
Let that sink in for a second. Ronaldo is arguably one of United's greatest ever players and scored 24 goals last season after an emotional return to Old Trafford — but some supporters have had enough.
More than 90 per cent believe he is unable to justify "feeling betrayed" by United, a similar number think Ten Hag has not treated the forward unfairly, and 88 per cent do not want him to add to his 341 United appearances.
There are headline results throughout the survey, so let's get stuck in…
Is Ronaldo's Manchester United career over?
If the supporters who responded to The Athletic's survey had the final say, then, yes, it is unlikely Ronaldo would appear in a United shirt again.
In the most telling series of responses, it could not be more clear that his interview has not been received well.
More than 93 per cent of those surveyed believe he should be disciplined by United for the comments made.
The club released a statement on Monday, outlining how they plan on taking their next steps.
"Manchester United notes the media coverage regarding an interview by Cristiano Ronaldo," it reads. "The club will consider its response after the full facts have been established."
Once the World Cup ends in December, attention will quickly turn to the January transfer window, and over 94 per cent voted in favour of United seeking to offload Ronaldo.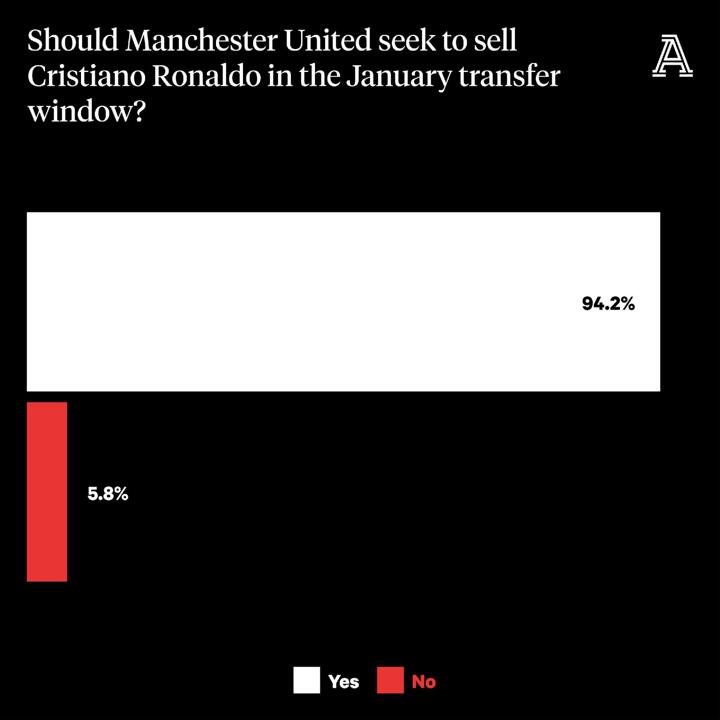 The issue, however, is that the biggest teams across wider Europe were not interested in the summer and his performances would have done little to persuade them to think again. However, just over 86 per cent do not think Ronaldo will be at the club once the transfer window closes.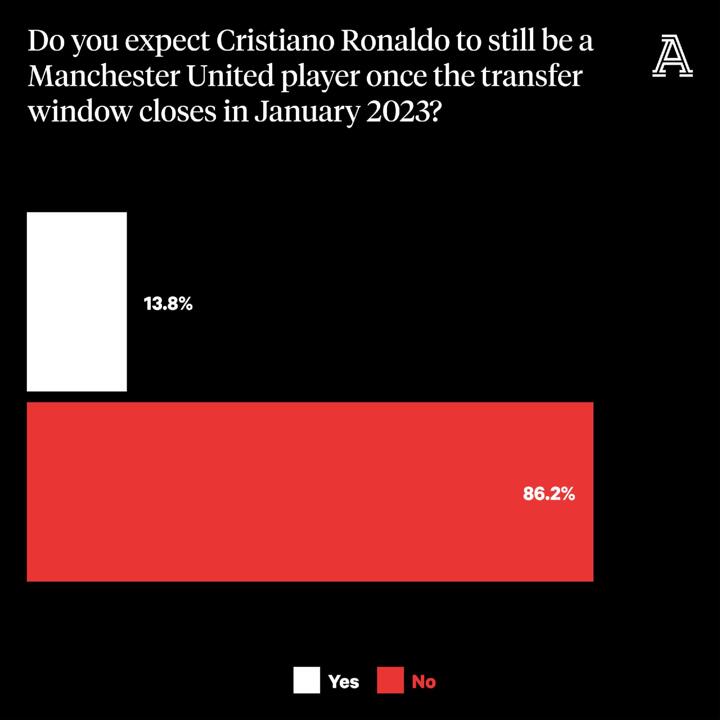 The Athletic previously detailed that Ten Hag has told the club's hierarchy that he is happy to see Ronaldo move on as he thinks they can be stronger without the distractions that come along with one of football's greatest-ever players.
If the club decide enough is enough and do not want to wait until January, they could seek to terminate the 37-year-old's contract — and nearly 85 per cent of those surveyed thought this would be a sensible decision.
Regardless of whether he is sold, his contract is terminated or Ronaldo and United kiss and make up, 88 per cent of the voters have decided they no longer want to see him play for the club again.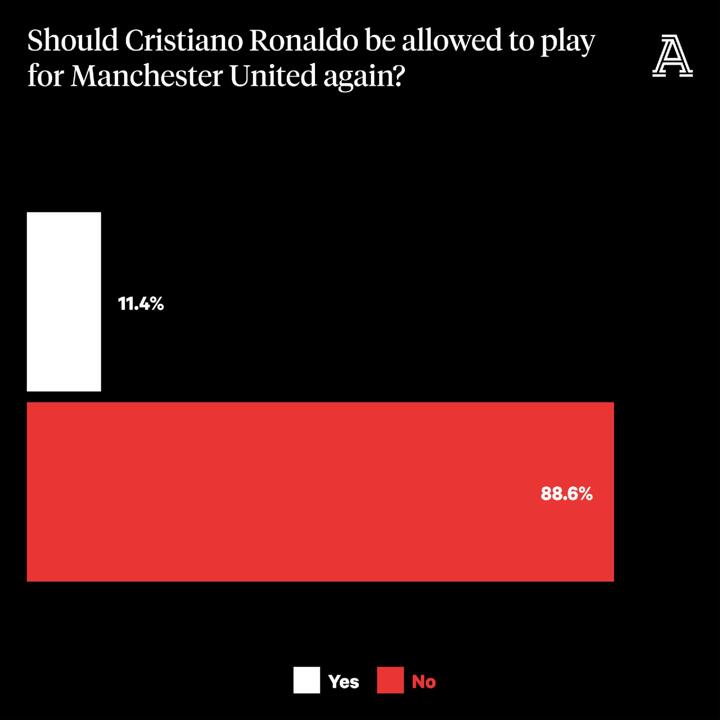 Is Ronaldo justified to say that he "feels betrayed" by Manchester United?
In short, the answer from the subscribers that answered our survey is "no".
The overwhelming majority of those surveyed — 91 per cent to be exact — did not agree with the Portuguese international's comment, but this should not come as a surprise.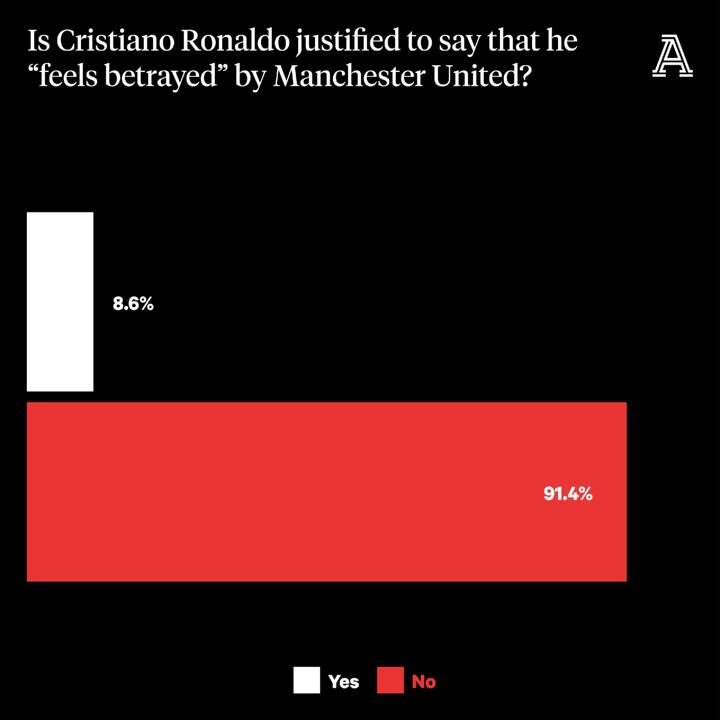 United can point to several incidents where Ronaldo's behaviour has been called into question, with his refusal to come on as a substitute against Tottenham Hotspur ahead of leaving Old Trafford before the final whistle a more recent example.
"I feel betrayed," he told TalkTV. "Some people, I feel, don't want me here. Not just this year but last year, too."
Cristiano Ronaldo, the legal position and whether Manchester United could terminate his contract
A penny for Ten Hag's thoughts when Ronaldo's episode against Spurs played out minutes before a memorable win.
And on the topic of Tottenham, you will begin to notice a trend that the readers who took part in The Athletic's survey have little sympathy for the five-time Ballon d'Or winner. Nearly 98 per cent of voters thought Ronaldo was wrong to refuse to come on against Spurs during United's 2-0 win over the north Londoners in October.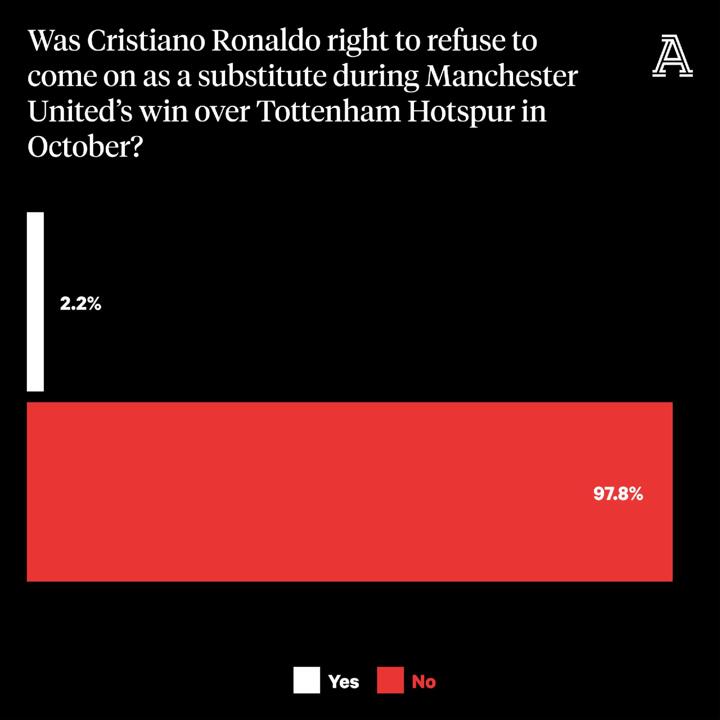 In another example of trying to extend an olive branch, Ten Hag responded to Ronaldo's episode against Tottenham by making him captain for their game against Aston Villa just over two weeks later.
It is for such reasons that over 94 per cent disagreed with the notion that Ten Hag has treated the forward unfairly.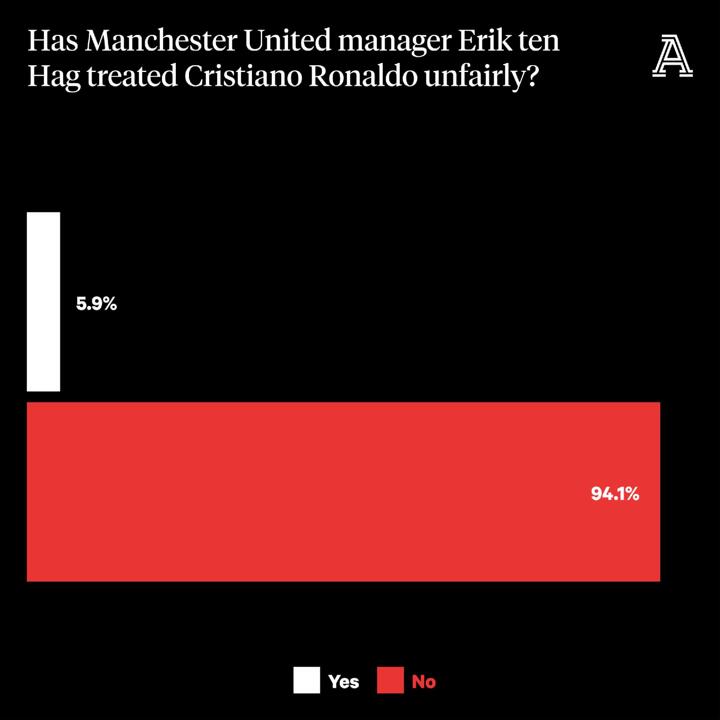 One of the United player's claims during the interview was that the club did not believe his daughter was ill during pre-season — a complaint they counter privately — as time off was sanctioned and Ten Hag only referenced "personal reasons" during the summer, as opposed to divulging details of a sensitive time for Ronaldo and his family.
Instead of lapping up every word the Portuguese superstar uttered, just under 85 per cent of those surveyed think he has tarnished his legacy at Old Trafford. His emotional return, in their eyes, is ending with the wrong type of tears.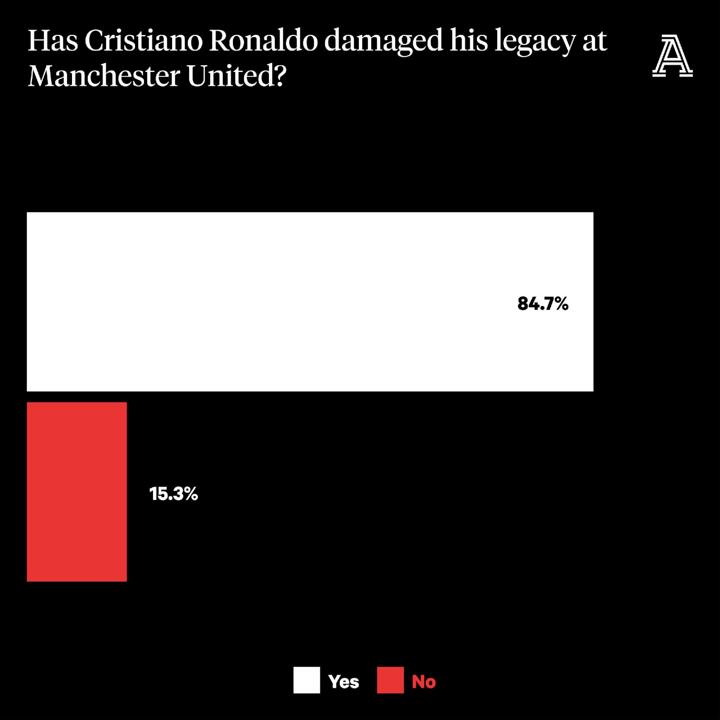 And although the overwhelming answer to the final question — whether they should have signed Ronaldo in the first place — may have been different this time six months ago, only 27 per cent thought it was sensible for him to be signed in the first place.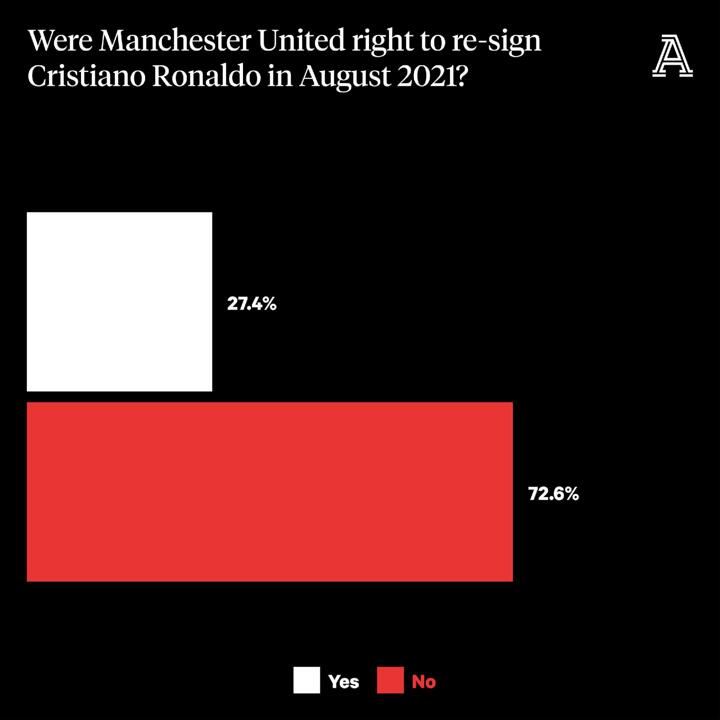 (Top photos: Getty Images; design: Eamonn Dalton)