Every player has a trademark, whether that's dribble or a piece of skill that sets him apart from others, and Barcelona boast a wealth of stars who have shone above the rest.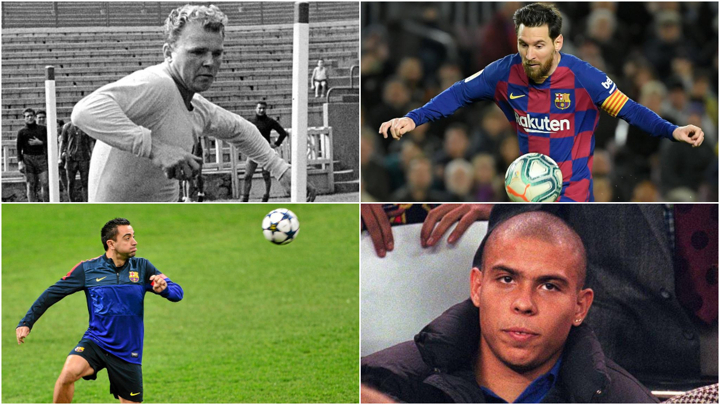 With the Coronavirus bringing the regular season to a halt, now is a good time to remember some of these geniuses.
Messi's forward drives
The Argentine needs no introduction.
His prowess and skill is now known around the globe, but if anything characterises Lionel Messi then it's his ability with the ball at his feet and the ease with which he drives past opponents.
His goal against Getafe in 2007 is a great example of this.
In a move that looked more like a video game than real life, Messi took on almost the entire team before scoring an historic goal.
Neymar's 'lambretta'
Neymar, now at PSG, used to control the ball between both feet and flick it over his opponent's head, a move called a 'lambretta'.
The move won applause from Barcelona fans, but opponents have been critical, calling it disrespectful.
Xavi and his roulette
The Catalan's control of the ball was unmatched.
Of course, he is best known for his superb vision and precise passing, but the roulette was another signature move.
He would turn, pause, and draw a map of the field and his teammates' positions.
He was key in Barcelona's midfield when it was all about possession.
Ronaldinho's magic
The smiling Brazilian's favourite piece of skill was known as an 'elastica', or also known as a 'flip flap'.
He knew the power of this move and its ability to leave a marker flabbergasted.
"There are moves to save time, but this is the most productive and artistic," he said.
"It's a move that generates space and, when it goes well, someone falls over."
The Brazilian would change the direction of the ball in an instant with the same foot, leaving opponents bewildered.
The pure power of Ronaldo
When the Brazilian signed for Barcelona in 1996, it took him very little time to impress the fans at the Camp Nou.
His pace and power were immense.
An example of his power came against Compostela in October 1996, a goal which Ronaldo says is still his best.
He scored a similar one against Valencia and a total of 49 goals in the 1996/97 campaign.
Laudrup's 'croqueta'
The Dane would beat his rival with a simple yet visually stunning touch of skill.
A simple soft touch to his other foot and a quick burst of pace would leave his opponent floundering.
It was simple, effective and elegant.
Andres Iniesta inherited the move and would go on to make it his own.
Romario's feint and drag
Brazilian strikers seem to have a knack for mesmerising the Barcelona faithful.
One of the best strikers to have stepped onto the Camp Nou turf was Romario, who would receive the ball on his right, drop the shoulder and then drag the ball through on his inside with the same foot.
Romario immortalised the move when he left Rafael Alkorta for dead in the 5-0 win over Real Madrid on January 8, 1994.
Cruyff's dribbling skills
The Dutchman is one of the most important figures in the history of Barcelona, both for his work as a coach and for his skill on the pitch.
His ability with the ball at his feet struck fear into the hearts of his rivals.
In the 1974 World Cup, he popularised the 'Cruyff turn', as the Dutchman's simple trick left Swede Jan Olsson on the floor.
Cruyff looked to go in one direction before dragging the ball back with his heel and speeding off the other way.
Kubala's shooting
Laszlo Kubala was a revolutionary footballer at Barcelona.
Every week at Barcelona's old stadium, Les Corts, the fans couldn't get enough of his amazing skill.
His shots were to blame, as he would hit the ball with technique, power and accuracy that had never been seen in Spain before.
He was also famous for pausing before shooting his penalties.
Stoichkov, guts and directness
One of the key figures in Johan Cruyff's 'Dream Team' was Hristo Stoichkov, whose drive and temperament made him a Barcelona fan favourite.
His ability to change the pace of a match and take on defenders was crucial.
In eight seasons at Barcelona, he played 198 LaLiga Santander matches and scored 88 goals.