Upon joining Real Madrid from Gremio in December, 18-year-old Brazilian forward Rodrigo Rodrigues stated he was certain that he was now "in the best place to grow as a player."
For so long, a statement like this would not have been true of a club that preferred buying in the answer rather than moulding an internal solution. Amid the tumult of this season and the feeling of a transitional year, however, youth is being afforded a chance more than ever under Santiago Solari.
Talented young players had grown tired of waiting for chances at Madrid in years gone by, but with club president Florentino Perez's more recent realisation that they couldn't fight the Premier League's elite in a transfer war, the re-focusing on youth has become an essential part of their strategy. Even if that means spending a lot on the best young players.
Vinicus Junior is the poster boy for Madrid's youthful revolution.
The teenager's strike in Real Madrid's 3-0 win over Alaves was just his second La Liga goal for the club since joining from Flamengo for £38.7m in the summer, yet that hasn't prevented the immoderate comparisons to former Real Madrid stars.
He resembles an 18-year-old Ronaldo Nazario and Cristiano Ronaldo, according to Spanish football analyst Guillem Balague, while Thibaut Courtois delivered a unique appraisal of the Brazilian as being in a similar mould to Eden Hazard, which could set off the latest stick-or-twist melodrama in the life of Florentino.
While Vinicius is just beginning to unearth the length and breadth of his undoubted talent, the rediscovery of form for Karim Benzema has at least kept Real Madrid in the hunt for domestic honours in a season-defining week with away matches at Barcelona - a first-leg draw in the Copa del Rey semi-final - and Atletico Madrid.
The 31-year-old Frenchman is on course to score more than 20 goals in a campaign for the first time since the 2015/16 season, having notched his 18th in all competitions against Alaves.
Once a slave to Cristiano's greater desires which saw him deliver a return of 31 goals in two seasons, Benzema once again seems to be the master of his own destiny, with Lionel Messi now the only La Liga-based player to have found the net more often this season in all competitions.
As romanticised a view as it may be, the liberated Benzema is not the only Madrid player to benefit from Vinicius' exploits
"He [Vinicius] has a telepathic connection with Marcelo, he plays passes of fantasy with Benzema and he reads the intentions of Ceballos out of the corner of his eye," Diego Torres of El Pais noted, while Marca described the 18-year-old as the principal on-pitch attraction on a night of visible empty seats at the Bernabeu last weekend.
Rewind just a few days and Real Madrid's former Argentinian manager Jorge Valdano credited Vinicius with bringing a tangible freshness to Santiago Solari's side, mirroring the characteristic that has been noticeable in Ousmane Dembele's play at Barcelona.
"Vinicius is a Dembele who doesn't stop," he said.
"He's like an impetuous, untamed thoroughbred. He's always in a hurry. We are talking about an 18-year-old boy who is already starting for Real Madrid. This is the ultimate proof that great players become addicted."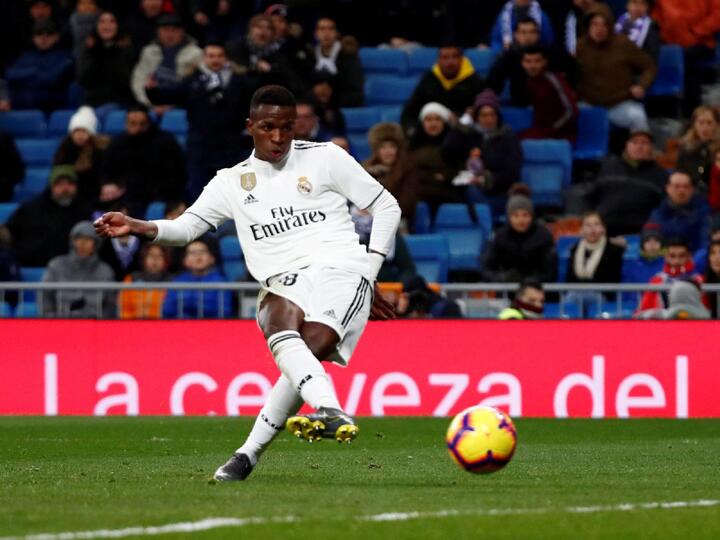 And while these compliments pay testament to Vinicius' technical attributes, he also appears to be more mature in his physicality flying down the flanks as opposed to his slighter Barcelona counterpart.
Not that there hasn't been a shift in mentality for Vinicius. Treated with the utmost disdain by Julen Lopetegui, the youngster's self-criticism and self-torment reached such alarming levels that he apparently returned home from training on several occasions exclaiming: "I have to improve. I have to improve."
Fast-forward a few months and the Brazilian, now a part of the newly-formed 'BBV' frontline with Benzema and Lucas Vazquez, has never looked so confident.
"It does not scare me, I play in Madrid, in the best team in the world, I do not fear anything," he said after his display against Alaves.
"I play where the coach believes is better, I will do everything to help, on the right, the left or in the middle, I will continue working to win with Madrid."
Keep up to date with all the latest news with expert comment and analysis from our award-winning writers