The Champions League was lit up by an unlikely player on Matchday Five as Sporting attacking midfielder Pedro Goncalves tore apart German giants Borussia Dortmund.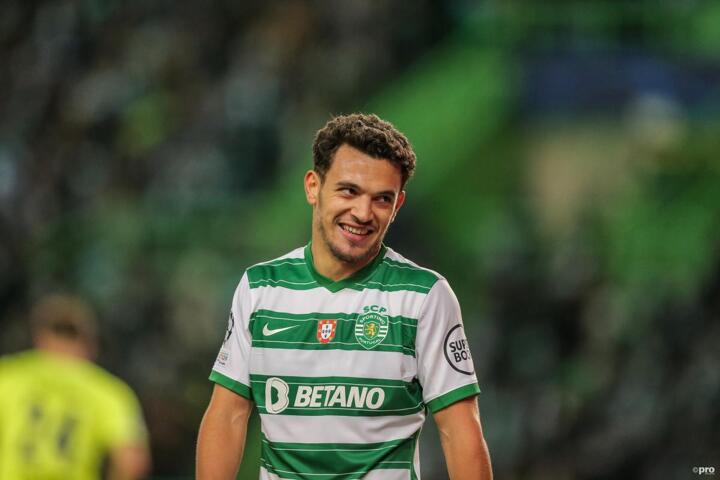 Sporting have been excellent in the competition so far and qualified via a 3-1 defeat of Dortmund, with Goncalves scoring a double.
For his first, he latched on to a mistake from Nico Schulz to run through and stab a finish under the goalkeeper, while his second was an outstanding strike flashed into the top corner from 20 yards.
He is attracting the interest of some of Europe's top clubs.
What position does Pedro Goncalves play?
Goncalves usually plays as an attacking midfielder through the centre, though he can also be deployed on the left.
How good is Pedro Goncalves?
Anyone who wasn't already aware of Goncalves' abilities was made to take notice after the demolition of Dortmund, but the performance was a typical one from him over the past couple of seasons.
In the 2020/21 campaign he scored 23 goals and recorded three assists in all competitions, and he is on course to match or better than in the current campaign as he has 11 goals already.
Remarkably, Goncalves started his professional career with Wolves after being in the youth system at both Braga and Valencia.
He only made one competitive appearances for Wolves and it came in the League Cup.
In 2019 he returned to Portugal with Famalicao and spent just one season there before being picked up by Sporting.
Since then he has went from strength to strength, with Wolves no doubt regretting their decision to let the youngster slip through their fingers.
Goncalves has flourished under Ruben Amorim, the man who decided to move him further up the pitch as the player was previously a deeper midfielder.
Former Wolves number two Rui Silva outlined Goncalves' talents, saying:
"He stood out. He had excellent ball possession. He was always able to make space, without missing a pass. And he had that ability to finish. That goal was already visible. He passed the ball into the goal, that ability is his. Innate.
"(Ruben) Amorim found the ideal position for him. There, ahead, with space, and close by when he went to Famalicao, I even told Joao Pedro Sousa [coach at the time] that he could play in a midfield with three. We never saw Pedro's ability to be in a midfield with two."
"He has the quality to take on another type of team in the future."
Goncalves is also known as 'Pote;.
What clubs are interested in Pedro Goncalves?
Goncalves' rise has been swift as he starred for Sporting last season and is continuing that form into the current campaign.
Liverpool are currently leading the race for his signature, and will allegedly cost around €68 million.
How old is Pedro Goncalves?
Goncalves was born on 28 June 1998. He is 23.
What is Pedro Goncalves' height?
Goncalves is 173cm, or around 5ft 7in.
What is Pedro Goncalves' weight?
Goncalves weighs 65 kilograms, or around 10 stone.
When does Pedro Goncalves' contract expire?
Goncalves has a contract with Sporting until 2026.
Who is Pedro Goncalves' girlfriend?
Goncalves is in a relationship with Bruna Rafaela.
What football boots does Pedro Goncalves wear?
Goncalves wears Adidas X Speedflow.1 soccer cleats.
What is Pedro Goncalves' Instagram?
Goncalves' Instagram has 147k followers as of November of 2021.