How would Chelsea line up under Mauriozi Sarri this season? We released a vote on this yesterday, here are the predicted results from All Footballers with a 4-3-3 formation.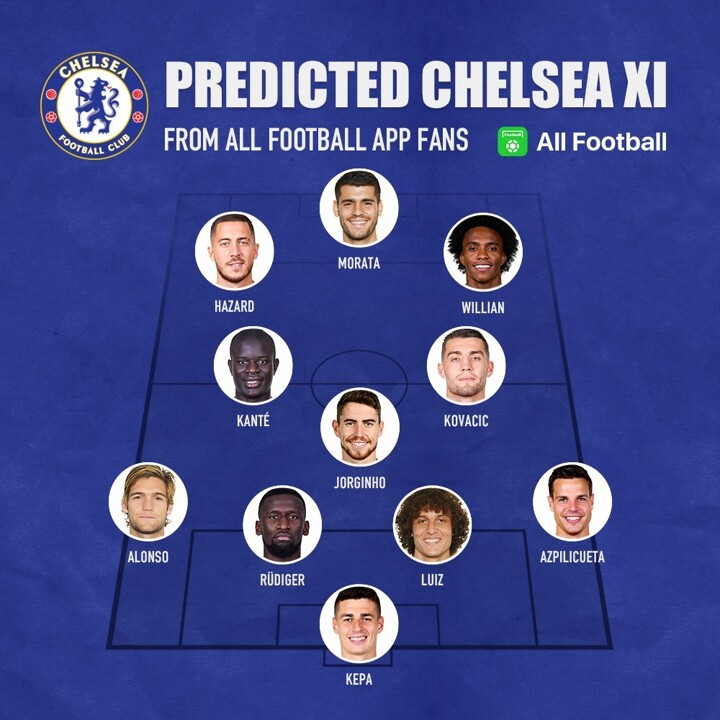 GK: Kepa Arrizabalaga
91.2% of AFers believe the new keeper should be the NO.1 to replace Courtois.
LB: Marcos Alonso
Marcos Alonso's attacking sensibilities make him the perfect full-back for Sarri, with 84.2% of votes.
RB: César Azpilicueta
What a hot choice! 91.2% of votes went to Cesar Azpilicueta, who remains one of the best defenders in the EPL.
CB: Antonio Rüdiger, David Luiz
Rüdiger and Luiz got 34% and 32.3% of votes, ranking 1st and 2nd. While Christensen and Cahill got 22.2% and 8.2% respectively.
CMF: N'Golo Kanté, Jorginho, Mateo Kovacic
With no suspense, Kanté, Jorginho and Kovacic got more votes than any other midfielders from AFers.
LW/RW: Eden Hazard, Willian
Hazard got 52% of votes and Willian got 43.7% in the selection of Wingers.
CF: Álvaro Morata
Morata beat Giroud (21.8%) and Batshuayi (21.2%) with 52.7% of votes.
So do you like it? If not, feel free to show yours in the comments area.