Kevin De Bruyne came close to perfection during City's 8-0 thrashing of Watford on Saturday, but the brilliant Belgian can still anger his manager at times.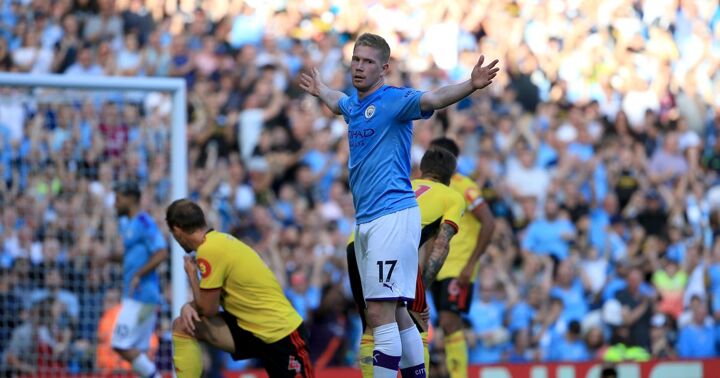 Guardiola said the Belgian's vision even took his teammates by surprise at times, but admitted he can get angry at him - but only because of his consistent brilliance.
"Kevin sometimes is a special player, sometimes he sees something the other guys cannot see on the pitch, not even off [it]," the City boss said.
"Sometimes I'm a little bit [angry] when the simple ball you lose it, how with your quality you can lose it? But he is incredibly talented player, and sometimes you miss it from here, loses it from here but sometimes his vision up front and the quality he has [is incredible]."
De Bruyne looks in the mood to make up for lost time so far this season after injuries wrecked most of 2018/19. He occasionally played like a man possessed when he did get back on the pitch last season and Guardiola said his midfielder could get angry on the pitch at times.
"Only with Kevin sometimes it depends on his mood, sometimes he is a little bit like this [angry] when he is a little bit not happy in that way," he said.
"He is an incredible and fantastic guy, we knew we miss him a lot. We did an incredible season winning four titles but we miss him last season a lot because he is a special player."