Dejan Lovren is vying with Joe Gomez for a starting role in Liverpool's defence against Man City in the Premier League on Sunday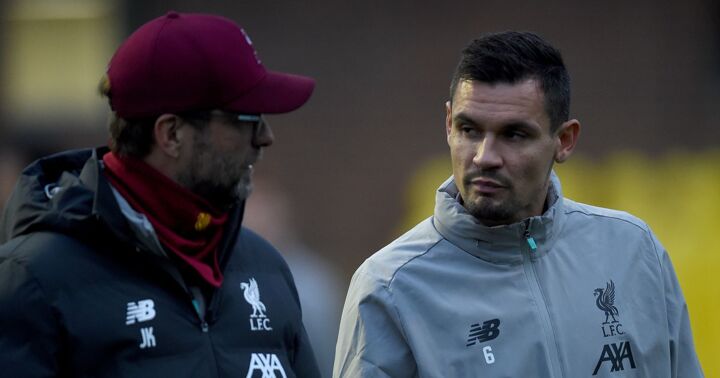 Injury to Joel Matip and the indifferent form of Joe Gomez meant Lovren has started three of the last four Premier League games and will be clear favourite to begin alongside Virgil van Dijk when City visit Anfield on Sunday.
And there's another reason why the 30-year-old is likely to feature.
By accident or design, Lovren almost always seems to play against City, a starter in the last five clashes against Pep Guardiola's side before this season.
Both Matip and Gomez were injured when Liverpool went to the Etihad in January, although Lovren himself lasted only minutes into the next game before picking up his own problem.
Earlier in the season, a poor performance from Trent Alexander-Arnold in Napoli meant Gomez was shifted across to right-back with Lovren partnering Van Dijk for the Anfield goalless draw against City - and fortunate not to concede a penalty in the first half when challenging with Sergio Aguero.
Lovren started both legs of the Champions League quarter-final in April 2018 and, in helping Liverpool win the return game 2-1 at the Etihad, posted arguably his best performance as a Liverpool player.
And what's often forgotten is Lovren was skipper in the 4-3 win over City in January 2018, the only Premier League game Van Dijk has missed through injury since arriving at Anfield a few weeks earlier.
Lovren will never be universally admired by Reds supporters, forever destined to a polarising presence.
But there should be no surprise if he steps out against City on Sunday, another renaissance for the Jurgen Klopp canon.