Former Inter striker Diego Milito reveals he was close to joining Real Madrid and blames Romelu Lukaku: 'Don't promise what you can't deliver.'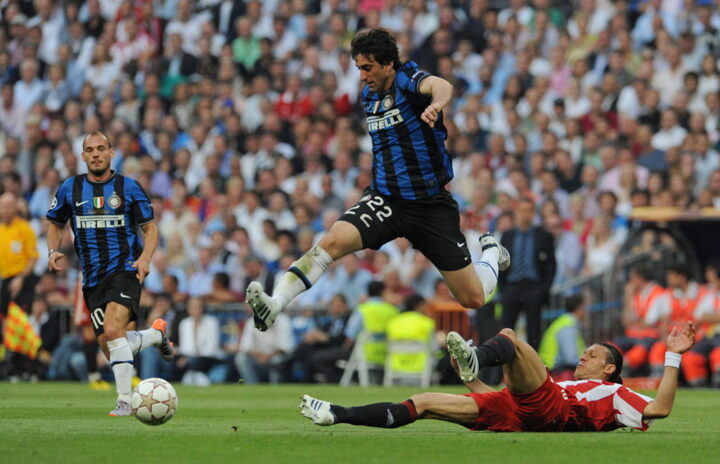 The Argentinean is one of the club's legends. He played a crucial role in Inter's treble season in 2009-10, scoring a decisive brace in the Champions League Final against Bayern Munich.
His compatriot Lautaro Martinez is one of Inter's most important players and probably the main striker after Romelu Lukaku's move to Chelsea.
"Lautaro has improved a lot, but still not enough. He still has room for improvement because his strength is in the head: he has clear ideas and he wants to learn," Milito told La Gazzetta dello Sport.
"He used to get too angry on the pitch, now he has improved, he's taken the right path. He is at the centre of Inter's attack after Lukaku's sale.
"I don't give any advice to him, even if we often speak. Apparently, he will soon sign a contract extension and I hope he will stay at Inter for a long time.
"He can adapt quickly to any attacking partner. He can play with Sanchez or Correa. El Tucu will be a decisive weapon this season because he has unique characteristics," he continued.
Another Argentinean striker, Mauro Icardi, left the club in 2018, while Lukaku returned to Chelsea in the summer. Milito is not impressed by either.
"I don't like the way Icardi left, I could have given so much, however, he remains a top striker," he said.
"As for Lukaku, there is one thing you should never do: promise what you can't deliver. It's normal for a player to leave and go somewhere else, but the fans are disappointed for his declarations of loyalty before joining Chelsea".
The 42-year-old could have left the Nerazzurri as well, but he eventually opted to stay.
"I was close to Real Madrid and PSG, but Inter was a life choice for me," Milito revealed.
"I was at the top, I was happy, I was at San Siro that will always be home."
The Nerazzurri face the La Liga giants in their opening Champions League match of the season at the Stadio Giuseppe Meazza tonight.
Milito played two seasons under José Mourinho, winning two Serie A titles in the treble. Therefore, the former striker would have loved to see the Special One at the club.
"I'd have liked to see Mourinho return, but Roma is an ideal place for him," he admitted.
"It will be tough to face the Giallorossi this season. He has that special touch that can bring enthusiasm. He is still in the Whatsapp chat of the treble winners, that's how we keep in touch. After every win, we wish him good luck in the chat."