In the Europa League on Thursday evening, Rapid Vienna's ultras welcomed Villarreal and unfurled a wonderful tifo that evoked the legendary 1956 elimination of Real Madrid in the Last 16 stage of the European Cup.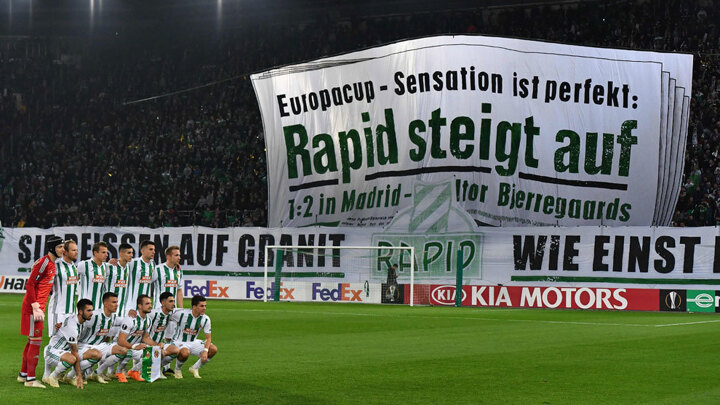 Group G is one of the closest in the Europa League, with Rangers and Spartak Moscow rounding out the four.
Rapid now sit bottom on four points but just two behind Villarreal who are top after their 0-0 draw.
"We will make them bite the dust like the old Real Madrid," the tifo read, with the visual display showing an enlarged newspaper copy of that day.
In the first leg of that tie, Rapid lost 4-2 at the Estadio Santiago Bernabeu, but showed grit and determination to force a third game as the Austrians beat the Spaniards 3-1.
Ernst Happel scored a hat-trick which put Rapid 3-0 up and going through, but Alfredo di Stefano made it 3-1 and spared Madrid's blushes.
The third game saw Madrid win 2-0 as they went on to win their second European Cup, beating Fiorentina 2-0 in the final.