Who is the best player of last week? We name 5 candidates based on their ratings & performances. Please vote for the player who impressed you most last week.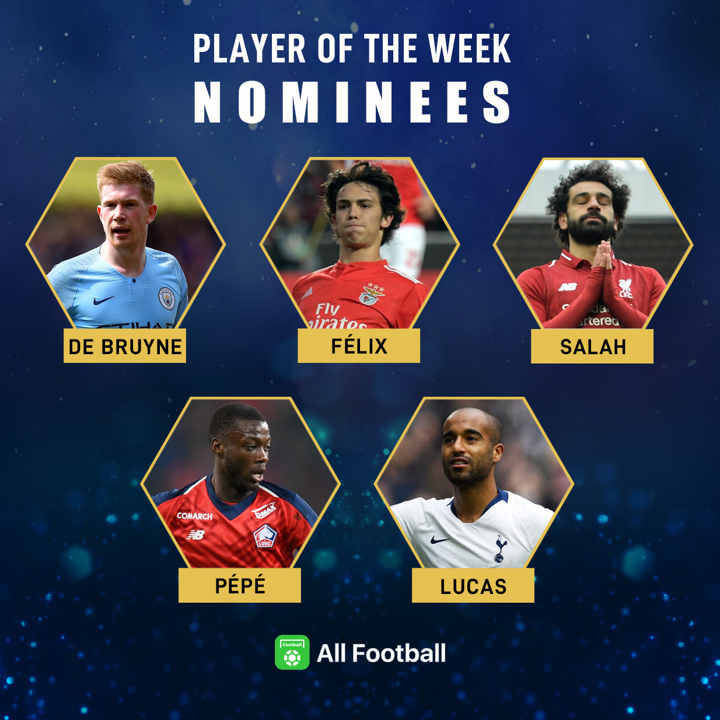 Manchester City's Kevin De Bruyne, Benfica's Joao Felix, Liverpool's Mohamed Salah, Lille's Nicolas Pepe and Tottenham's Lucas Moura are the five nominees for our All Football Player of the Week, with all of them included in our All Football Team of the Week.
Kevin De Bruyne (Man City)
One of the strangest things about this season is that De Bruyne hasn't had an assist in Premier League until last weekend. Of course, we all know it wasn't because he wasn't good enough.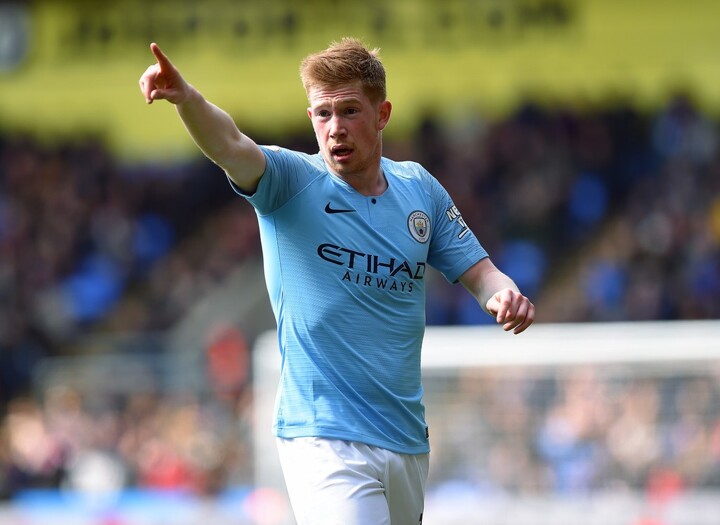 The 27-year-old made two of City's three goals and put on a midfield masterclass as they clinched what was ultimately a comfortable win over Crystal Palace.
After recovering from a long-term injury, De Bruyne is doing what De Bruyne can. As Guardiola said after the match, the Belgian 'can see what the rest of human beings cannot'.
Now let's continue to enjoy his sexy passes.
João Félix (Benfica)
Who is Joao Felix? The new Ronaldo? The future of Portugal? A €100m-rated target of many big clubs?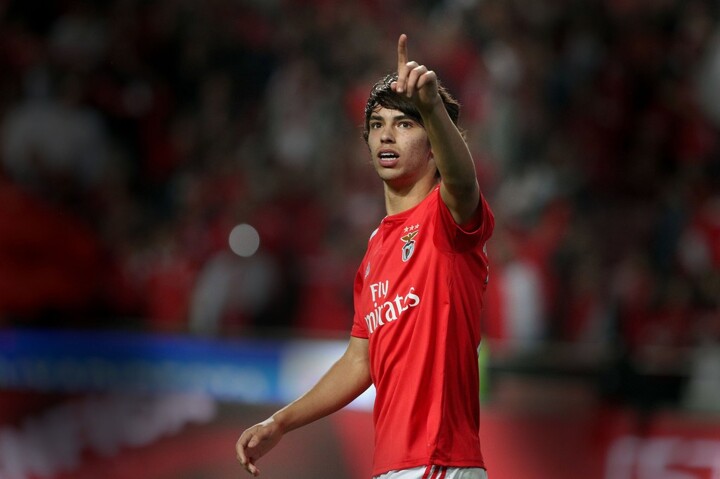 Benfica hot-shot Joao Felix followed it up on his Europa League hat-trick against Eintracht Frankfurt on Thursday with another goal on Sunday. His performance just shocked all of Europe, the 19-year-old wonderkid was directly involved in 7 (4 goals & 3 assists) of Benfica's 8 goals last week.
The youngest player to score a hat-trick in the Europa League, Felix has courted interest from the likes of Juventus, Manchester United and Real Madrid. Come on, check out what he did last week, you will know why Europe's biggest clubs are watching him.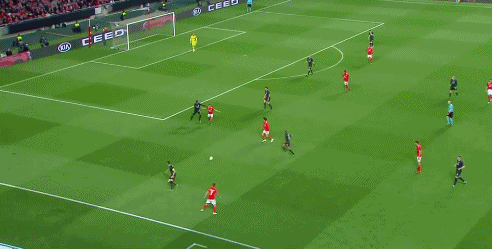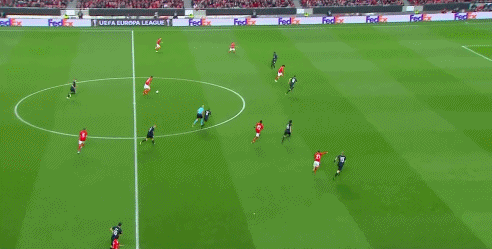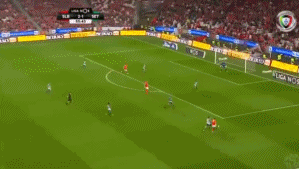 Mohamed Salah (Liverpool)
What went into your head when you watch Salah's stunner against Chelsea? Actually, no words can describe it.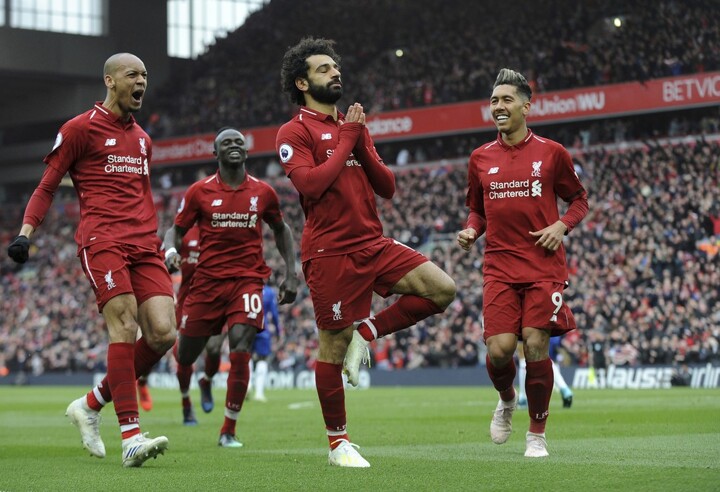 Before he netted Liverpool's second against Southampton last Friday, the winger had gone eight games without a goal for the Reds. This goal is really a brilliant response to those critics.
With this goal at Anfield, Salah scores 19 goals so far this season, which made him lead in this season's Golden Boot, along with Man City ace Aguero. Can he repeat his miracle of last season?
Nicolas Pépé (Lille)
Lille winger Nicolas Pepe has been one of Europe's hot prospects this season.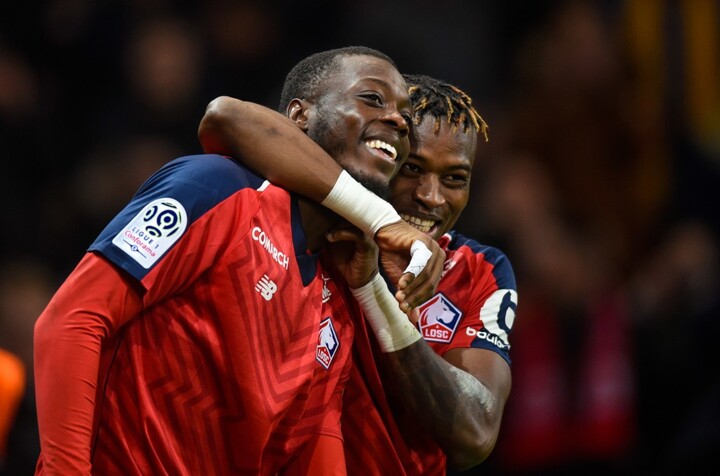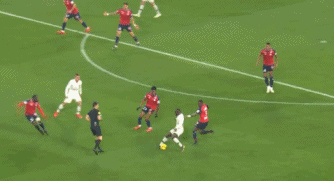 Nicolas Pepe has contributed one goal and two assists in Lille 5-1 PSG, which postponed the defending champions' title party.
The in-form Pepe has been in superb form for the better part of the last two seasons and his quality has not gone unnoticed with the big boys of European football.
'He has moved into a price range that we can not afford anymore.' Lille chairman has confirmed that Pepe will leave but which club can get this talent?
Lucas Moura (Tottenham)
No Kane and Alli? No problem! Lucas Moura's hat-trick shows that Tottenham can rely on him in their travel to Man City.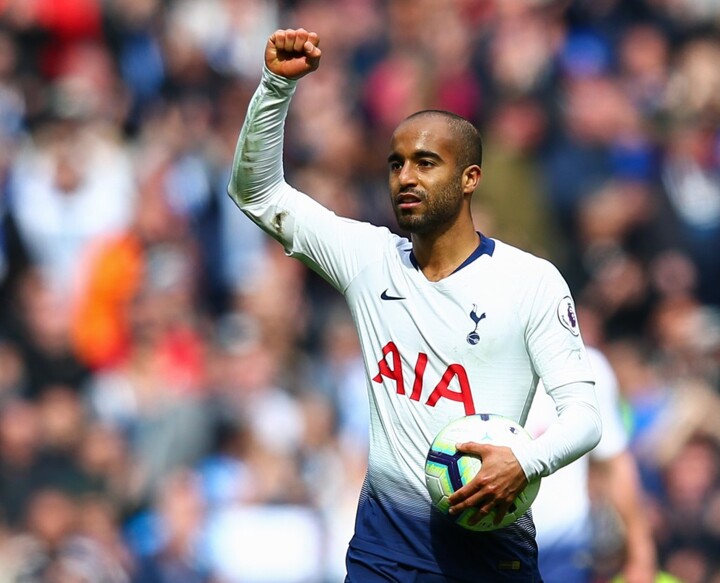 Scoring first hat-trick for Tottenham, Lucas Moura led his team to thrash the relegated Huddersfield as Kane and Alli both are absent due to injury.
Tottenham return to 3rd place in Premier League thanks to Lucas' perfect performance, and their advantage position for Champions League spot is strengthened.
The Brazilian striker has scored 12 goals and offered 2 assists in this season so far, making him the third top scorer at Tottenham behind Kane and Son.
Feel free to leave your thoughts and suggestions in the comments section. The winner of the vote will be announced tomorrow.
See you next week!