Mikel Arteta says Arsenal would love to have former manager Arsene Wenger back at the club in some capacity, and has revealed that he has already spoken to the Frenchman about a role behind the scenes at the Emirates.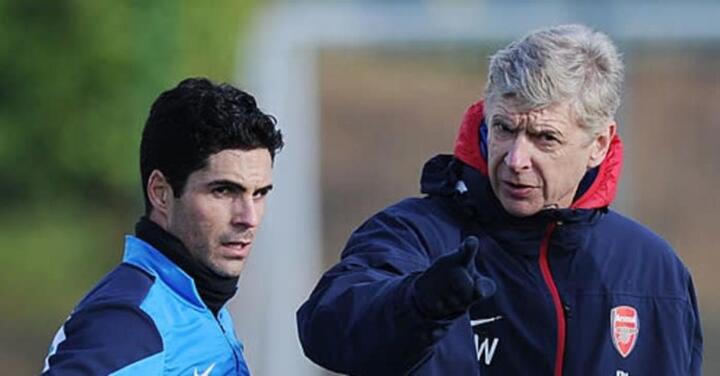 Wenger was Arsenal manager between 1996 and 2018 and enjoyed huge success at the club, winning three Premier League titles and seven FA Cups.
He also guided the Gunners to their first ever Champions League final in 2006 when they lost to Barcelona.
In the latter half of his tenure at Arsenal, though, the team did not consistently challenge for the Premier League, with the main focusing becoming simply qualifying for the Champions League.
Wenger left in 2018, with Unai Emery coming in as his replacement.
When the appointment of Emery didn't work out, Arteta was given the job.
The Spaniard has had a tumultuous tenure so far as although he won the FA Cup, he oversaw a 2020/21 season which saw Arsenal fail to qualify for Europe for the first time in 25 years.
Wenger is now being earmarked for a return to work with Arteta, according to the Arsenal manager.
"We would be delighted to have him much closer," Arteta said.
"I think he would have a great time just seeing the environment that he can create around him when he's around this place because of the respect, admiration and the love that everybody at the club has for what he's done, as well as for what he represents as a person."
Though Arteta did not reveal what role Wenger would take up, he said it would be one in which the pair work closely together.
"What I can say is that I would like him to be much closer, personally, to me because I think it would be a great help, I think it would be a great help for the club.
"Things take time and I think he has to dictate those timings. What I can say is from my side and I can say, I think, on behalf of everybody, is that we would be delighted to have him much closer."
What is Wenger doing at the moment?
Even though Wenger has not had another coaching role since leaving Arsenal, he has not been in charge anywhere else in a managerial capacity.
He has stated on a number of occasions that he has not retired from coaching, but he has now progressed into development roles within football.
Wenger is currently FIFA's Chief of Global Football Development, which involves the analysis of rules and regulations within the sport.
The 72-year-old is also a member of the Football and Technical Advisory Panels involved in International Football Association Board reviews, giving judgement on rule changes mandated by FIFA.
In recent months he has been behind a controversial proposal to bring World Cup tournaments around every two years as opposed to the current format of two.
"Organise only competitions of meaning," he told beIN Sports.
"Kick all the parallel competitions out of the game. People must understand what is at stake and only have games with meaning.
"If you look at the teams in the World Cups usually the average age is 27 or 28. Because the World Cup is every four years there are very few chances to win it again because when they go back to the next World Cup they are 32 or 33.
"That's why maybe we should organise the World Cup every two years."