On Wednesday night, Thibaut Courtois will return to the place that was his home for four years and back to the scene of a strange crime.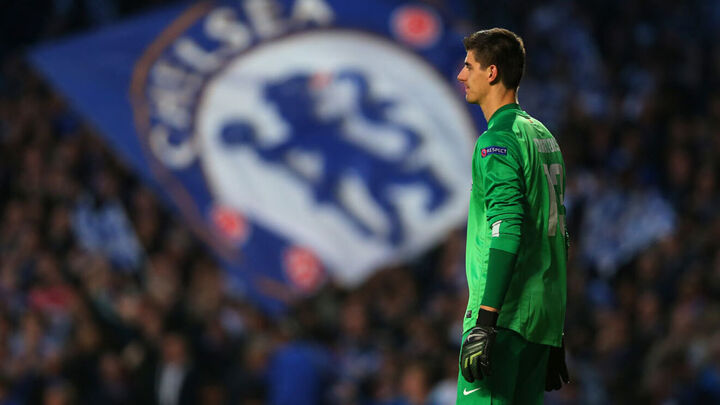 The current Real Madrid goalkeeper was at Chelsea for four years and even qualified for the Champions League final whilst contracted to the club in the 2013/14 season, however it came whilst he was on loan at Atletico Madrid. What's more, Los Colchoneros knocked out Chelsea in the semi-finals.
Seven years have passed since that game, but all those involved in that semi-final encounter remember it very well: Atletico, Chelsea, Courtois and then-Blues boss Jose Mourinho.
The then-21-year-old goalkeeper was on loan at Atletico from Chelsea and found himself in the eye of the storm when the two teams were drawn against each other in the semi-finals of the Champions League.
Both clubs had agreed that the loanee wouldn't be able to play against his parent club, with the relationship between the two teams being amicable. There was even talk of a possible loan extension for a further two years.
However, following the semi-final draw, Diego Simeone started kicking up a fuss, claiming that it was unfair that Atletico had to lose one of their regular starters in such a key position.
Atletico sent a formal request to Chelsea, which the London club refused, but UEFA had the final say and allowed Courtois to play the two games against his parent club, claiming that the clauses in the contract were illegal and go against fair play.
Mourinho's cold war
Jose Mourinho, Chelsea's coach at the time, was outraged by UEFA's decision to let Courtois play and couldn't understand that a player was able to play against his parent club, something that typically isn't allowed in the Premier League.
After trying everything possible and failing, Chelsea decided that they would no longer let Courtois extend his loan with Atletico and Mourinho even blanked the player, despite the two crossing paths in the tunnel to the changing rooms.
Atletico won 3-1 at Stamford Bridge after a 0-0 draw in the Spanish capital, which saw them go on to face arch-rivals Real Madrid in the final in Lisbon. Sergio Ramos scored his famous stoppage-time equaliser to force extra time, which then saw Los Blancos go on to win 4-1.
Now that Courtois plays for Real Madrid, everyone at the Spanish club will be wanting the Belgian 'keeper to do what he has done before and triumph once again against Chelsea in the Champions League semi-finals.