Last time we took a look at the ridiculous football tattoos fans have done to get a good laugh. Now as promised, we'll look into football stars' questionable tattoo choices, some of them will blow your mind.
1.Lionel Messi
You know that feeling you get when you look at Lionel Messi playing football?
That one where you are consumed with awe, adoration and respect?
Looking at Lionel Messi's tattoos don't give you that same feeling. In fact, the body art of the world's greatest player is now more likely to make you cringe.
Check this out: a new tattoo of his wife's lips… near his groin.
Messi has got his wife Antonella Rocuzzo's lips tattooed on the lower part of his abs, just above his groin.
It is said to symbolise how he will always have his wife's kiss with him wherever he goes.
Lovely sentiment, but still a questionable choice.
What do you think?
2. Alberto Moreno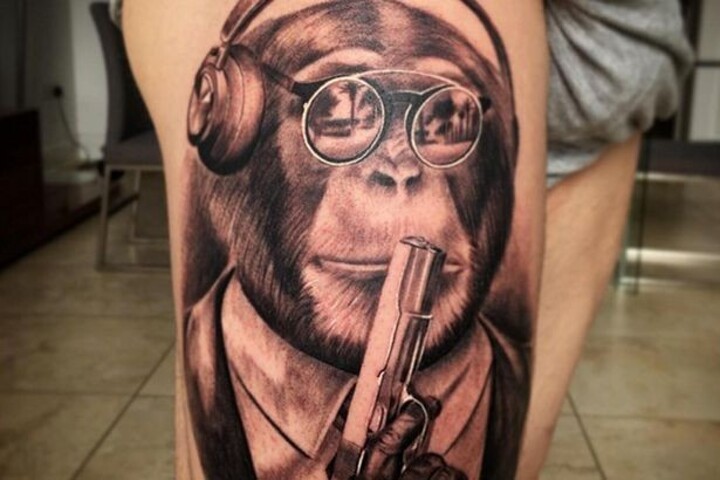 Sometimes Moreno's bespectacled monkey holding a gun is perplexing.
The thigh tattoo is an enigma in meaning and taste.
3. Andres D'Alessandro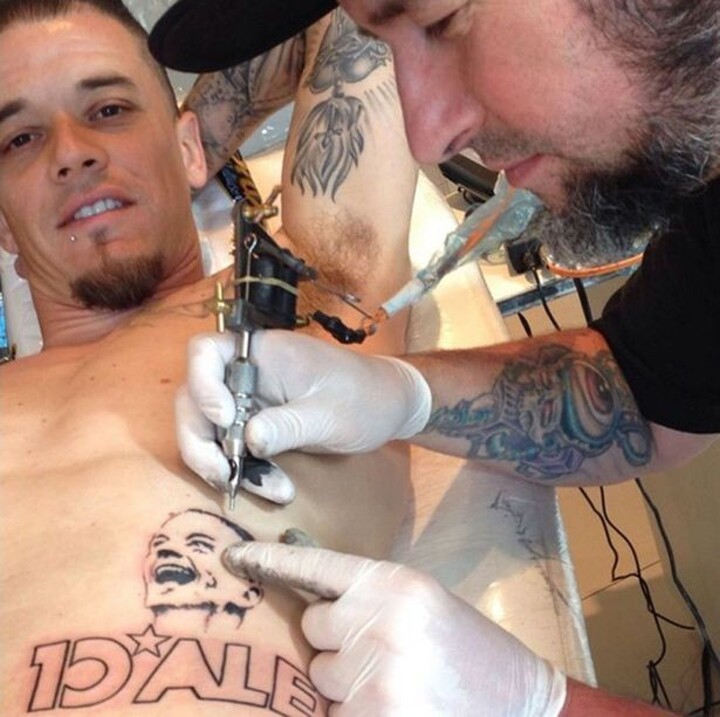 Some people get tattoos of their other half, children or even pets - but a tat of your own face is just plain weird.
Just in case his onlookers can't look all of two foot higher, the former Portsmouth man has plastered his own mug on his torso.
Even if you are the most handsome bloke in the world, which with all respect to D'Alessandro he ain't, this is just wrong.
4. Alessandro Diamanti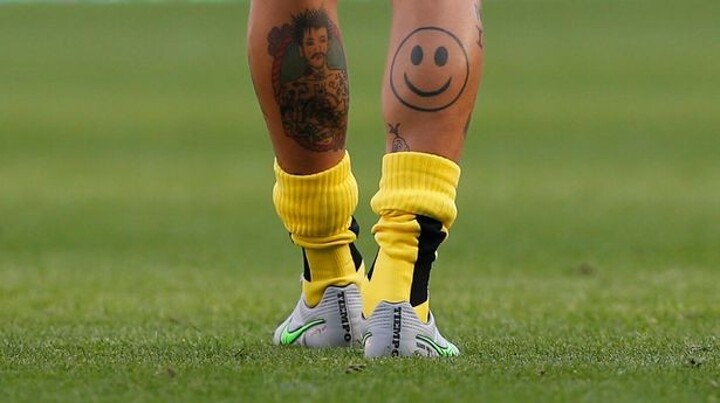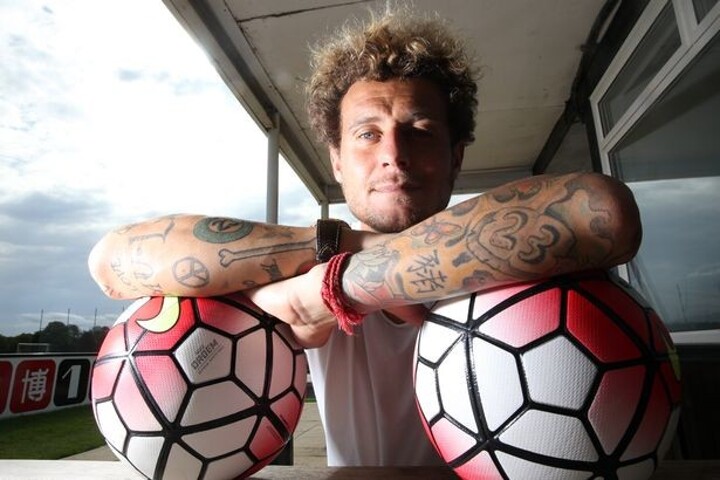 At a cursory glance at Diamanti's arms and you would think he is the king of an Italian prison.
On a closer look you notice his tats are the doodles of a teenage girl bored in double maths.
Smiley faces, peace signs, pool balls and random stars - all fine on their own but together not great.
5. Damien Delaney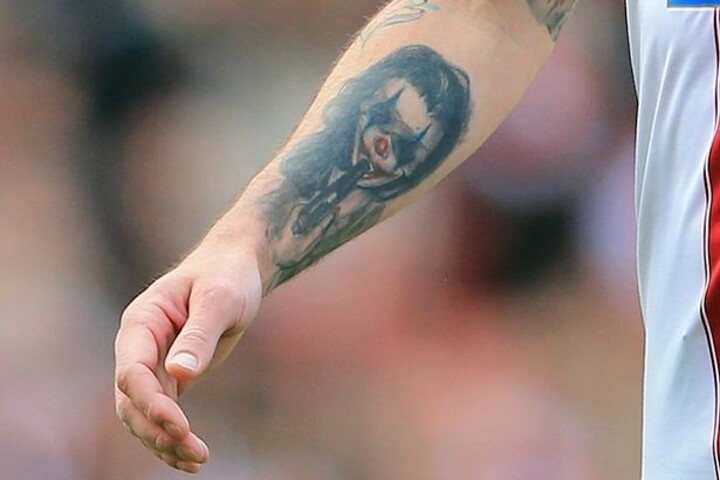 Clowns are scary. It is a scientific fact.
Clown tattoos are really not scary.
This from Delaney is definitely one of the worst.
6. Artur Boruc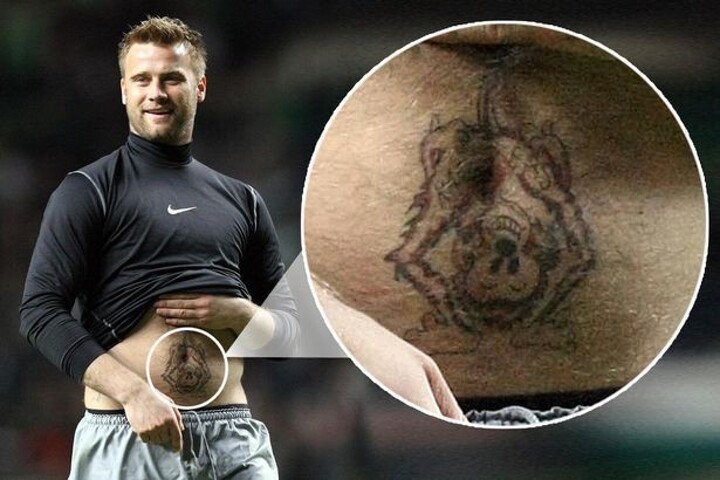 Oh no, we were very wrong about Delaney's clown being one of the worst tattoos.
Bournemouth's former goalie Boruc out does him with a monkey - with the Pole's belly button being the *ahem* backside of the cheeky mammal.
To be honest we did have a little bit of a chuckle about this but that doesn't mean it isn't poor.
7. Marco Materazzi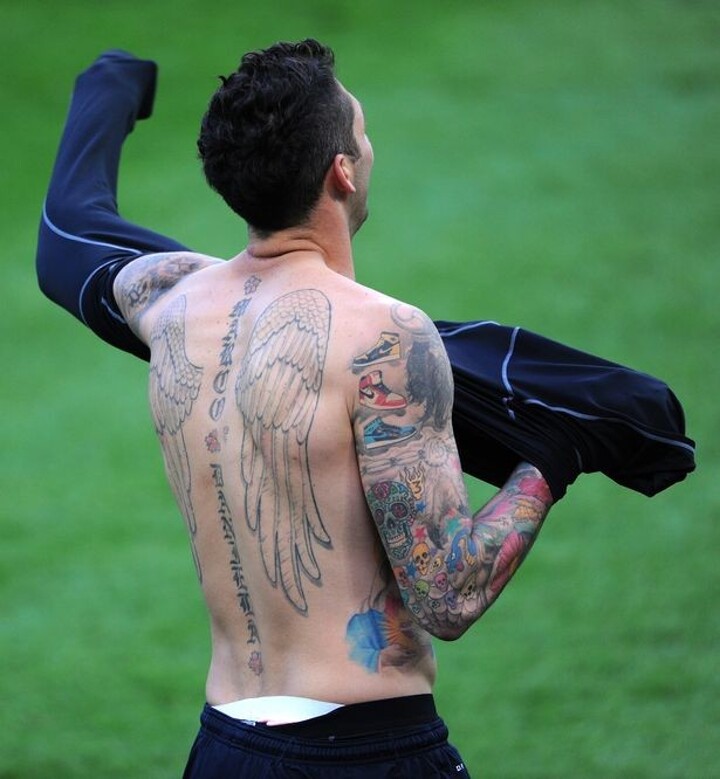 What catches the eye first in this picture is the wings on Materazzi's back. They are actually quite cool.
But avert you eyes slightly right and you see a stack of trainers.
WHY!?!
Just looks like a poor sponsor's idea.
7. Jay Bothroyd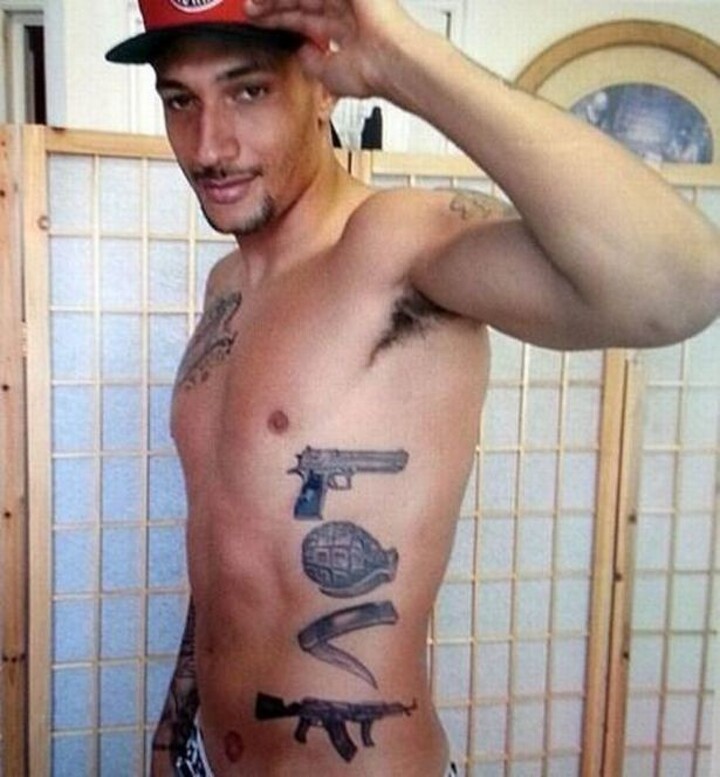 Everyone's famous one-time England international who has also played in Thailand and Japan.
On first sight this is a horrific mix of guns, grenades and knives.
In reality it is much much worse than that - as it spells out the world "love".
No idea why he looks so smug of it in this snap.
8. Alberto Gilardino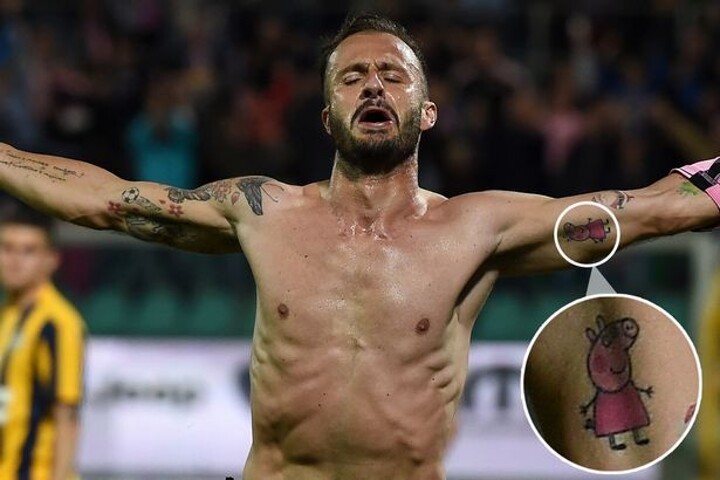 We like to think of Champions League and World Cup winners as above rubbish tattoos.
But no, Italy, AC Milan, Fiorentina and a whole host of other top Italian sides, man Gilardino proves that idea wrong.
Even worse it is a tat of a children's TV character.
Yes, you might have a daughter, and yes, Peppa Pig is brilliant, but this is not acceptable.
9. Ricardo Quaresma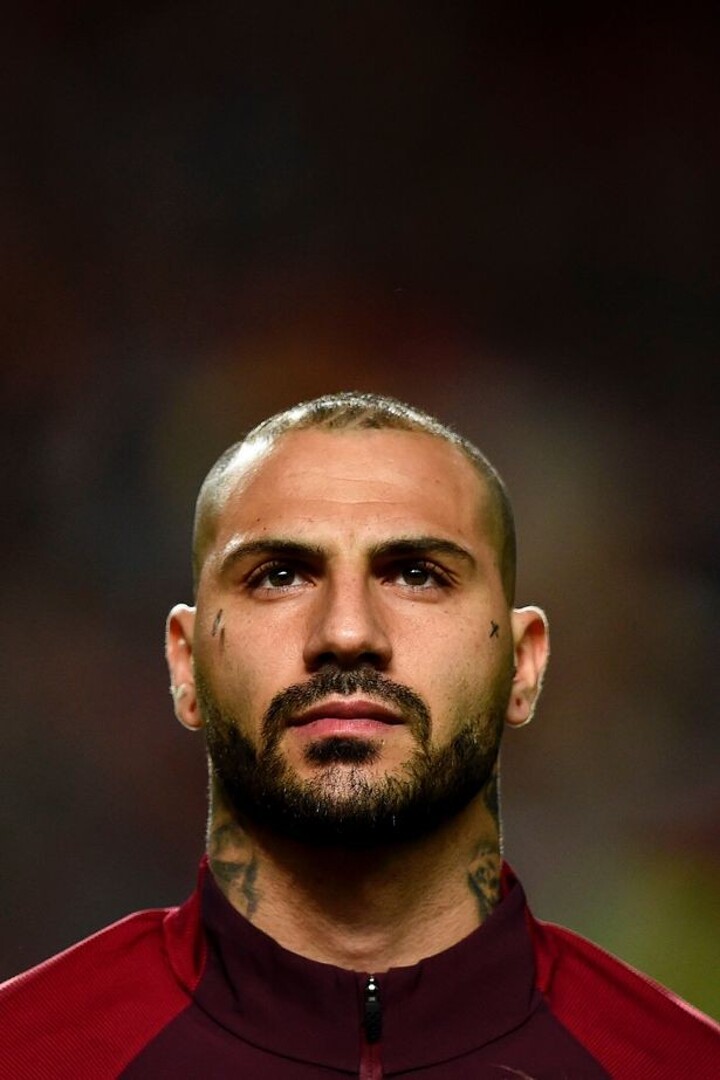 Everyone knows teardrop tattoos signify either the amount of people you have murdered or the loss of a family member, or friend.
Quaresma has two. We hope it is for the second reason.
Anyway, this brings us to rule three: no tattoos on the face.
10. Dele Alli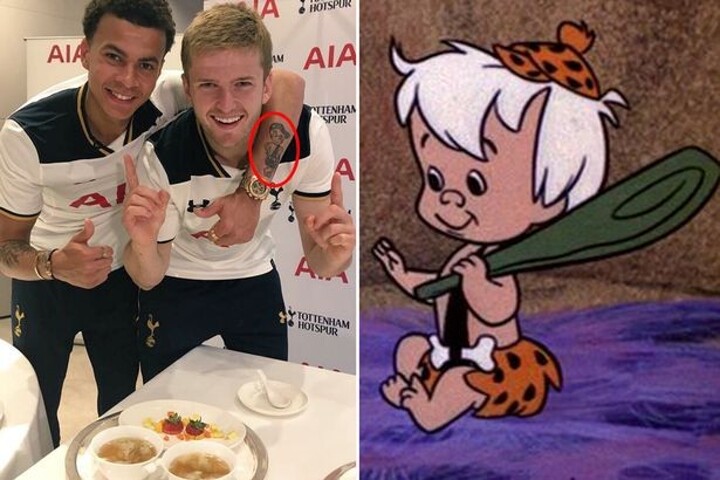 What better way to celebrate your ascent into footballing greatness than with a tattoo?
Dele Alli obviously thinks so anyway, and he's decided to mark his fine season for Tottenham and England - as well as a second successive PFA Young Player of the Year award - by getting inked.
With what, you might ask? Maybe a lion to celebrate his status as one of England's best young players? Or something marking one of his great goals for Spurs? Or a children's cartoon character that you'd forgotten existed?
11. Paolo Di Canio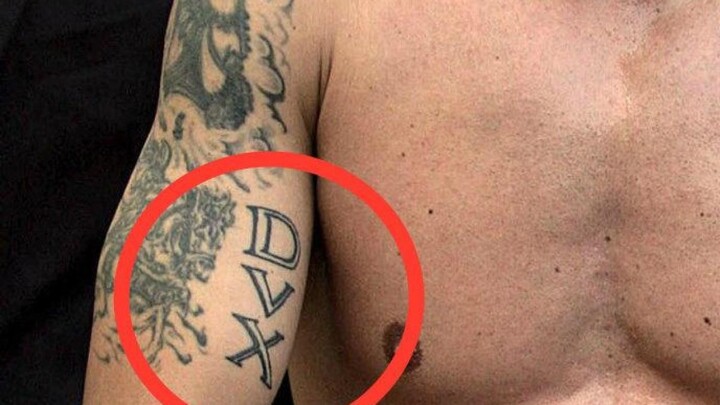 When Gilardino went to the tattoo parlour, he asked for a pig who, according to Wikipedia, enjoys jumping in puddles.
When fellow Italian forward Paolo Di Canio went to the tattoo parlour, he asked for Dux, referring to Benito Mussolini.
"I got the tattoo in 2000, in Bologna," Di Canio explained. "I was playing in England and I was recovering from an injury.
"For me, Mussolini represented the idea of a society with rules which everyone respects: love and patriotic pride."
12. Leroy Sane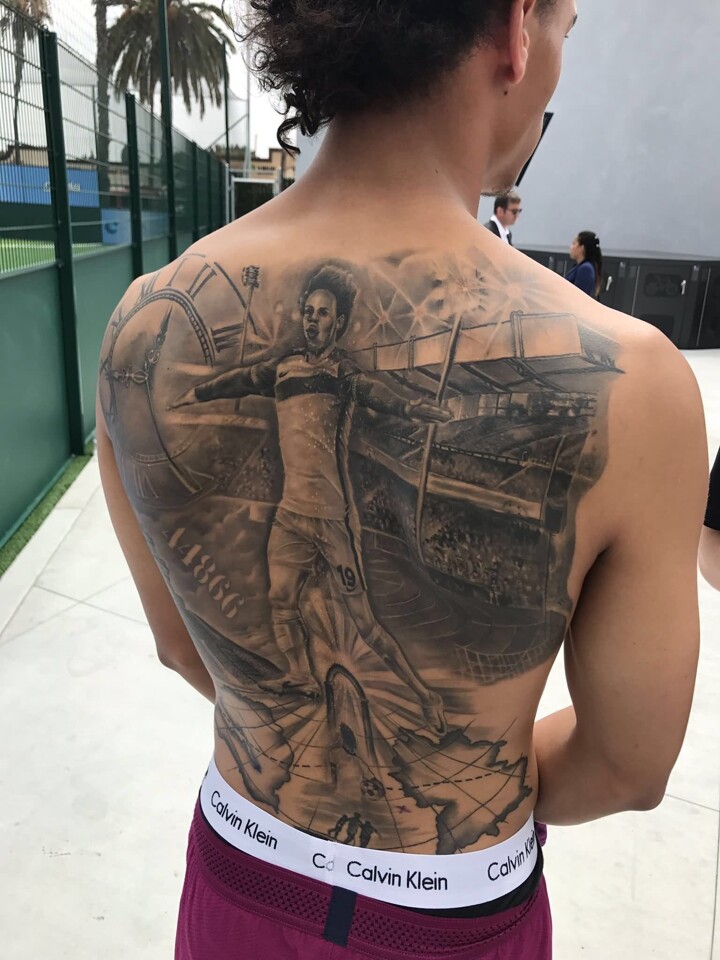 A tattoo of yourself is bad.
A huge tattoo of yourself on your back is worse.
But a huge tattoo of yourself on your back celebrating a goal (against Monaco) which ultimately proved pointless as Manchester City were knocked out of Europe?
That's unforgivable.
…Oh.
The only logical starting place here is to acknowledge just how sad this makes you.
Is it funny? No, it is not.
It's not funny because Leroy Sane is so handsome. And not in the sense of, say, Andrea Pirlo's an 'andsome lad, isn't he? Oi Oi! Hide yer daughters! We mean that Leroy Sane could actually be, like, an angel.
Just an actual angel, somehow both cherubic and masculine, descended from heaven to pick up big ol' cheques from the Middle East.
If you looked at Leroy Sane's back and there was a tiny pair of white wings, you wouldn't be that surprised. You might look twice, yes, but would you be surprised? No.
But Leroy Sane's back, in reality, just depicts a shit version of Leroy Sane's front.
A massive, massive Leroy Sane, on the back of Leroy Sane.
He's even taken a leaf out of Mauricio Pinilla's book by depicting a moment — permanently, we should add — from a game in which he lost.
"It's also the pose in which I often celebrate my goals," Sane clarified. "That's why I chose that picture."
I mean, after all that's said and done, think before you ink, fellas.