Didier Drogba won 12 major trophies during his two spells at Chelsea – and we still can't believe just how good he was in cup finals.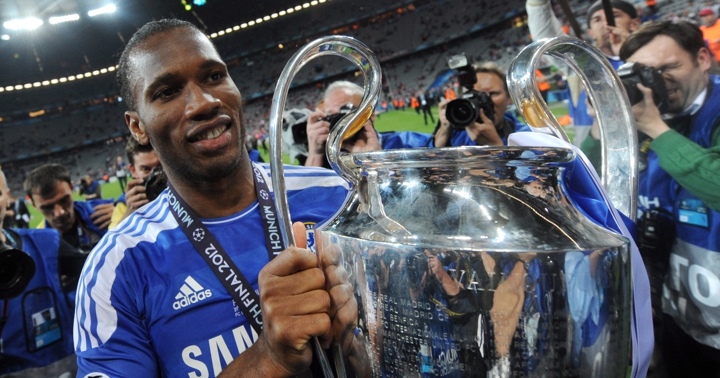 The Ivorian scored 177 goals in total for the Blues, but most impressive was that he almost always stepped up when it mattered most, scoring nine goals in 10 cup finals.
We've looked back at Drogba's record in finals throughout his two spells at Chelsea.
League Cup final 2005
Drogba joined Chelsea from Marseille in 2004 as part of Jose Mourinho/Roman Abramovich's revolution and was playing in a cup final at the first possible opportunity as he lined up against Liverpool in the League Cup decider.
Liverpool took the lead after 45 seconds through John Arne Riise's volley but Steven Gerrard's own goal sent the game to extra-time.
Drogba put the Blues ahead in the 107th minute, bundling home a long throw, and they eventually won 3-2 to secure their first trophy under Jose Mourinho.
Finals: 1
Goals: 1
Trophies: 1
League Cup final 2007
After winning the trophy in 2005, Drogba was in another League Cup final two years later, facing up to one of his favourite opponents in Arsenal.
Theo Walcott gave the Gunners an early lead with his first goal for the club before Drogba showed great composure to bring Chelsea level.
The Ivorian then grabbed an 84th-minute winner for Mourinho's side with a brilliant header from Arjen Robben's cross.
Explaining his brilliant record against Arsenal, against whom he scored 13 goals in 15 appearances, Drogba said in 2017: "I asked my son who's your best football player in England. I was waiting for him to say, 'You, my dad.' He said Thierry Henry.
"So I guess that's why I had to score against Arsenal every time when I was playing."
Finals: 2
Goals: 3
Trophies: 2
FA Cup final 2007
Chelsea's clash with Manchester United was the first FA Cup final to be played at the new Wembley, but the game failed to live up to expectations.
Drogba produced one of the game's only moments of quality at the perfect moment, scoring the winner with just four minutes of extra-time remaining by dinking the ball over Edwin van der Sar.
"When I think of the FA Cup I have these images of Di Matteo, Cantona, Anelka scoring in the final at the old Wembley," Drogba told the official Chelsea website in 2015.
"I always dreamed of playing at the old Wembley, but I didn't have the chance because they built the new one. I was lucky then to create some kind of history at the new stadium."
Finals: 3
Goals: 4
Trophies: 3
League Cup final 2008
Drogba became the first player to score in three League Cup finals when he gave Chelsea the lead against Tottenham with a stunning free-kick.
But goals from Dimitar Berbatov and Jonathan Woodgate helped Spurs lift the trophy and condemn Drogba to his first cup final defeat with the Blues.
Finals: 4
Goals: 5
Trophies: 3
Champions League final 2008
Having already scored in League Cup and FA Cup finals, Drogba was looking to complete the set by scoring in the Champions League final against Manchester United.
The striker was inches away from getting on the scoresheet when his shot hit the post, but he was sent off in extra-time for slapping Nemanja Vidic with the scores level at 1-1.
"I have seen the match on video and I believe I should not have been sent off with three minutes to go," Drogba said in his autobiography. "If I had punched him, I would have understood. Now I wish I had."
Chelsea eventually lost on penalties – when Drogba would have surely stepped up to score from the spot – and their back-to-back cup final defeats ensured that 2007-08 was Drogba's first trophyless season at Stamford Bridge.
Finals: 5
Goals: 5
Trophies: 3
FA Cup final 2009
Louis Saha struck 25 seconds into the 2009 FA Cup final for Everton with the fastest goal in the cup final's history.
Chelsea came back strongly and Drogba rose above Joleon Lescott to power home his header midway through the first half.
Frank Lampard's second-half strike saw the Blues lift the cup and ensured that interim boss Guus Hiddink finished his first short spell at the club with a trophy.
Finals: 6
Goals: 6
Trophies: 4
FA Cup final 2010
Chelsea were looking to retain the FA Cup a year later when they came up against 2008 winners Portsmouth in the 2010 final.
Drogba hit the woodwork twice in the first-half, but his 59th-minute free-kick helped the Blues clinch their first Premier League and FA Cup double.
"You know when there is big games I think the motivation is always high, it is more important and you have to have your concentration," Drogba told the official Chelsea website in 2010.
"I don't know how to explain it but I love big games and I want to perform. You have to enjoy these games, they are like Champions League games."
Finals: 7
Goals: 7
Trophies: 5
FA Cup final 2012
Ramires fired in the opener against Liverpool in 2012 before Drogba doubled Chelsea's lead to become the first player to score in four FA Cup finals.
The Reds pulled a goal back through Andy Carroll, but Chelsea held on to the lead and lifted the trophy for a fourth time in six years.
Finals: 8
Goals: 8
Trophies: 6
Champions League final 2012
Following the 2008 Champions League final, Drogba was looking for redemption in the 2012 final against Bayern Munich and ultimately secured his legacy as a Chelsea icon.
Chelsea were trailing 1-0 after Thomas Muller's goal, but the forward's thumping 88th-minute header took the game to extra time.
The final ultimately went to penalties, and the Ivorian coolly dispatched the winning spot-kick to win Chelsea their first and only European Cup.
"That's me and my faith, and my connection with God," Drogba told the Daily Telegraph in 2018.
"That's the only way I can explain what happened because there was no way we were going to go to Bayern Munich in front of their fans, losing 1-0, I score the equaliser, give away a penalty that Petr Cech saves, then the last kick and I score.
"It could have been a movie and it's something I will never forget."
Finals: 9
Goals: 9
Trophies: 7
League Cup final 2015
Drogba returned to Stamford Bridge for a second spell in 2014-15 but was named on the bench for their League Cup final against Tottenham.
Chelsea won the game thanks to goals from John Terry and Diego Costa, while Drogba was brought on in the 93rd minute to add another trophy to his collection.
Finals: 10
Goals: 9
Trophies: 8