RB Leipzig parted company with head coach Jesse Marsch on Sunday in a decision that could have long-term ramifications at Chelsea.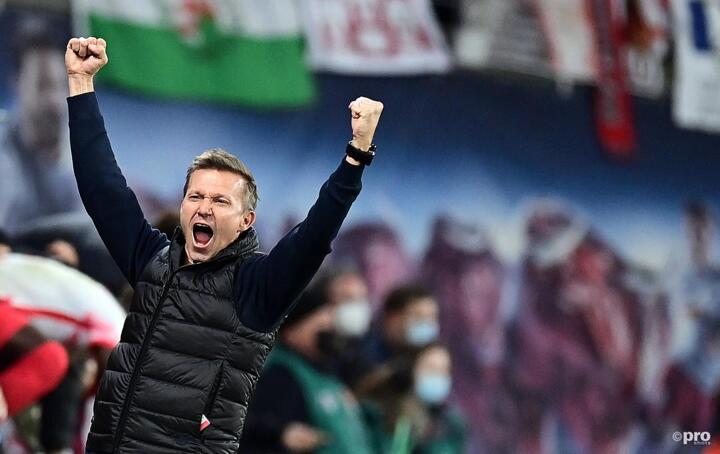 Leipzig have grown to become a powerhouse of German football in recent seasons, reaching the Champions League semi-finals less than 18 months ago.
Under Marsch, though, their star has fallen. They are already out of Europe's top competition this time around, albeit drawn in a fiercely competitive Group A alongside Manchester City and Paris Saint-Germain, while they linger 11th in the Bundesliga.
Indeed, Leipzig are closer to Arminia Bielefeld in 17th than they are Bayer Leverkusen in third.
The final straw came on Friday, when Leipzig were defeated 2-1 at Union Berlin.
On Sunday, the inevitable announcement came that Marsch had left the club, officially by "mutual agreement".
Even on Saturday, a list of potential successors to Marsch were doing the rounds – and this is where Chelsea comes in.
Leipzig going Low?
Of course, Leipzig cannot possibly hope to lure Thomas Tuchel from Stamford Bridge back to his home country, but instead the Bundesliga side are set to shortlist his assist for the role.
Zsolt Low has been Tuchel's right-hand man since working with him at PSG in 2018.
Crucially, the Hungarian knows the RB Leipzig system. He started his coaching career with Red Bull Salzburg in 2012 and graduated to become an assistant manager there in 2014. A year later, he moved to Leipzig and would be there until Tuchel took him to Paris in 2018.
Low ticks a lot of boxes for Leipzig and he could see this as an ideal opportunity to go his own way.
The shortlist, however, consists of as many as nine names, including PSV boss Roger Schmidt and Dortmund head coach Edin Terzic.
There is no guarantee that Tuchel stands to lose on his key generals at Chelsea, but the prospect of a deal is a real one.