All eyes are on the duel between Lazio forward Ciro Immobile and Bayern Munich striker Robert Lewandowski ahead of tonight's clash.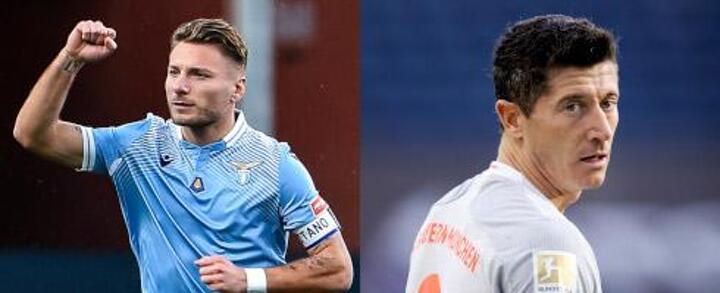 The Poland international, who moved to Bayern on a free transfer from Borussia Dortmund almost seven years ago, has only played against Immobile once before.
None of them scored when the Italian played for BVB against Bayern in the DFB Super Cup, but Immobile's team ended up winning the match 2-0.
The Italy international was signed to replace Lewandowski at Die Schwarzgelben in 2014 but left the German Bundesliga after having scored three goals in 24 League games.
Immobile was loaned out to Sevilla and Torino before Lazio signed him for a reported €9.45m ahead of 2016-17 and the former Juventus striker has since been a hit at the Olimpico.
In the Champions League, however, the Italian has scored nine times in 10 games for Dortmund and Lazio, and his five this term helped the Aquile set up a last 16 clash with Die Roten.
Immobile has scored 11 times in the Europa League with the Biancocelesti and has bagged 117 goals in 163 Serie A games since his move to the Italian capital.
With 144 goals in 204 competitive games with the Aquile, the 31-year-old continues to impress but his opponent has in the same period outperformed all the other strikers in Europe.
Lewandowski has scored 277 goals in 319 competitive games since his move to Bayern and was voted FIFA Men's Player of the Year and UEFA Best Player in Europe in 2020.
Immobile vs. Lewandowski (Games / Goals)
Immobile in 2020-21
Serie A: 21 / 14
Coppa Italia: 1 / 0
Champions League: 4 / 5
Total: 26 / 19
Lewandowski in 2020-21
Bundesliga: 21 / 26
DFB Pokal: 1 / 0
Champions League: 4 / 3
FIFA Club World Cup: 2 / 2
Total: 28 / 31
Immobile in the Champions League
Juventus: 1 / 0
Dortmund: 6 / 4
Sevilla: 3 / 0
Lazio: 4 / 5
Total: 14 / 9
Lewandowski in the Champions League
Dortmund: 28 / 17
Bayern Munich: 66 / 54
Total: 94 / 71