Jordan Pickford has been the centre of controversy for quite some time. Ever since his hapless mistake in the Merseyside Derby, which allowed Divock Origi to score that goal, all eyes have been on him. And while he has produced some positive performances, it is becoming apparent just how error-prone he is.
But is he actually overrated?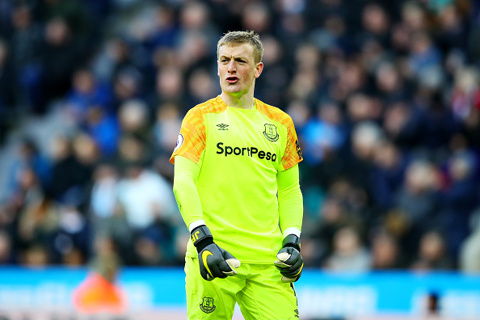 World Cup
The root of all the hype about him stems from the World Cup. He played a key role in helping England reach the semi-finals after he was chosen as their number one. As a whole, he had an outstanding tournament, saving a crucial penalty against Colombia and making three spectacular stops against Sweden.
But trouble was already brewing as he received criticism for his attempted save of Adnan Januzaj's top-corner strike. The main perpetrator being Gary Neville, the well-renowned goalkeeping expert. Neville claimed that Pickford, who led with his right hand, should have instead led with his left. Neville's point was ridiculous, as the left hand would not have been able to reach as high. But it marked the start of some of Pickford's doubters.
However, the remainder of his tournament won most of those critics over. He topped it off with a brilliant reaction save against Belgium in the third-place play-off; stopping what would have surely been the goal of the tournament.
Across England, Jordan Pickford is being hailed as a hero, and most regard him as one of the best goalkeepers in the league. Fans everywhere were singing his praises, and from this stemmed the problem – he was becoming overrated.
The truth is, Pickford's World Cup was a purple patch. He played out of his skin and appeared to be twice the player he usually is. And as much as Everton fans enjoyed their shot-stopper being the centre of attention, they knew the kind of mistakes he was capable of.
The Stats
Jordan's stats since joining Everton have been something of a mixed bag. On the one hand, he's saved 60% of penalties faced this season. But on the other, he's conceded one hundred goals since joining Everton less than two seasons ago. Paired with his 55% passing accuracy this year, it doesn't make good reading. But the most alarming statistic is something else.
Pickford has made four errors leading to goals this season – the most in the league. The season before, he made three, and likewise with the season before that – his last at Sunderland. That's ten errors leading directly to goals in the space of three seasons, which is certainly not a desirable statistic. However, in his 16 competitive outings for England, he hasn't made a single one.
He was the subject of plenty of criticism from pundits and Everton fans alike last season, but since the World Cup, it was as if he had become the Golden Boy – any attempt to criticise him was met with accusations of delusion. He was widely regarded as Everton's best player, already looking a bargain at £30 million. But along came Divock Origi.
The Fall from 'Grace'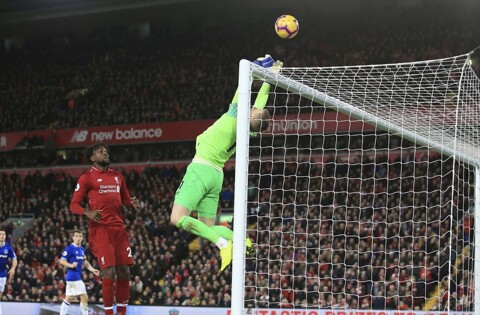 The first Merseyside Derby of 2018/19 was looking to end a stalemate, with both teams quite evenly matched. That was until Virgil Van Dijk's spooned volley fell awkwardly above the crossbar, where Pickford palmed it back in – straight to Divock Origi who headed into the empty net.
Of course, the internet exploded. T-Rex arm memes were being mass-produced, and a new chant was coined – 'He's only got little arms'. He was the centre of all footballing attention, and not in a good way.
Van Dijk's shot/cross was an extremely awkward one to deal with, and from Pickford's perspective, it would've been impossible to tell if it was going in or out. However, it still didn't excuse his mistake, and fans were quick to point out that he'd handed Liverpool an extra two points in their title charge.
This game can be attributed as Everton's turning point this season. Beforehand, they had picked up 17 points in 10 games. But since his blunder, they have only managed to get 15 points from 16 games – not even a point per game. Everton currently sit nine points above the relegation zone, but still have to face Chelsea, Arsenal, Manchester United and Tottenham making relegation, albeit unlikely, a realistic possibility.
Newcastle Nightmare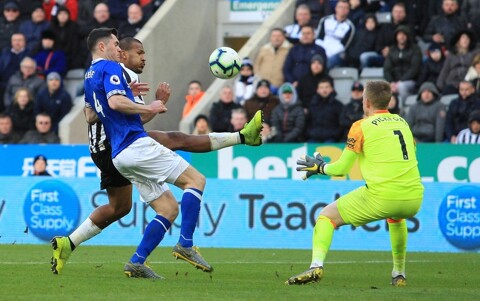 His most recent game for Everton (9 March vs Newcastle) was quite possibly his worst ever performance in an Everton shirt. The Toffees started strong, going one-nil up with a Dominic Calvert-Lewin header, but Pickford soon made his first blunder. The keeper came out to collect a cross but dropped it straight into the path of Salomón Rondón.
Knowing it was essentially a guaranteed goal otherwise, Pickford quite literally rugby-tackled Rondon to the ground, giving away a penalty. Somehow, he didn't earn himself a booking, even though it was a stonewall sending off.
Naturally, Jordan saved the ensuing penalty, albeit a poor one from Matt Ritchie. However, instead of just getting on with the game, he channelled his inner Mackem and taunted the Newcastle fans behind him.
This essentially epitomises his mentality – he's far too passionate. Although it is expected for a footballer to be passionate, Pickford's passion transforms into his ego, and he begins to think he is better than what he actually is – self-overrated. Jordan's ego and attitude issues have caused him problems in the past, as he has been booked frequently for dissent.
Usually, if you gloat about your performance, you should have a very good one. But that was the complete opposite of what the Everton keeper did.
The Goals
The first goal scored by Newcastle saw Pickford blameless. The ball sneaked under his body as if he had misjudged the trajectory, but in fact, the shot was deflected by Jonjoe Kenny – so not his fault.
The second goal from Newcastle was the major talking point for most spectators. Miguel Almiron's long shot, although struck with pace, was directly at Pickford, and should have made for a simple save. However, Jordan palmed the ball straight out to Ayoze Perez, who stood four feet away from Pickford. Perez slotted underneath Pickford; the shot was 100% saveable. Combined with his mistake earlier in the game, Jordan Pickford was having a nightmare.
The third goal may look like no fault of Pickford's to the uneducated eye, but in fact, he was very much to blame. His positioning and movement in the build-up to the goal was completely static, and when Perez received the ball at the near post, Pickford was essentially in the centre of his goal, leaving himself with no chance of saving it. A rookie mistake.
The Verdict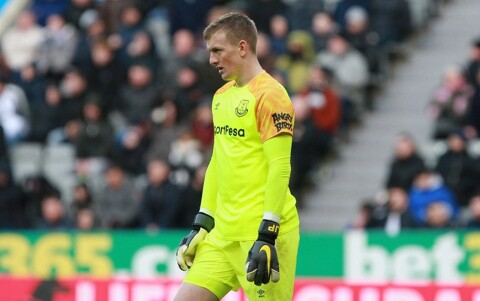 So is Jordan Pickford overrated? Put simply, yes and no. There is no denying that he is a sensational shot-stopper and that his distribution is very good, but his decision making and positioning could definitely use some work.
Jordan Pickford is overrated by people who do not watch Everton consistently – those who only see him in an England shirt, or playing against their club (if their club isn't Newcastle). His phenomenal World Cup set the bar extremely high for his performances, and he has unsurprisingly been unable to reach it.
But when it comes to Everton fans, Jordan Pickford is not overrated. All blues are aware that he has a mistake or two (or three) in him, and there are some games where he completely loses the plot and produces moments of utter madness. However, there are also games where he is the only thing keeping Everton alive, and this is very much to his credit.
The Solution to the Attitude Problem
The cause for Pickford's egotistical approach is simple – he is under absolutely no pressure to perform at Everton, as he knows he cannot be dropped. Backup goalie Maarten Stekelenburg is way past his best, and nowhere near good enough to play in the Premier League. And U23s stopper Joao Virginia is inexperienced and untested.
The clear solution would be to bring in a backup goalkeeper. Not someone who expects to start every week, but someone who is good enough to bring in for a few games. This will almost certainly challenge Jordan to perform consistently, and healthy competition is always good for improving players.
But who? Well, that's Marcel Brand's job.