Considering the situation in which Barcelona entered the transfer window, it is safe to say that they have performed beyond expectations so far this summer.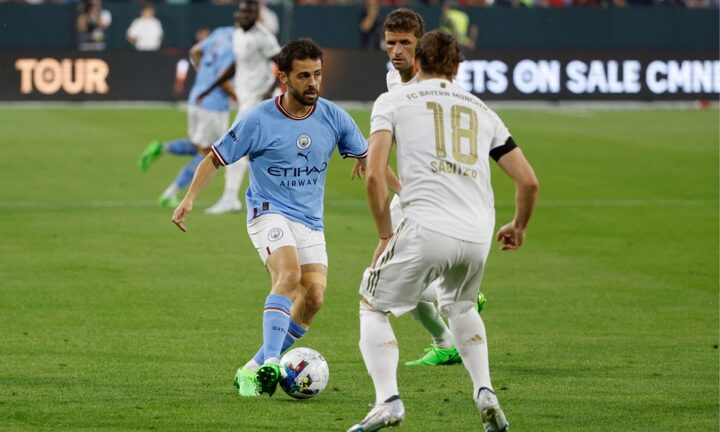 The Blaugrana have added top-notch players like Raphinha and Robert Lewandowski, have signed their primary defensive target in Jules Kounde and also brought in a couple of shrewd Bosman signings in the form of Franck Kessie and Andreas Christensen.
It has undoubtedly elevated the quality of the squad to a whole new level. But according to a fresh report from SPORT, Barça president Joan Laporta is still not satisfied with the transfer business and is planning to go big on another player this summer.
The report states that neither Laporta nor manager Xavi Hernandez are completely satisfied with the signings made so far and believe there is room for further improvement as they plan to take the team back to the top of Spanish and European football.
To that end, Laporta is now determined to get the signing of Manchester City superstar Bernardo Silva over the line. The 27-year-old Portuguese international has been a long-term target for Barcelona but was seen as an unrealistic option due to their financial situation.
However, the former AS Monaco's signing is now viewed as very much possible after everything Barcelona have achieved so far this summer.
Man City, for their part, will make things difficult, having already slapped Silva with a massive €100 million price tag. But, the midfielder himself is believed to be keen on making the jump to Camp Nou, which could open the doors for a possible transfer this summer.
However, any move for Bernardo Silva will be contingent on Frenkie de Jong leaving Barcelona this summer. The midfield department is already overbooked and adding the Portuguese into the mix while de Jong is still at the club would be unfeasible.
Furthermore, Barça would need the funds from the Dutchman's sale and the space that he will free up on the wage bill, to successfully sign and register Silva, unless they decide to activate another economic lever to push for his signing.
President Laporta is seemingly determined to give Xavi the best possible squad for the upcoming season and sees Silva as a necessity. But a lot of factors will dictate whether Barcelona do indeed go after the Portuguese international over the next few weeks.