Arrigo Sacchi is regularly found at the tables of Perla Verde in the swish resort of Milano Marittima on Italy's Adriatic coast.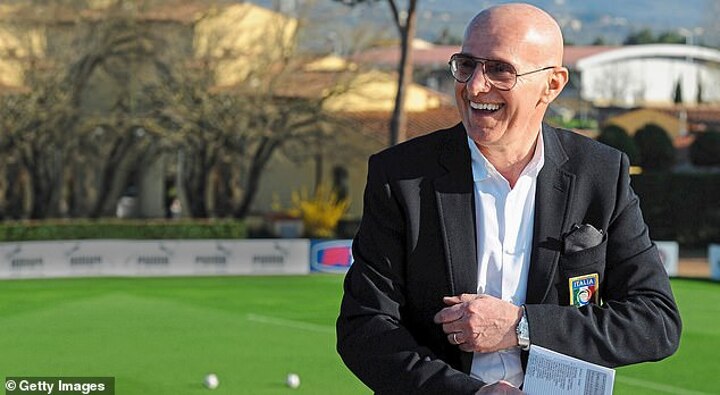 This is where Sacchi launched his book and celebrates birthdays and often meets ambitious coaches who travel in the hope of picking his brain and trading ideas over grilled prawns and an octopus salad.
So it did not go unnoticed when the legend of Italian coaching returned in June with Manchester City boss Pep Guardiola and Maurizio Sarri who had been recently deposed at Napoli and was only a month away from confirmation as the next manager of Chelsea.
'We are very similar,' agreed Sacchi, as he told Sportsmail of the relationship of the trio on the eve of City's trip to Stamford Bridge. 'We all think in football there are values: emotions, the performance, the combination; musicality, harmony, courage, ideas, innovation.
'I admire all the coaches who try to impose their game because I believe you can acquire more knowledge by doing this than in undermining the game. Being optimistic helps to grow self-esteem and leads to a higher culture.
'Being optimistic means not being afraid of the future and not being afraid of emotion. It means trying to renew it even when the team wins. In football we used to say, "If it's not broke don't fix it" but that's not really correct.'
Listen to Sacchi and you can hear Guardiola. At Barcelona and Bayern Munich, Guardiola proved expert at turning champions into multiple champions. At Barca, he took his success into the Champions League. At Manchester City, he is trying to do it again.
'I cannot see into the future,' shrugged Sacchi when asked about City's ambition in Europe. 'If City were an orchestra I would listen carefully. They play with harmony, the right tempo and the correct movements. The experience is lacking to win the Champions League.
'To improve you have to take a risk. It is the base of every adventure. One has to evolve and innovate. When this road isn't followed you remain tied to the past.'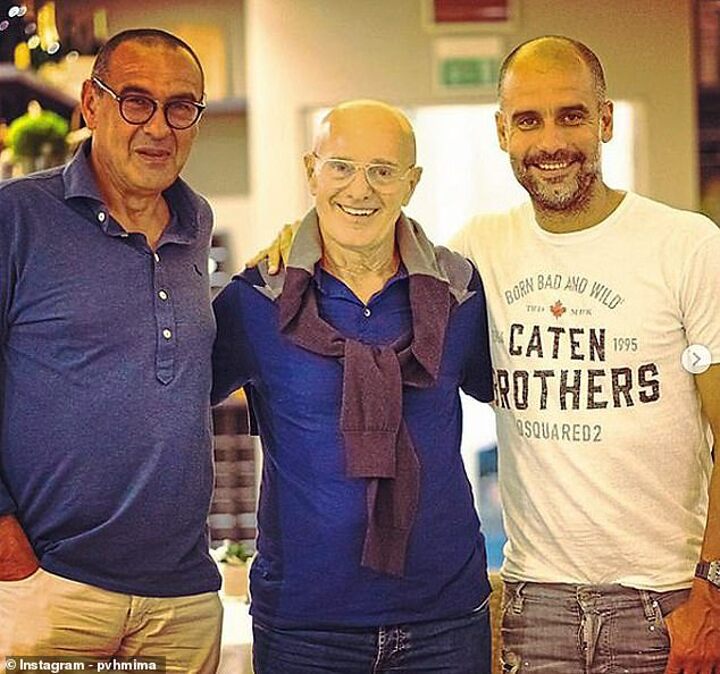 The 72-year-old feels strong connections to Guardiola and Sarri. Like Sarri, a banker, he had no career as a professional player. Sacchi was a shoe salesman who had worked his way to Parma in Serie B when his stylish football caught the attention of Silvio Berlusconi when they beat his Milan in the Italian Cup.
Like Guardiola, who was plucked unexpectedly by Joan Laporta from Barcelona B a decade ago, his experience was questioned when he was put in control of one of Europe's most prestigious teams because the club president had fallen for his footballing philosophy.
'Maurizio is doing a great job at Chelsea,' said Sacchi. 'He is a great loss and it is a pity for Italian football where most coaches rely heavily on their managerial skills, tactics and the qualities of the individual to remedy the collective poverty of ideas.
'This does not help to raise the level of the game which remains the same. So whoever has the best players wins.'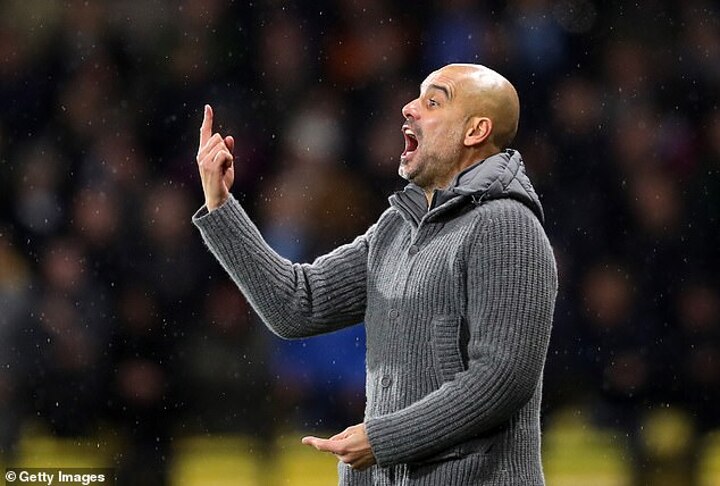 Sacchi first encountered Sarri's football at Empoli in Serie B when he was scouting young Italian players for the youth teams.
'I was amazed by the football Empoli played,' he said. 'So I sent two of the national youth coaches, Alberigo Evani and Luigi di Biagio, to follow Sarri's training sessions. I met him and followed him into Serie A, and I suggested (chief executive) Adriano Galliani should take him to Milan but Berlusconi did not take him on and it was a big mistake.
'People like Sarri are coaches to save you money. They also earn you money because they believe more in their ideas than in the players' feet.'
Sacchi once hailed Sarri's Napoli as a 'masterpiece' and is sure he can produce something similar in London.
'I can see there is a will to follow him,' he said, backing the Chelsea manager's faith in Jorginho as the deepest midfielder despite the theory that it reduces the influence of N'Golo Kante.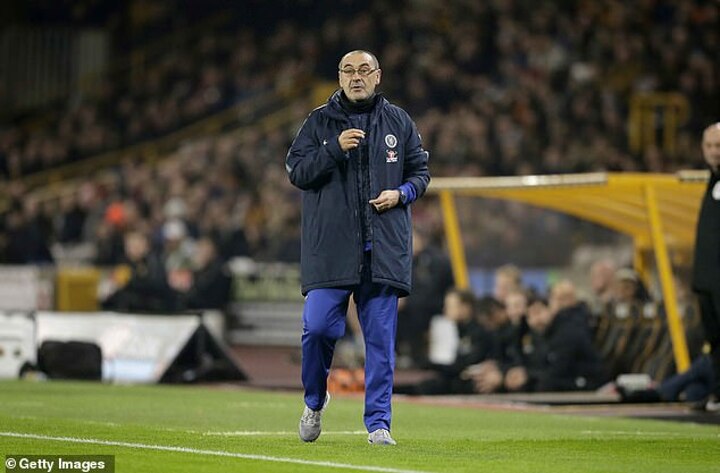 'Kante is a great player; extraordinary in his generosity, for the number of times he steals the ball but when it comes to game construction, he is not as bright as Jorginho.
'Jorginho's talent has increased with practice. He is a normal player or maybe even less than normal for a team based on individuality, physical strength or technical ability, but he is exceptional for a team with an idea of the game.'
His critical eye extends to Eden Hazard, another Chelsea diamond thriving under Sarri and long coveted by Real Madrid.
'Hazard is a champion,' said Sacchi. 'He has strength, technical quality and speed but he doesn't always exploit the synergy of the team. He can improve.
'He doesn't play for the team and with the team at all times. He has been free to play as he wants and it can take great effort to change. Generally those who are used to playing alone play alone and do not take advantage of the synergy.'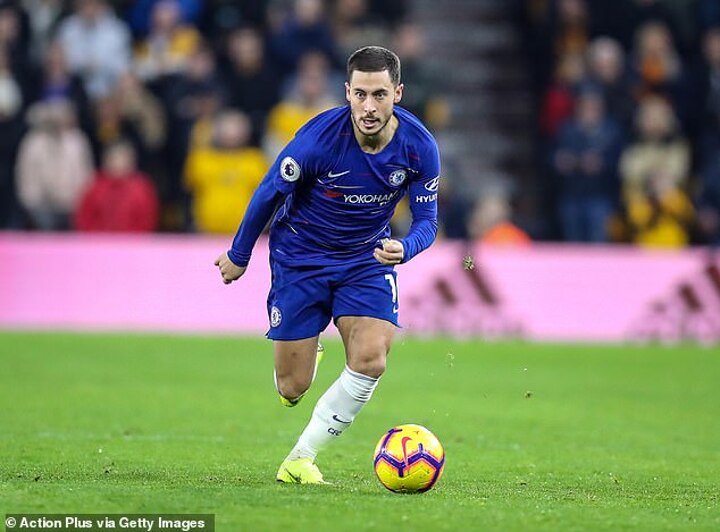 While Sacchi hails the adventure of Sarri and Guardiola he refuses to join the clamour to write off Jose Mourinho despite another difficult campaign at Manchester United.
'Mourinho, Sarri and Guardiola are all three great coaches but they are different,' he said. 'When Mourinho does not win, people begin to say he has an old-fashioned style, but it isn't true.
'He is a coach who prefers the result to the game, but he's great: a great leader, very good tactically, an extraordinary character as a whole. The others are more like teachers.'
As for Zinedine Zidane, the first coach to defend the Champions League since Sacchi's Milan — when he won three in a row with Real Madrid — he said: 'Zidane was fantastic. An intelligent trainer, who didn't have any particular ideas, but managed to manage a group of great champions, and had a great community behind him.'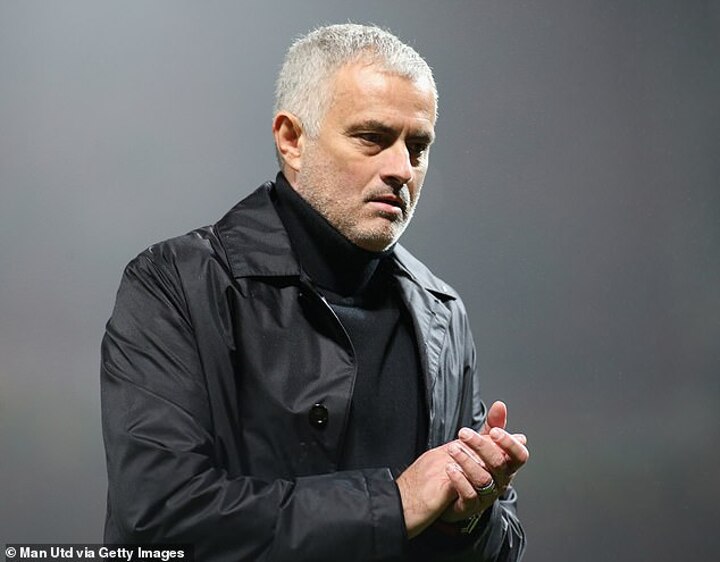 Sacchi's Milan were one of the finest teams of all time, with Dutch stars Marco van Basten, Ruud Gullit and Frank Rijkaard and the famous back four of Mauro Tassotti, Franco Baresi, Alessandro Costacurta and Paolo Maldini.
In his four years, they won the Italian title in 1988 and the European Cup in 1989 and 1990 and freed Italian football from its reputation for dour and defensive football with a fluid and aggressive style of play.
Sacchi left the San Siro for the Italy job and led the Azzurri to the World Cup final before returning to Serie A with a symmetrical flourish for second spells at both Milan and then Parma. He also worked in Madrid as manager of Atletico and director of football at Real.
'In my next life I would like to coach in England,' he smiled, and recalled a scouting mission to Euro 88, at the behest of Berlusconi, to decide whether to sign Gary Lineker from Barcelona or trust in Van Basten's return from the ankle injury which had cost him most of his first year in Italy.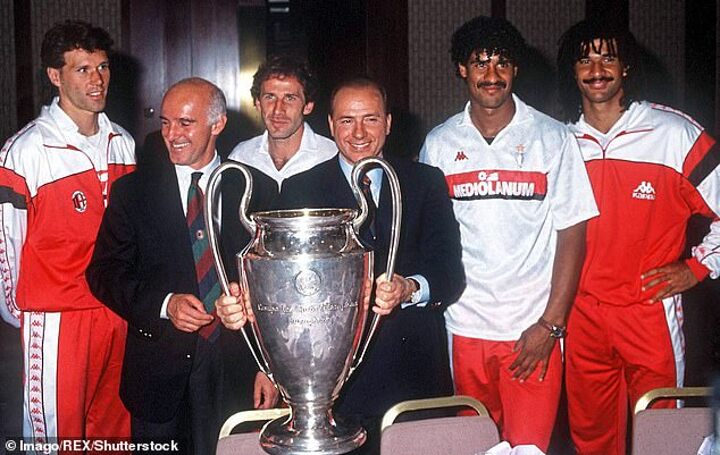 'Van Basten was hurt and we didn't know if he would recover to be the same,' said Sacchi. 'So I went to the European Championship to see him return for Holland against England. I liked Lineker but Van Basten scored three. I phoned president Berlusconi and told him, "Lineker played well but we have got Van Basten back".'
After retiring from club football, Sacchi devoted four years to the Italian FA, helping to improve their youth structure, and has been impressed by England's recent development in this area.
He believes it will make them serious contenders for the major titles in the next four years and credits coaches such as Guardiola for driving changes in philosophy at the top of the English game.
'England has a future ahead,' said Sacchi. 'We can see the light. Not long ago, I saw England's Under 21 team playing a style of football based on pressing, speed and movement.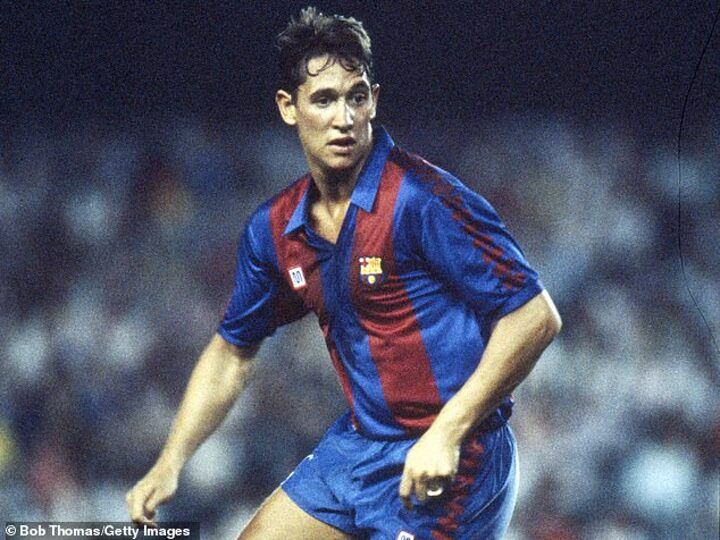 'It was an organic group, continuously well positioned, with a clear idea of what they had to do with and without the ball. A unit which moves like a steamroller with short passages, low to the ground, constant pressing, very impressive.
'England will be the protagonist, if not at the Euros then certainly at the next World Cup.
'It has changed radically from the past. Many academies have been opened where you can train twice a day, much more than we do in Italy, with new methods. Not long-ball, but with teams moving in a compact way — not scattered.
'It is extraordinary what Pep Guardiola gave. Others can also win but their leadership stops with victory. The football of Guardiola and Sarri doesn't. They give new ideas to everyone.'