Here's every single word the Tottenham Hotspur acting head coach said ahead of their final Premier League match of the season at Leeds United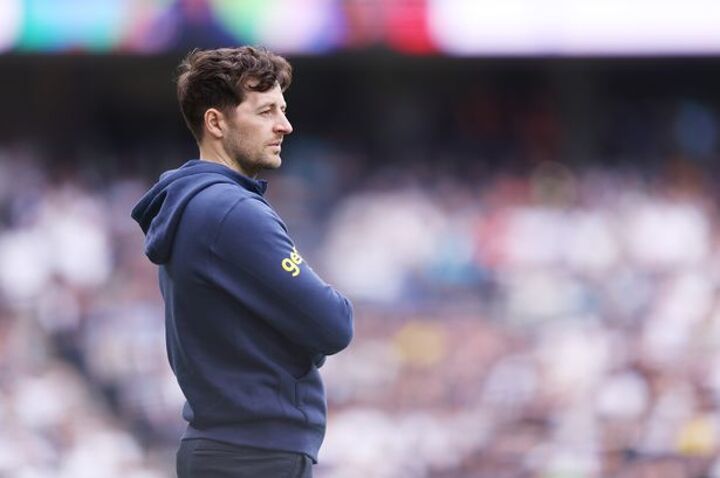 What's the latest team news? Are Romero and Hojbjerg available?
Cristian no, he has an injury and is still out. Pierre trained yesterday so we're hopeful maybe he can help us at the weekend.
Will Eric Dier be fit for pre-season?
I think so - the hope and expectation is that will be the case, and I guess that's why the operation took place so quickly.
How much of a blow would it be to miss out on Europe?
Obviously it has its implications and it's not where the football club wants to be. We definitely want to be competing in Europe. Any European competition is important for a club this size. But at the same time the most important thing regardless of whether we're in or out of Europe is that there is a plan and there is commitment from everyone to that going forward.
Has the uncertainty around the new manager affected squad?
Possibly. The results before he (Antonio Conte) left weren't amazing. I don't think results have dipped a huge amount. Obviously we were in a different position but I think you could feel it, you could feel it the weeks leading up to it there was uncertainty and it's never great to have that uncertainty.
We've probably been in that situation for the last eight weeks where there's been a lot of uncertainty. That is why one of my main things when me and my team of people came in, I wanted to create a togetherness and make us feel part of something towards the end of the season and then hopefully to lay foundations to build where we hope and expect this football club and this football team to look and play like in the future.
Is Tottenham still an attractive proposition for a manager?
Absolutely. Yes.
Why?
It's history, it is Tottenham Hotspur, it is a big club. Not just for managers or coaches, but for staff members, for players. Anyone here should feel the privilege and honour to represent the badge. If they don't, then they shouldn't be here. It is as simple as that.
Can you sum up Harry Kane's impact if this is to be his last game for Spurs?
I can't sum it up because he's still our player. I think when you sum something up, it's a closed chapter and you speak about the past. That's certainly not the case. For any player, manager, member of staff at this football club, when one leaves it's important to have a succession plan in place.
When people do leave, the next one comes in and the impact isn't so big. That's not just speaking about Harry. That's speaking about other players. Ultimately, in ten years' time, Tottenham Hotspur football club is still going to be Tottenham Hotspur Football Club. For me, it's really important that there's an identity in all departments.
What can you do better against Leeds?
We need to be clinical when our chances come. The game last weekend, I thought the first half is probably as good as we've been this season, in terms of chances created and creativity. I really enjoyed watching us. But also understanding that opposition are going to have their moments. You need to make blocks, saves, get through it as a team. Ultimately, that's what cost us last weekend. Their two key moments, they were clinical — and it changed the complete flow of the game.
What did you sense afterwards in the team after the Brentford loss?
Not sure. Naturally, as a professional when you lose a game — we've lost far too many in the last weeks and months — that is something you would hope and expect to feel. Going to Elland Road, we know it's going to be intense. That's something to enjoy. It's a big game for us and a big game for them. We need to use it to our advantage as much as possible.
Was Eric Dier's injury something that hampered his performances?
I am not too sure to be honest. These injuries, I've been a professional, I know what it's like. You have injuries that linger and are difficult. Maybe a slight change in training or a change in the way we wanted him to play and asking his body to do something different might have flared it up a bit. I'm not sure, but ultimately it's an injury that needed to be sorted, needed operating on and I'm sure after this operation he'll come back stronger and better than what he was before.
Was there any temptation to have the operation earlier in the season?
No, I don't think so. I think it was a case of trying to get through it and manage it as much as possible but at the moment he certainly couldn't manage it so that option was taken away.
How much work does this squad need in the transfer window once the new manager comes in to make it compete again?
Of course I think there is work because we have a big squad, a lot of players on loan and decisions to make. First of all there is a lot of decisions to make about our current squad. That's probably the priority. I think the most important work is probably away from the transfer window right now because you need a manager in place, you need commitment, you need an idea to know where you go. You can't do transfer business without a manager because it might not fit his idea. At the moment I believe we need an idea of what we want to do, who we want to be and stick to it. Recruit people for that and ultimately recruit players for that.
You spoke about a succession plan for players but also staff?
Yeah, I did say not just players, it's members of staff as well. If you want to be a successful football club on the pitch then everyone working for the organisation within the football club has to be on board with what we are and who we are. I think that when you have an idea of that, when people leave, it is probably far easier to pick people to come in and I think it makes it a lot more fluid and easy to plan for these type of things. I hope going forward that's definitely the case.
How difficult is it for people to judge this period under you because of the timeframe?
I think naturally people will just look at results because that's the nature of the business. I get that but at same time, I think football people, certainly people inside the building and this football club will know the work we have done. I have no doubt about that.
I don't care how many years experience you have had, to try to change so much in such a short space of time it's difficult. I think, for argument's sake, it's much easier to go from a back four to a back five as opposed to going from a back five to a back four, when a team has been working that way for the best part of two seasons.
But I'll be honest, it is what I believe in and I have to stay true to myself. Especially in this moment in time we have a lot of injuries and we are quite limited in who we can pick, which has probably influenced some decisions as well. Ultimately I come away from it with more belief. I trust my team, I trust my people and I know the work we have done.
Why haven't the results come this time compared to 2021?
Yeah a good question. Maybe fans not being in the stadium then, the feeling of the game was a little different. Now the intensity is so high and we are probably coming off the back of like a more, I wouldn't say an uncertain period but there is uncertainty. I think it has probably translated far too much to the outside world than what it should have done and maybe that has affected the players. It could have easily been very difficult in terms of the results, but that's football. We see it all the time when new managers go into clubs at the start of seasons, midway through seasons.
Historically in the last couple of years, we look at successful teams now and we look at successful managers, it wasn't always easy at the start. Results probably weren't as good but they stuck to who they were, they kept believing in how they felt the football club should be and ultimately when that happens, everyone is on board and players, staff and fans buy into that, it is easier to turn it around.
Did the way it ended for Antonio have more of an effect than Jose's end?
No, I just think because of Covid. Football was different. The Premier League two years ago with no fans in the stadium, it was just a different game. Naturally you lose the intensity, you lose the real connection, the emotion, it just wasn't there. It was a different league and a different period to what it has been now.
You could feel some disappointment in players last week, did you expect more from them?
There is always disappointment when you lose, absolutely. Like I said after the Brentford game, I was proud of the players in terms of the shift they done from a mental point of view, the things we were asking like the regains higher up pitch, the aggression of our defensive line, how we played with the ball, the fluidity, freedom and creativity, it was really good. But in this moment when you switch off for a split second in the Premier League, it is tough and you get punished.
We got punished for a few moments where I don't want to say it is understandable because I expect and demand a lot more but at this stage of the season, when you're asking them to do something physically different, mentally different, after playing 45 to 50 games of a long season with a World Cup break, having lost a member of staff during that, having lost two managers, yeah it is not easy.
You're in a unique position to comment on claims that the players are unmanageable or the manager's job impossible?
My view is quite clear in terms of we've probably had two or three different styles of football in the last two or three years and I don't think that is good for any squad of players or for fans. For anyone it is hard to become stable and when you lose people, lose coaches, lose players, lose members of staff, the impact is huge if you keep going from different things. Like I say, going forward it really is important and we see it in the Premier League, we see it across the leagues, I want people to know who Tottenham are, know what a Tottenham team looks like and certainly know what a Tottenham player looks like.
If this is to be your last pre-match press conference do you have a message to the club, to tell them how to lift them back up?
This is just how I view the situation as it is. Obviously there will be loads of conversations in the summer about going forward. There is a lot of people here who really care and want the club to get back to where we want, where we expect and where we hope to be. Yeah them conversations and decisions I am sure will be made in the summer. I trust the people making them decisions.
Who is your Spurs player of the season? Have your say by voting below!