Portugal cruised through qualifying to reach Euro 2024 despite concerns over manager Roberto Martinez, and questions over Cristiano Ronaldo's future in the team.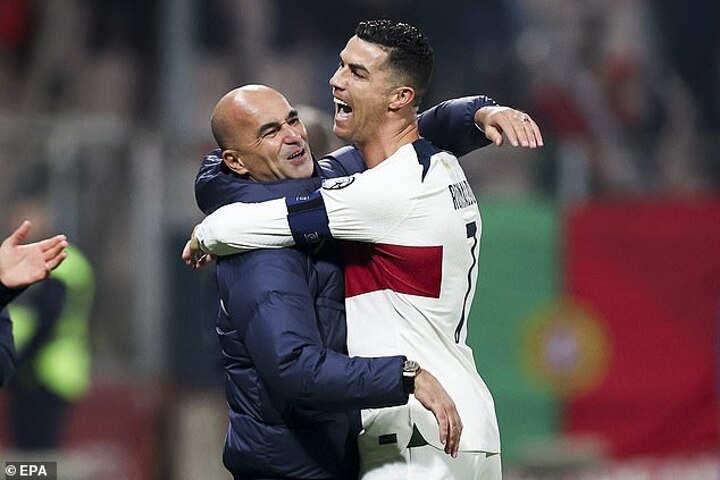 The country turned to Martinez following their quarter-final exit at last year's World Cup in Qatar. They crashed out of the tournament to Morocco in a game where Ronaldo only came off the bench, after prior manager Fernando Santos decided to drop the Portuguese icon from the starting XI after the group stage.
Martinez was appointed in January and local outlet A Bola revealed that in a poll, 75 per cent of Portuguese fans were against his appointment.
The Spaniard was often blamed for Belgium's golden generation - consisting of the likes of Kevin De Bruyne, Eden Hazard, Romelu Lukaku - failing to win a trophy or reach a major final during his six years in charge.
Martinez though has inherited a team whose morale was shot after the loss to Morocco and has turned their fortunes around with a 100 per cent record in qualifying to reach Euro 2024. While Ronaldo scored ten goals to reestablish his position in the Portuguese team at the age of 38.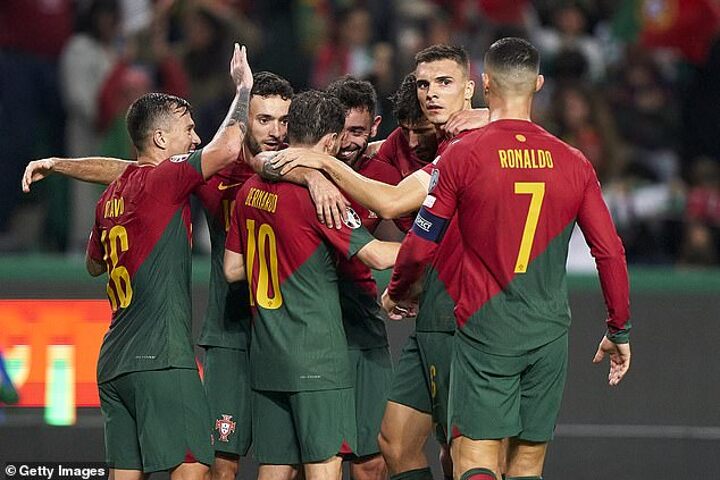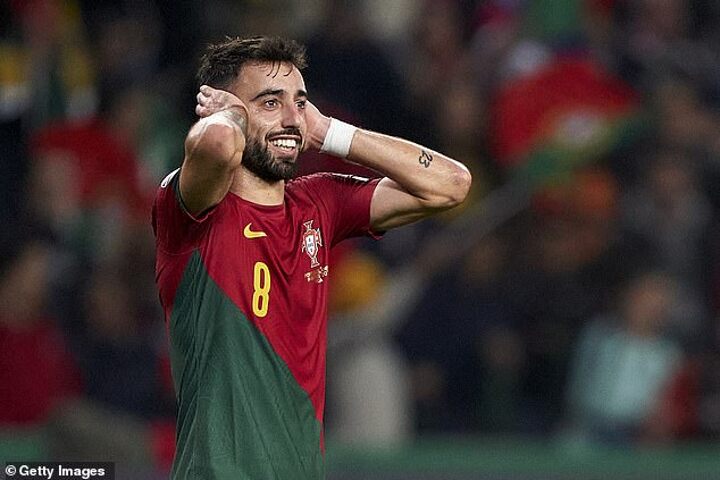 Ronaldo, following his exit from European football to Saudi Arabia and his struggles at the World Cup, was supposed to be a player in decline.
But contrary to what many would have expected, he has struck up a good relationship with Martinez and scored in six of the nine games that he featured in the qualifiers - including four braces.
It has taken his scoring record to a staggering 128 goals in 205 games and despite making his senior international debut two decades ago - Martinez believes he is still as hungry as ever.
As per AS Sport he said: 'It is difficult for me to explain how a player who is 38 years old and has more caps than any other player in the world has the hunger of an 18-year-old player.
'This is a force that infects others in the locker room. A player who always tries to be in the correct position, who likes to score, but who has a lot of collective discipline. He is an example in the locker room, it is fantastic to have a player with his experience.'
What would have helped is that the pair held talks after Martinez's appointment in January, and the Spaniard later said that it had been easy to include Ronaldo in his plans.
He told talkSPORT in March: 'I met all the players and in that you see what it means to play football and where they are in their careers.
'For Cristiano, he wasn't ready to step away. He was ready and wanting to be a part of the new cycle and at that point it was very easy to include him into the March camp, and then you can make a football decision.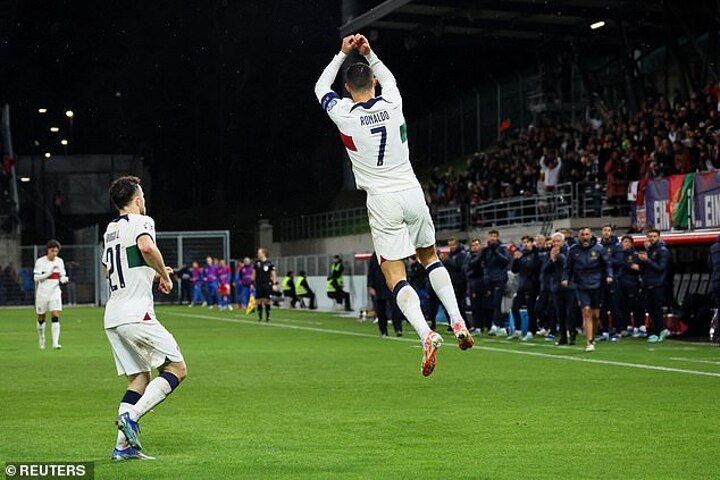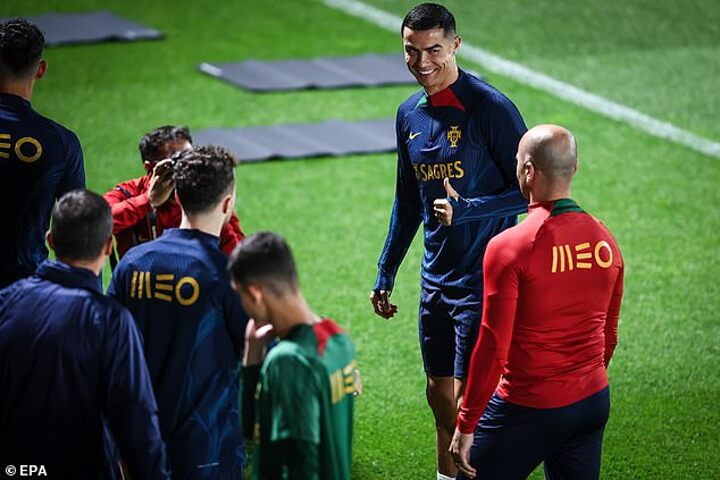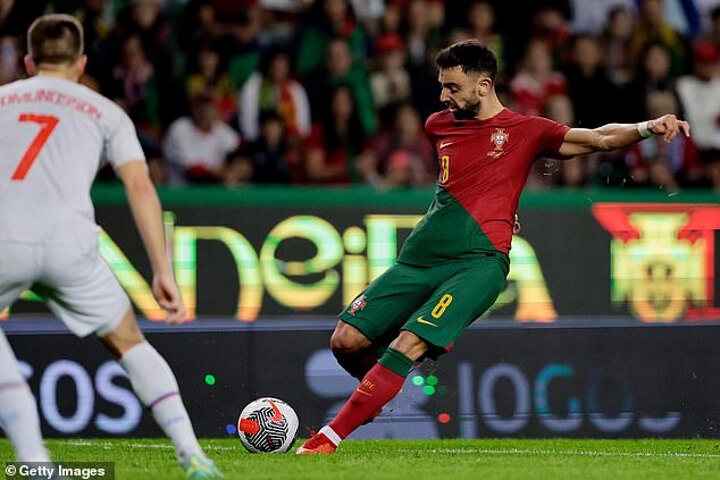 'He scored four goals, he was a real leader, a captain and someone who brings an experience that no other player has in world football. He's someone who can reach 200 caps for your country and someone who needs to be used in your dressing room.'
Another player who has impressed for Portugal under Martinez, is Man United captain Bruno Fernandes, with six goals and seven assists to his name.
Those figures in ten games are more than the four goals and three assists he has made in 17 appearances for the Red Devils this season.
A Bola, in their match ratings for Portugal's most recent win over Iceland, described Fernandes as the 'big figure of the qualification' and the 'commander-in-chief'.
Despite his ability to come up in big moments for his club, Man United would love for him to bring over his numbers he provides at international level to Old Trafford.
It is not just there where the attacking talent ends though, as Portugal with 36 goals have scored more in the qualifying process than any other side.
Bernardo Silva, Goncalo Ramos, Joao Cancelo and Joao Felix all scored three goals apiece, while they also have Liverpool's in-form forward Diogo Jota who can contribute to the goals.
Their range of options in the forward positions is enough to concern any team going into next summer's competition.
Their defence though not perhaps as stacked, has a number of good options with Man City star Ruben Dias one of the best in the world in his position, and defensive midfielder Joao Palhinha highly-sought after by European giants for his impressive displays for Fulham and his country.
It is not just about what's on the field however.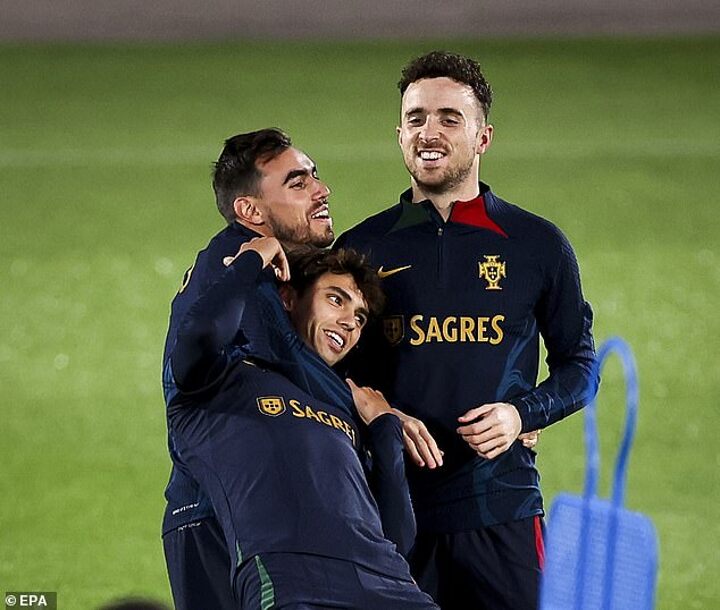 As previously reported by Mail Sport, Martinez took Portuguese classes for 90 minutes every day and called on everyone to speak to him in the language so he could learn quickly.
He has also brought in an impressive backroom staff, which includes former Chelsea and Real Madrid defender Ricardo Carvalho.
Martinez also has Jesus Seba, who first worked with him when they went to Wigan together as players in 1995; Inaki Bergara, who worked with him at Swansea and then Everton; Chelsea assistant coach Anthony Barry, who worked with Martinez at Belgium; and head of performance Richard Evans, who was with him at Swansea and Everton.
However, despite all of the positives, there is still some proving that Martinez needs to show.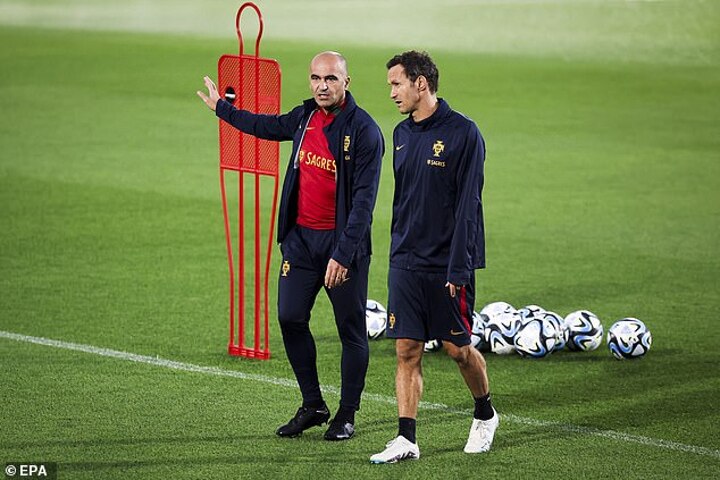 Portugal were in a group consisting of Slovakia, Luxembourg, Iceland, Bosnia and Liechtenstein. None of whom would be considered as serious challenges for Europe's elite nations and Portugal were barely tested, as shown by the fact they conceded just twice in ten games.
Martinez meanwhile has now gone 38 European and World Cup qualification games with Belgium and Portugal, without losing a single match.
With Belgium, Martinez finished third at the 2018 World Cup, was knocked out in the quarter-finals of Euro 2020 and didn't even get past the group stage in Qatar last winter.
With Portugal, in a landscape where the likes of Spain, Germany, Italy and Belgium are not the strong challengers people know and expect, Martinez will be under big-pressure to deliver with Portugal and add to their success from Euro 2016.