Inter aim to qualify for the Champions League knock-out phase for the first time in more than ten years and learn from their mistakes in the last two seasons, writes Richard Hall.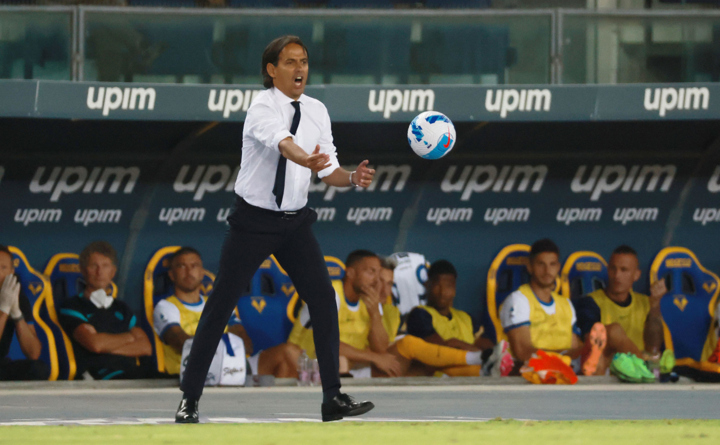 It cannot all be blamed on Antonio Conte, although the Scudetto win perhaps papered over last season's European campaign. Inter will soon take to the field again to compete against Europe's elite clubs and they will need to address certain aspects of their game if they wish to go deep into the competition.
Simone Inzaghi has shown some promising traits, both in his application and his tactical approach, but questions still need to be answered. They are in a group that they should hope to qualify from, but the same could have been last year. Now, the Nerazzurri need to be more cultured and more perceptive in the approach.
In his early days at Inter, Inzaghi has already shown that, despite the Scudetto win, Inter were limited in the last campaign. Conte was heavily accused (especially until the New Year) of being one-dimensional and lacking a plan B. This was thrown at him in Europe, as it seemed that whilst his teams were rarely outfought, they were out-thought and the results showed.
Inzaghi has understood that Conte's quick, counter-attacking style certainly has to stay as it can decimate teams when used correctly. He has, however, been quick to realise that sometimes his teams need a more pragmatic approach and need to be more direct. This was evident against Verona when it seemed that Edin Dzeko would play a massive part in this game plan. The long balls in may not be attractive but allow Inter to offer another way of combating the opposition.
Whether it was an effect of the pandemic or the fact that no fans were allowed in the stadium, or just the way the campaign played out, there was no disputing Inter were poor at home. This is a crucial point as winning the home games has and always will be fundamentally key to progressing in the Champions League. Last term, they drew with Borussia Monchengladbach, lost to Real Madrid and drew with Shakhtar Donetsk, these performances showed no confidence and Inter failed to take advantage of being at home.
With the crowd back and behind them, the Nerazzurri need to approach these games with confidence. They will have to utilise the infectious fan base who will back them to the hilt. The irony of the draw for this year is that they will face both Madrid and Donetsk again and therefore have no excuses when they look to correct their wrongs.
It seems that the Inter coach is also happy to rotate the squad. Already there has been talks that Arturo Vidal (who has been impressive off the bench) may start against Real Madrid. Conte was a man who liked to keep his line-up as consistent as possible and whilst this worked well later in the domestic campaign (as Inter were out of Europe), it would not have been possible to sustain had Inter gone deeper into the competition. The early signs are good as the likes of Joaquin Correa could easily slot in up front.
It feels like there is more fluidity in the squad, even if the argument is that there may be less quality since Romelu Lukaku and Achraf Hakimi departed. If the Nerazzurri are serious about attacking this season on all fronts, then the rotation will be crucial and Inzaghi will have to trust all elements of the squad, including those who have been on the fringes.
It is challenging for Inter as the summer and the ownership issues have not been kind. However, thanks Beppe Marotta, Inzaghi and the staff, they have managed to keep hold of the central part of a competitive group and too many are still in contention for the Scudetto. The coach could show how much his presence is an improvement if he qualifies from the group stages as last year's campaign was a mess and despite the domestic success, European ambitions were thwarted. It will be intriguing to see how Inter approach the campaign, but for sure, the fans expect a better showing than last season and despite losing key assets, they may actually be better placed this year to compete.