Manchester United have been rebuffed in their efforts to secure Paris Saint-Germain head coach Mauricio Pochettino to replace Ole Gunnar Solskjaer and are looking for an alternative option.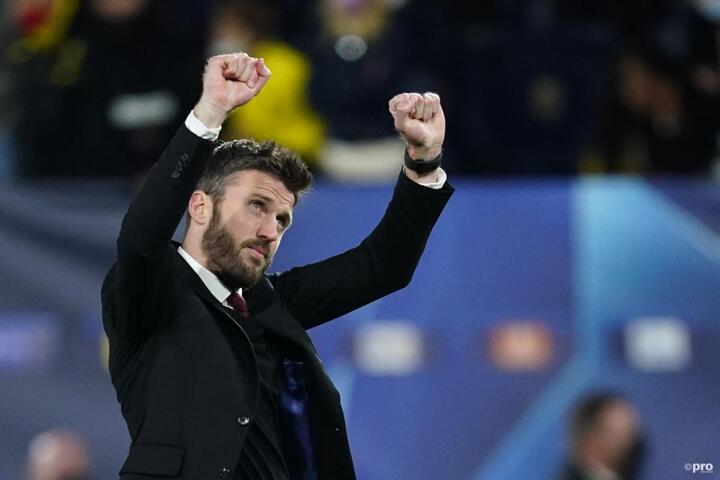 With Pochettino having been identified as Man Utd's preferred candidate, the club are prepared to wait until the summer, at which time they will launch a renewed assault for the Argentine. At that point, the PSG boss would most likely go to Old Trafford.
In the meantime, Manchester United will seek to appoint an interim, who will lead the club for six months before a final decision is taken in the summer.
The club have put together a five-man shortlist of options.
Who will be Man Utd's interim manager?
Ralf Rangnick
Vastly experienced in German football, Rangnick has won his reputation working with clubs such as Schalke, Hoffenheim and RB Leipzig, where he helped to pioneer the Gegenpressing style that has become synonymous with Jurgen Klopp's Liverpool side.
He is presently working with Lokomotiv Moscow, in a sporting director role. A six-month deal might not be enough to woo him to Man Utd unless there is a promise of a long-term position for him in the club's strategy.
Ernesto Valverde
Another experienced figure, Ernesto Valverde was sacked when Barcelona were still top of La Liga in 2019/20. Since then, it has been rapidly downhill for the Catalan club, with whom Valverde won two league titles and a Copa del Rey.
Meanwhile, the 57-year-old has not taken up any new posts.
His only previous experience coaching abroad came via two stints as Olympiacos boss.
Lucien Favre
Lucien Favre has been out of work since leaving Borussia Dortmund in 2020, but that has not stopped the Swiss being linked to a myriad of positions.
Much of Favre's work has previously been done in the Bundesliga, with the likes of Hertha, Borussia Monchengladbach and Dortmund. He started his coaching career in his native Switzerland and also spent two successful seasons in charge of Nice in Ligue 1.
Rudi Garcia
A surprise name on this shortlist, the Frenchman is coming off a difficult spell at Lyon, which ended in the summer.
During the early years of his coaching career, Garcia's star shone brightly as he helped lead an Eden Hazard-inspired Lille to the Ligue 1 title before taking on a job at Roma. Three seasons in Italy have been followed by big jobs in France at Marseille and Lyon, though Garcia has never particularly impressed in either of these posts.
Michael Carrick
Michael Carrick is the man in possession of the caretaker role at present and made a decent start with a 2-0 win over Villarreal on Tuesday. The former England midfielder says he possesses the same footballing ideas as Solskjaer, so at least there is the opportunity of continuity – although that may not be something that Man Utd are interested in.