In the second of a three-part series, looking at the best youngsters across Spain, Italy and Germany, Sportsmail takes a look at the cream of the crop in Serie A.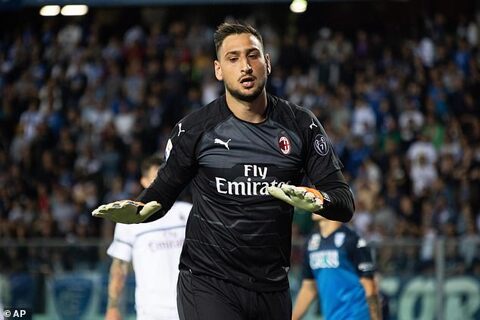 Juventus may hold a monopoly on titles in the division but their star-studded team means other clubs are giving youth a chance, with the likes of Fiorentina and Cagliari boasting some of the best talent.
Here, SHERIDAN BIRD looks at the best the top-flight has to offer.
GOALKEEPER: Gianluigi Donnarumma — AC Milan (19)
The eternal wonder boy. 'Gigio' made his Serie A debut in October 2015 aged 16. He now seems like a veteran in a much-changed AC Milan team.
There are flaws to be ironed out, including his footwork. But Donnarumma possess the athleticism and reflexes to be a long-term fixture for the Rossoneri and Italy.
A quiet and humble person, Donnarumma has moved on from the controversy surrounding his new contract last year. That placed a strain on his relationship with the fans, but he is rebuilding it with solid performances and less talk.
RIGHT BACK: Davide Calabria — AC Milan (21)
Another youngster who took his chance amid Milan's restructuring over the past few seasons. Right back Calabria can be inconsistent but has the right blend of tenacity and toughness for the defensive part of the job.
The refrain in modern football is that full backs don't know how to defend anymore, but sturdy Calabria is a strong tackler. He can also make his presence felt in attack.
His wonderful, scooped goal against Roma at the Stadio Olimpico last season 'broke the internet'.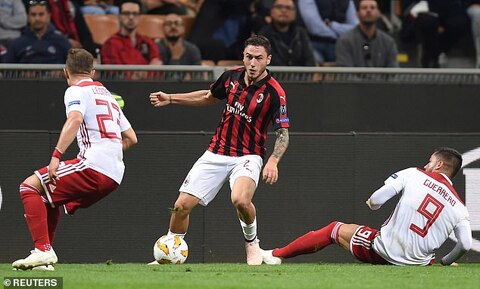 CENTRE BACK: Filippo Romagna — Cagliari (21)
There is a paucity of great young centre backs in Serie A. It's a position that is usually reserved for those in their mid-twenties onwards, and Italian football has rarely trusted youngsters in the heart of the rearguard.
Former Juventus youth player Romagna is pick of the current bunch, and is steadily creating a good reputation. He switched his shirt number midway through last season after the death of Fiorentina captain Davide Astori.
The developing centre back was wearing the No13, which Astori once owned at Cagliari, but the Sardinian club retired the jersey as attribute. Romagna took the 56 (the year of his father's birth) in March this year.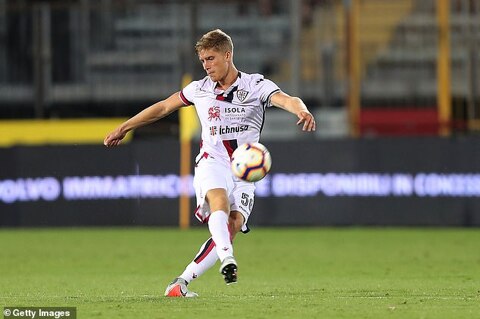 CENTRE BACK: Nikola Milenkovic — Fiorentina (20)
Strictly speaking, Milenkovic plays as a right-back for the Florence team, but is a central defender by trade.
He made three appearances in the middle of the Serbia defence at the World Cup in Russia, helping them keep a clean sheet in the victory over Costa Rica. He has been nicknamed 'the New Vidic' in his homeland.
Fiorentina coach Stefano Pioli said: 'Nikola has a great physique and is fast, so he can handle quick wingers. He can become very good. After mistakes he remains calm and stays focussed on the match. That's an important quality for a young player.'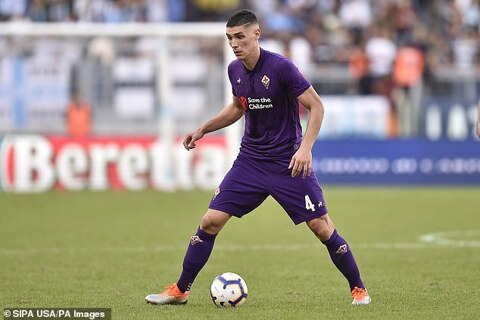 LEFT BACK: Federico Dimarco — Parma, on loan from Inter (20)
Dimarco made his name nationally with his thunderous, Roberto Carlos-style goal against parent club Inter a few weeks ago.
That swerving, long range shot won the game for his loan team Parma at the San Siro. Dimarco won't score like that every weekend, but is a promising full back.
Vigorous and whole-hearted, Parma have kept a clean sheet in the three league games he has started. Dimarco, who takes penalties, cites Barcelona and Spain star Jordi Alba as his role model.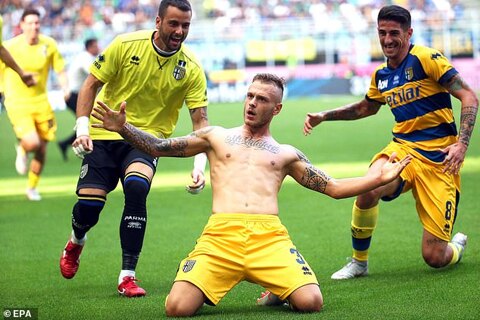 RIGHT MIDFIELD: Federico Chiesa — Fiorentina (20)
Federico's father Enrico specialised in spectacular goals from out of nothing. Senior was a striker, Junior is a winger, but has inherited his dad's shooting skill.
The 20-year old is Fiorentina's leading light these days, and is a constantly on the move, taking on full-backs, cutting inside and going for goal. Physically he is more robust that Enrico was, and that enables him to withstand hard challenges.
Controversially, Federico has been criticised for a perceived diving habit recently. Fans in Florence know he won't be one of theirs for much longer, such is his talent. Should become a key Italy figure too.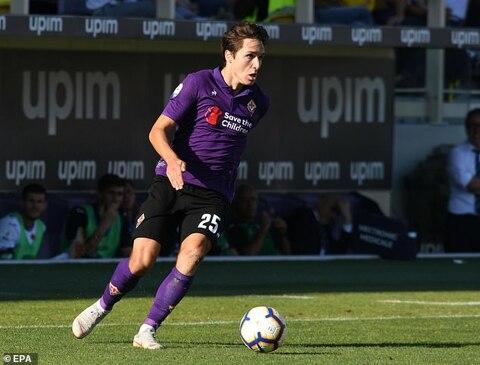 CENTRAL MIDFIELD: Rodrigo Bentancur — Juventus (20)
There are a lot of quality middle-men at Juventus. Recent world champion Blaise Matuidi, World Cup and Champions League winner Sami Khedira, new boy Emre Can and the irreplaceable Miralem Pjanic.
Uruguayan Bentancur needs to grasp every chance coach Max Allegri grants him, and profit from his ability to cover a variety of roles in the centre.
His performance away to Udinese before the international break, which included a goal, showed why Juve value him.
One area the ex-Boca Juniors player can augment is his 'nasty' streak and ruthlessness.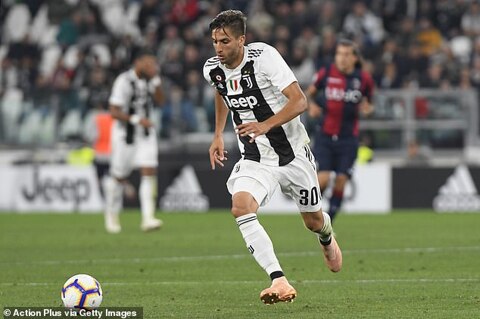 CENTRAL MIDFIELD: Nicolo Barella — Cagliari (21)
Unlike Bentancur, this guy doesn't need lessons in feistiness. Barella is as tenacious as he is technical. The Cagliari starlet is just as happy hounding and irritating opponents as he is initiating counter-attacks.
He has got that uncanny knack have committing the type of fouls that escape a yellow card but frustrate the other team. That might sound cynical, but it's the sign of someone who has will end up at a big club very soon.
Napoli and Inter are apparently keen. Barella, who made his debut for Italy against Ukraine on Wednesday evening, can also create too, and his distribution is judicious and snappy.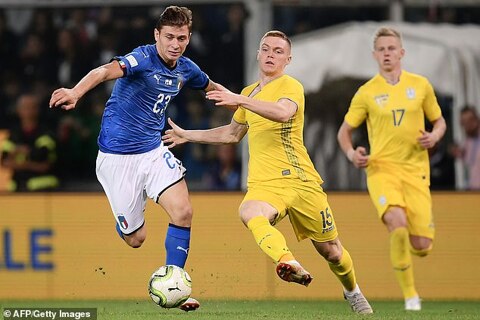 LEFT MIDFIELD: Cengiz Under— AS Roma (20)
Transfer guru 'Monchi' was a smash hit with Sevilla, unearthing talent from all over the world. His first masterstroke with Roma came in the form of young wideman Cengiz.
The Turkish attacker arrived from Istanbul BB in the summer of 2017. He can play on either side, and his coach Eusebio Di Francesco says: 'He has improved a lot since he arrived. He came here with a very humble attitude and works hard in training.
'Sometimes he tries tricks or moves that aren't viable, but that's part of his learning process. His skill levels are remarkable and he can fire off a shot incredibly quickly.'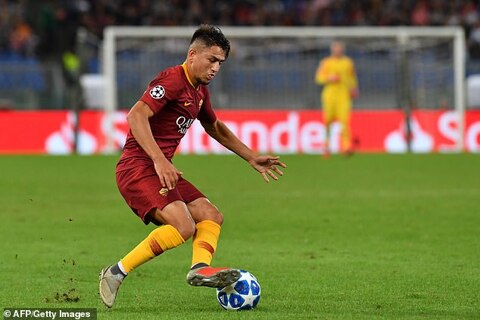 FORWARD: Patrick Cutrone — AC Milan (20)
Last season was Cutrone's breakthrough, this campaign Milan coach Gennaro Gattuso is using him from the bench.
That's inevitable since the Rossoneri signed Gonzalo Higuain. But Cutrone is still making a mark, particularly in the UEFA Europa League, where he scored twice to save his team against Olimpiacos. Inspired by his double Milan won 3-1.
Cutrone has that precious 'nose for goal'. It's unfair to burden him with the 'new Pippo Inzaghi' tag, but it's a comparison worth making for his ability to be in the right place most of the time. He wears No 63 as a tribute to his father Pasquale, who was born in 1963.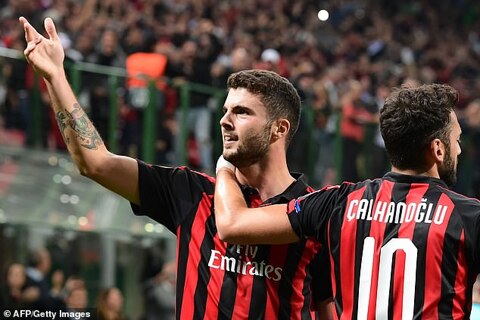 FORWARD: Lautaro Martinez — Inter (21)
A £20m recruit from Racing Club last summer, Argentine Lautaro is still finding his feet and Inter are exploring the best place to deploy him.
He can operate as a second striker or up front alone when captain and centre-forward Mauro Icardi needs a rest. The Nerazzurri No 10 has demonstrated his quality in flashes, including an instinctive headed goal against Cagliari.
Inter chief Luciano Spalletti said: 'He's a genuinely good player. He finds space in a crowded box, can finish, is a strong character, is skilful, and can shoot.
'Perhaps he's a bit selfish…but that's not necessarily a bad thing.' Indeed.