Manchester City and Inter Milan are preparing to face off in this year's Champions League finale on Saturday, cheered on by a glossy posse of supporters.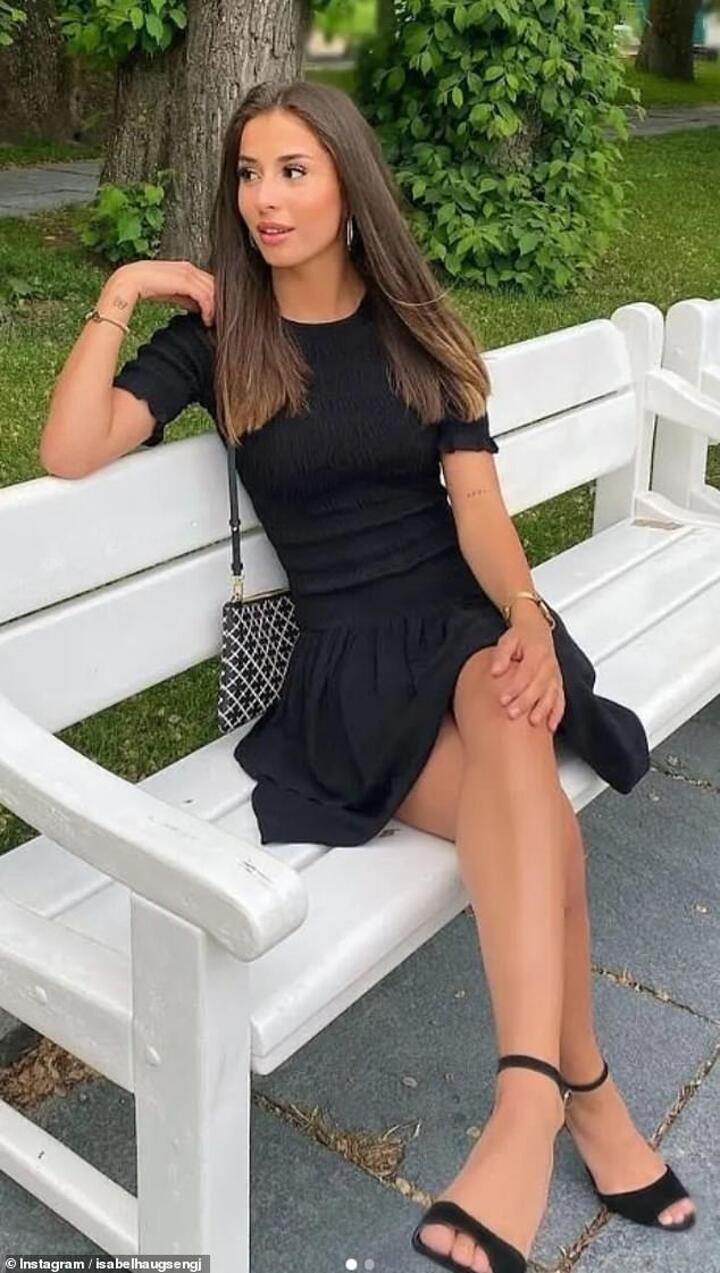 The team will battle it out for the title in Istanbul, Turkey, and will count on the backing of their families - including their very glamorous wives and girlfriends.
Erling Haaland's girlfriend Isabel Johansen, as well as Kevin De Bruyne's wife Michele Lacroix and Jonn Stones' partner Olivia Naylor among others have already made multiple appearances by the pitch to support their footballing ace partners.
Meanwhile, on the Italian side, strikers Lautaro Martinez and Edin Dzeko can count on the unwavering supporting of their glamourous wives Agustina and Amra.
Here, FEMAIL takes a look at the very glamorous WAGS supporting both teams.
MANCHESTER CITY
Isabel Johansen
Girlfriend to Erling Haaland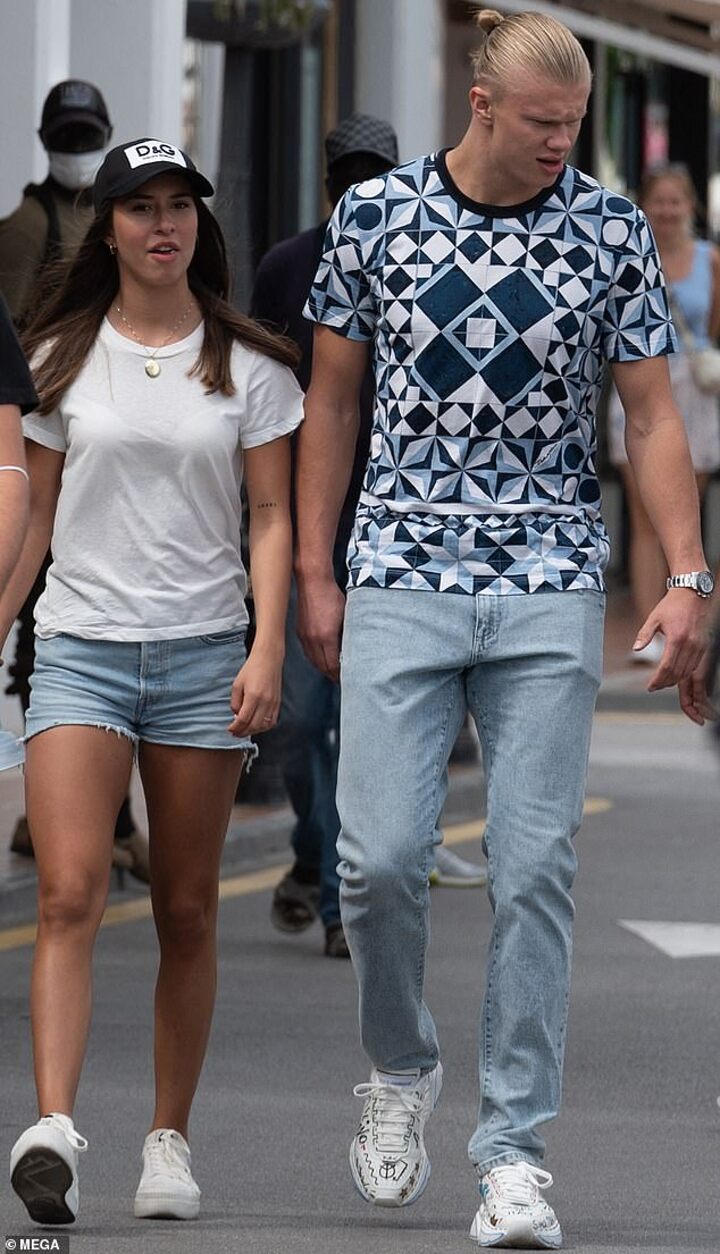 Erling Haaland, Manchester City's goal-scoring machine, has reportedly grown up alongside his girlfriend Isabel Haugseng Johansen after the pair met as children.
She recently moved from her native Norway to Manchester to live with the Man City striker.
Described as a 'beautiful, intelligent, sociable, outdoorsy' schoolgirl, the 19-year-old left behind her life in a quiet corner of Scandinavia to be at the side of the newest colossus of world sport.
The 19-year-old was given a leave of absence to study remotely by Brynne Upper Secondary School in south-west Norway ahead of her boyfriend's club scooping the Premier League title.
The move prompted Isabel's friends to describe her as 'the luckiest girl in Brynne'.
The 19-year-old is not only involved in football because of her partner, but is a footballer herself.
In fact, the pair are believed to have met through the sport, with Erling joining local team Bryne FK when he was just five years old.
He spent more than 10 years at the Norwegian side, which is where the two are thought to have met, as they grew up together at the club's academy.
Taylor Ward
Wife to Riyad Mahrez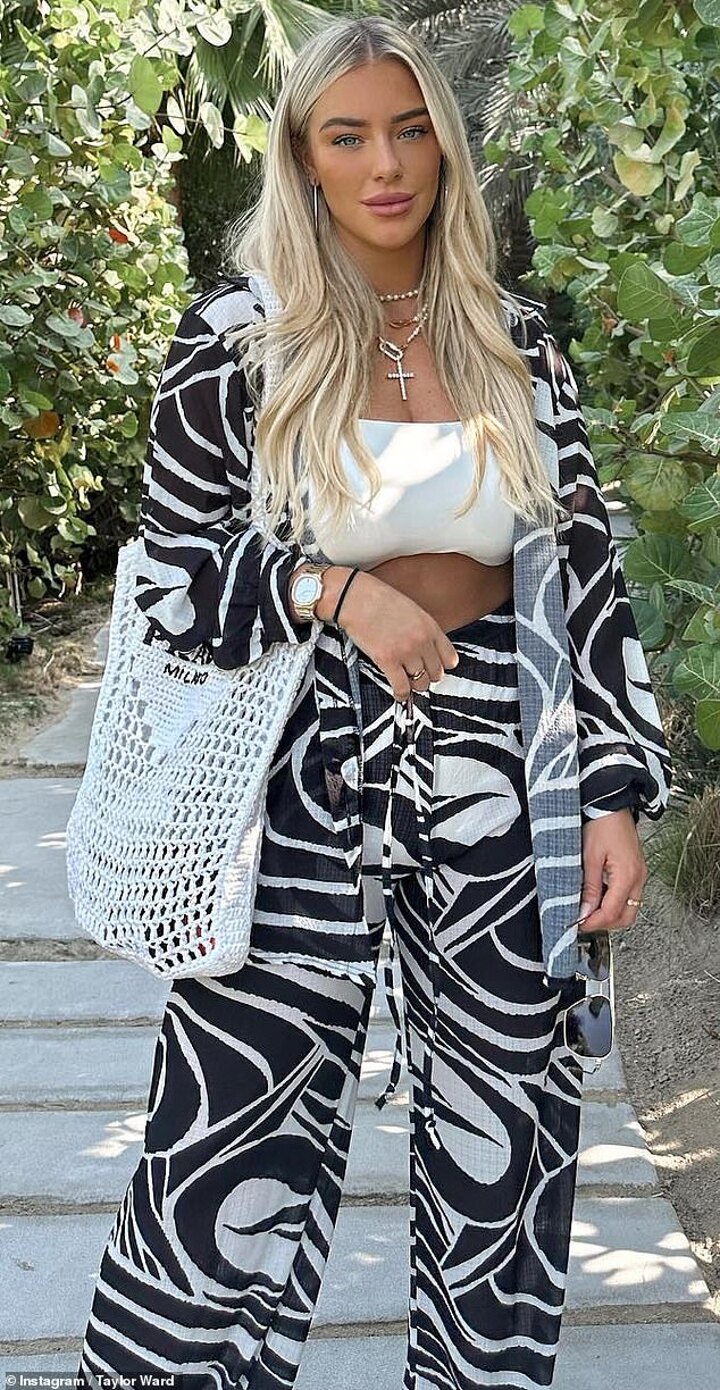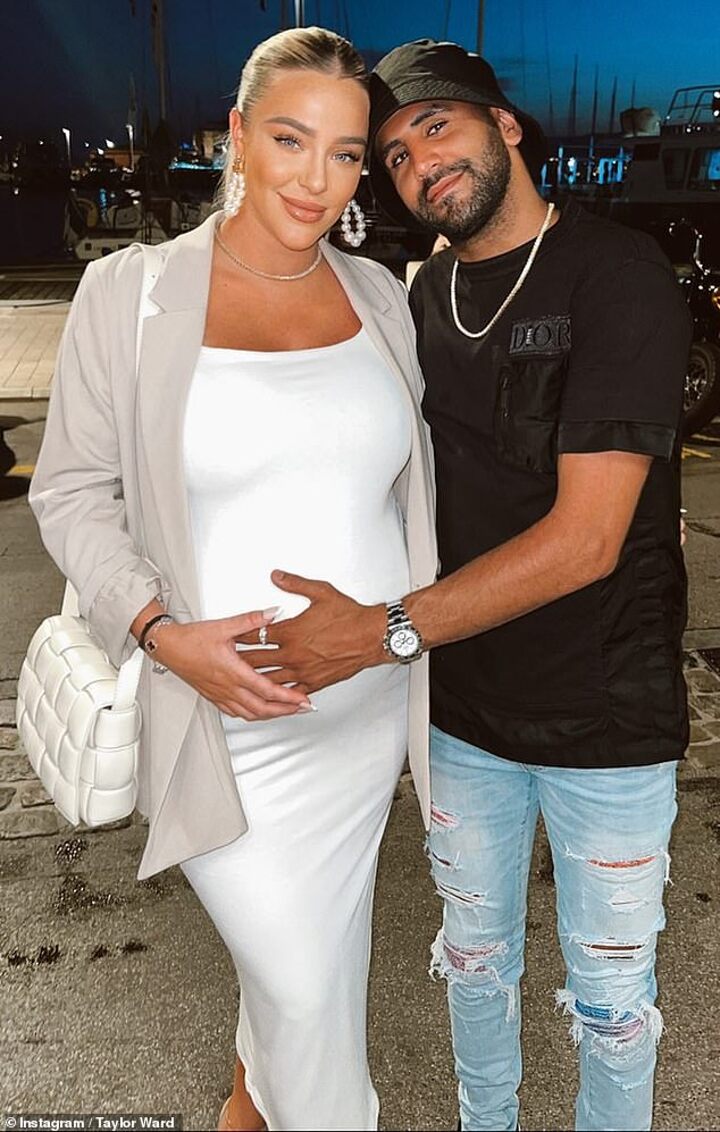 Taylor Ward, a 25-year-old socialite and model with a huge Instagram following of some 2.5 million, is married to Riyad Mahrez.
They went public with their romance in October 2020, announcing it on social media, after months of speculation.
The couple got married in 2021 in a 'secret wedding', with reports that they wed in a Muslim ceremony under Islamic law.
And last July, Taylor took to Instagram to reveal she and husband Riyad welcomed their first child together, posting her first snap of the newborn.
Whilst the baby will be the first for Taylor, Riyad shares two daughters with his ex-wife of six years, Rita Johal.
The couple confirmed in January that are now planning another ceremony in the UK to make their marriage legal in the UK.
Olivia Naylor
Girlfriend to John Stones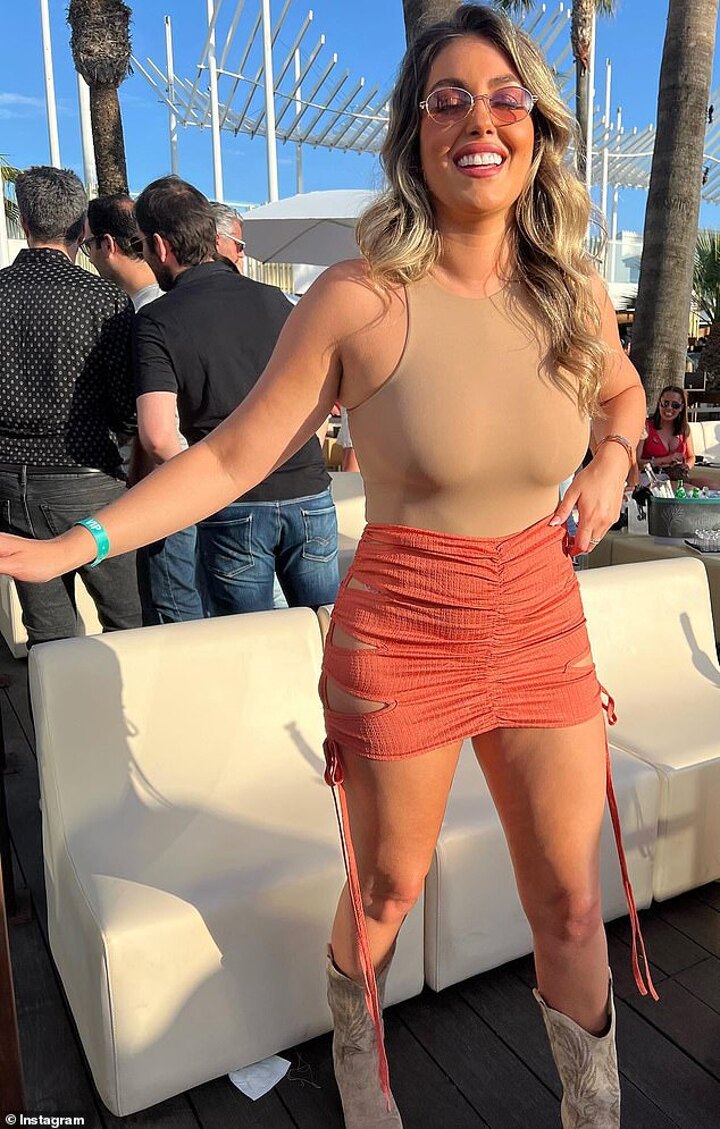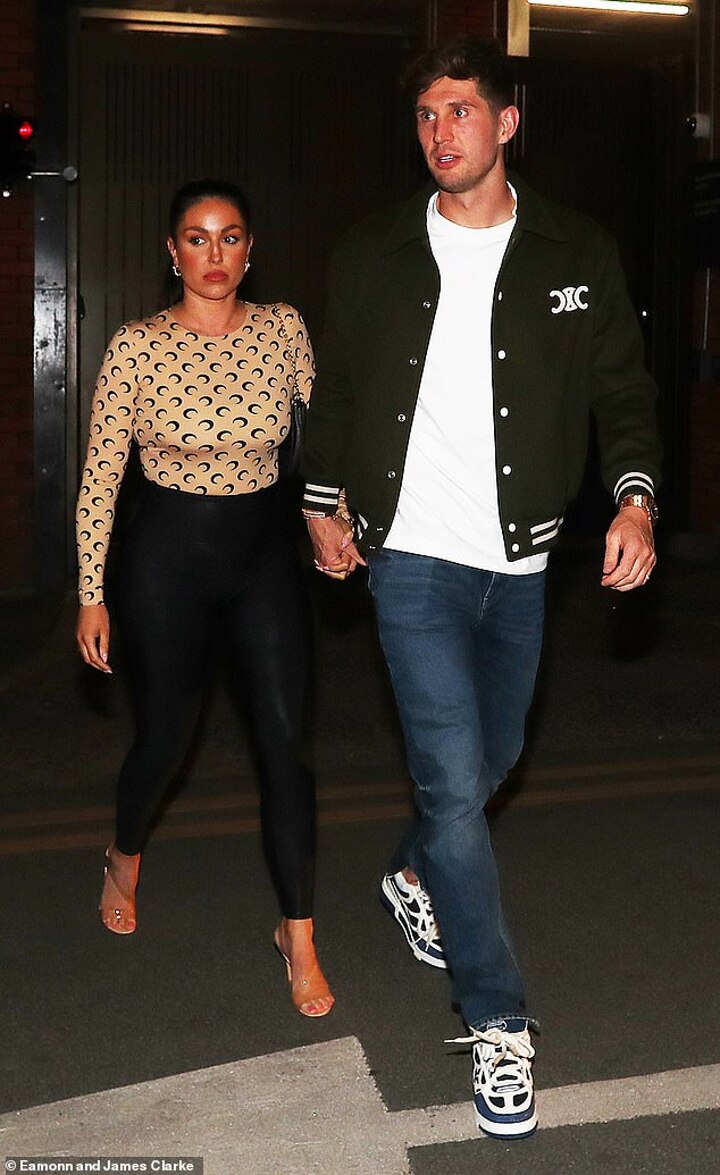 John Stones's girlfriend is Olivia Naylor, a 33-year-old beautician, who also has her own successful career.
She has established a business in Manchester and has her own salon near her Cheshire home.
Her social media account describes her as an expert in 'brows, lash line, lip blush and microblading.'
Mother-of-two Olivia first met the Manchester City defender in a nightclub. He is believed to have split with his childhood sweetheart Millie after meeting Olivia.
In 2022, Olivia and John both shared an appeal for one of their friend's son on Instagram, afte the toddler was diagnosed with Leukemia age two.
The beauty revealed that the boy, named Dillan, needed a stranger to donate blood stem cells as part of his cancer treatment and pleaded with her followers to register as blood donors in order to help other children.
The couple both have children from previous relationships. Olivia took a step back from her work duties after giving birth to her son. Meanwhile, John has a daughter with his ex, Millie Savage.
The couple welcomed a son together in January.
Sasha Attwood
Girlfriend to Jack Grealish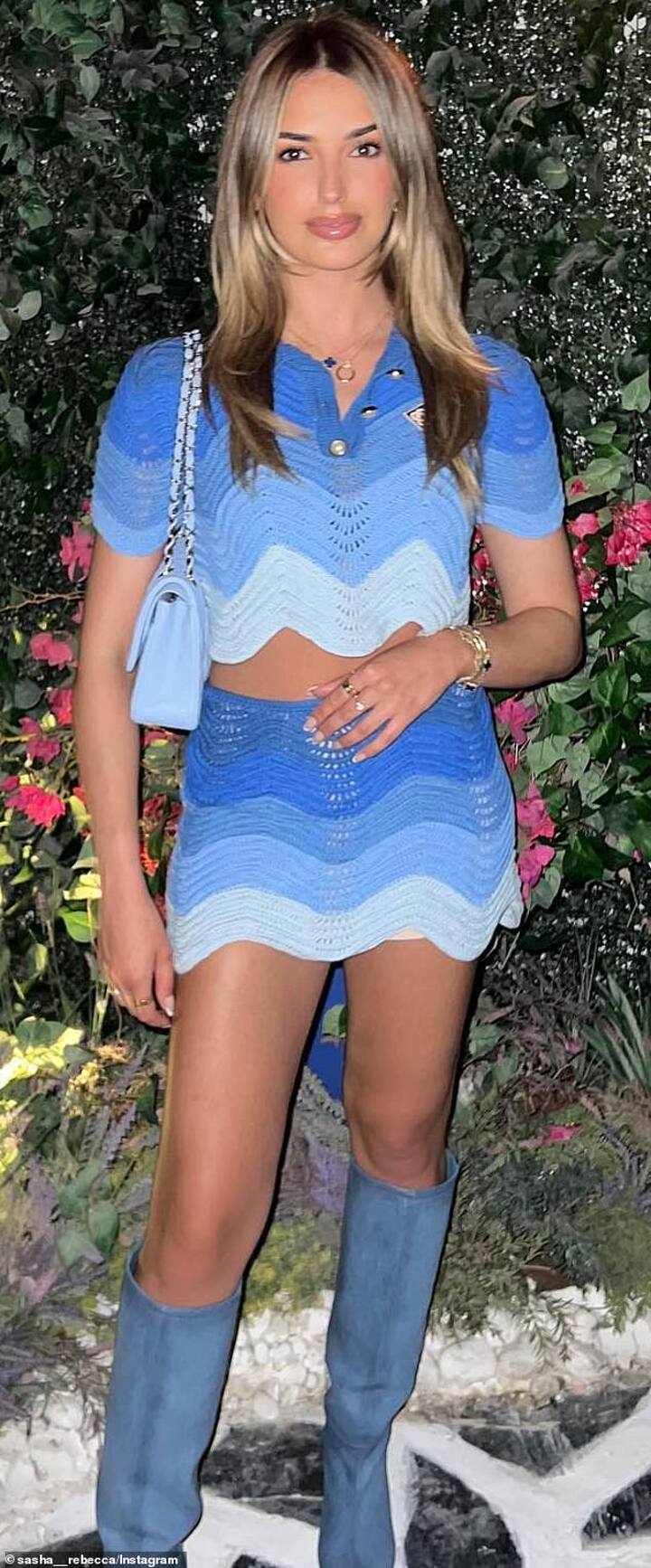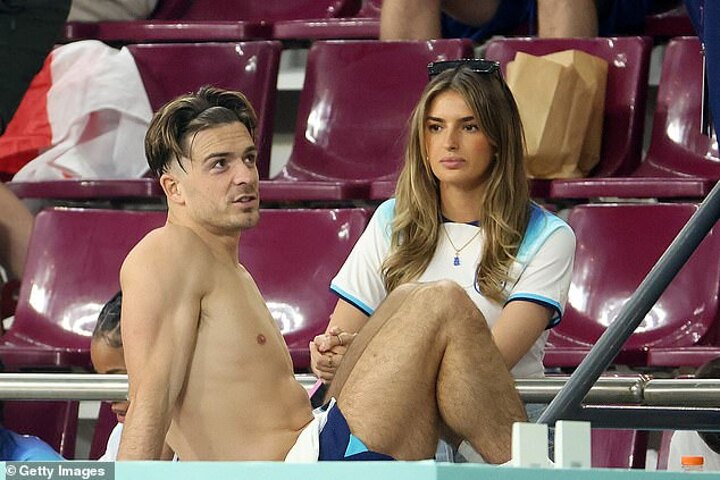 Sasha Attwood is the childhood sweetheart of £100million Manchester City star Grealish, 27.
Following the team's Premier League victory, she took to Instagram to congratulate the squad, sharing an image alongside the caption: 'What a team.'
Far from riding on her boyfriend's coattails, Sasha enjoys her own successful career as a model, and last year became the face of L'Oreal.
The signing led to reports last Summer that Sasha was set to become a multi-millionaire in her own right after signing the deal with the French cosmetics giant, whose slogan is 'Because you're worth it'.
A source at the time said: 'Sasha is beautiful and popular and very much in demand. L'Oreal got in there last month.
'She has a big social media following and is inundated with big offers, so they wanted to make sure they had her signed up.
'She will star on adverts on digital platforms such as TikTok.'
Despite Jack having a bit of a playboy reputation reputation, the couple appear to enjoy a close relationship, and Sasha has previously taken to Instagram to share her affection for the athlete.
For Jack's 27th birthday, Sasha shared a gushing tribute to the footballer, sharing a montage of loved-up images of the couple throughout their years together.
Captioning her sweet post, Sasha penned: 'Happy birthday babe. Love you so much'.
Among the images were the couple sharing a kiss as they snapped a selfie in a lift together.
Michele Lacroix
Wife to Kevin De Bruyne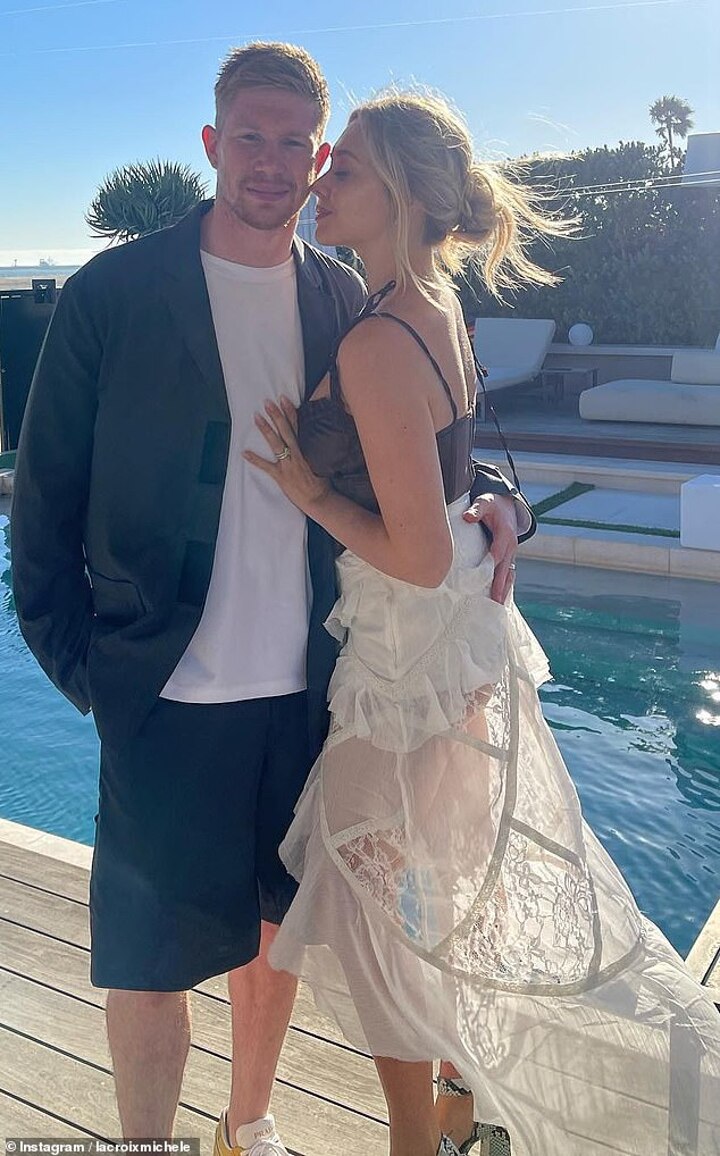 Belgian Michele has been married to her footballing beau Kevin De Bruyne for several years.
The couple tied the knot back in 2016 after the Belgium international proposed under the Eiffel Tower during a romantic trip to Paris.
And they have been together since 2014. During that time, they've become parents to sons Mason, six, Rome, three, and Suri.
As well as enjoying life as a wife and mother, Michele is a keen user of social media, where she boasts a considerable following.
She often documents the couple's travels and family life on her Instagram where she has almost 400,000 followers.
After Manchester City were crowned Premier League champions at the end of the season, Kevin attended a team celebration in Manchester with Michele, who donned a daring all-black see-through outfit as she stepped out for the bash.
Rebecca Cooke
Girlfriend of Phil Foden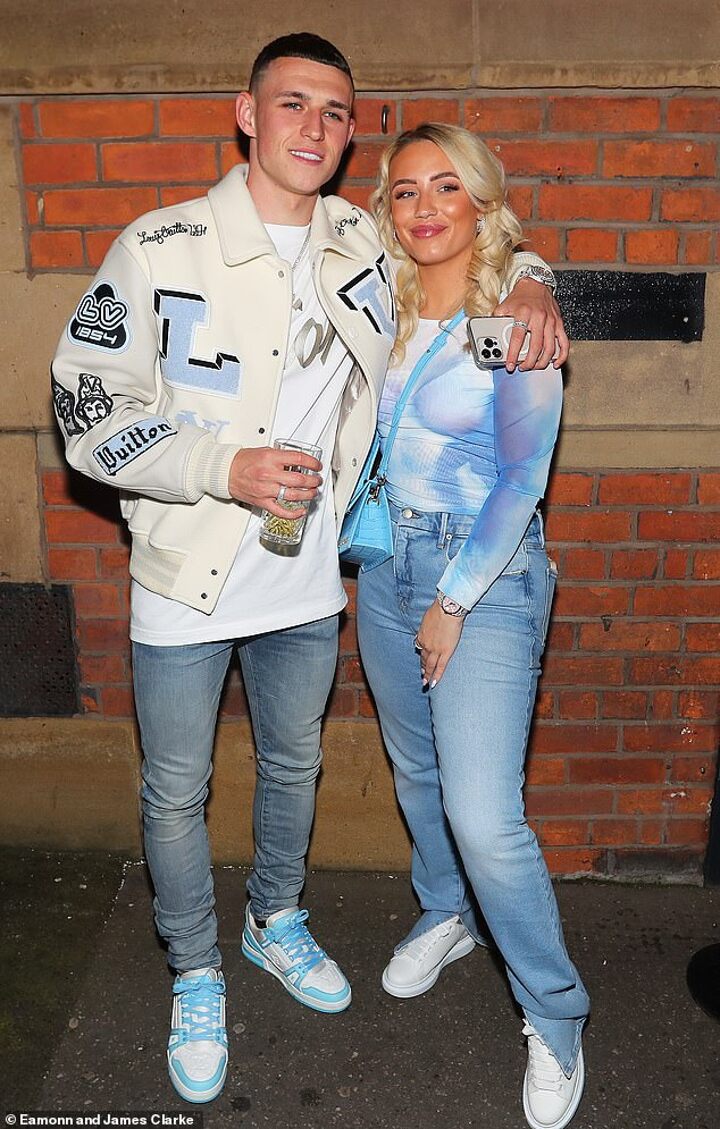 Also present at the celebrations following Manchester City's Premier League win was Rebecca Cooke, girlfriend to 22-year-old forward Phil Foden.
The couple share two children, with their second child - a baby girl - born last April.
They had their first child Ronnie in January 2019, while Foden was 18-years-old.
Phil and Rebecca, who live in a £3.25million mansion in Prestbury, Cheshire, are believed to have met at secondary school.
The exact length of their relationship is unknown, and Rebecca is considered to be one of the more private of the WAGS, keeping her Instagram account set to private.
Sara Arfaoui
Wife to Ilkay Gundogan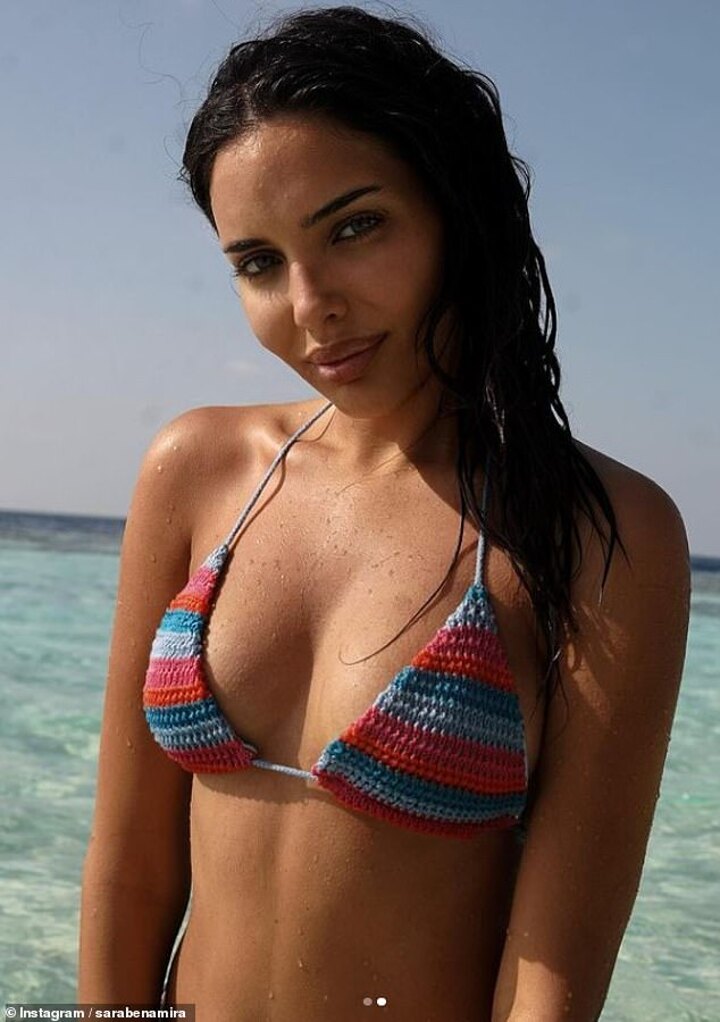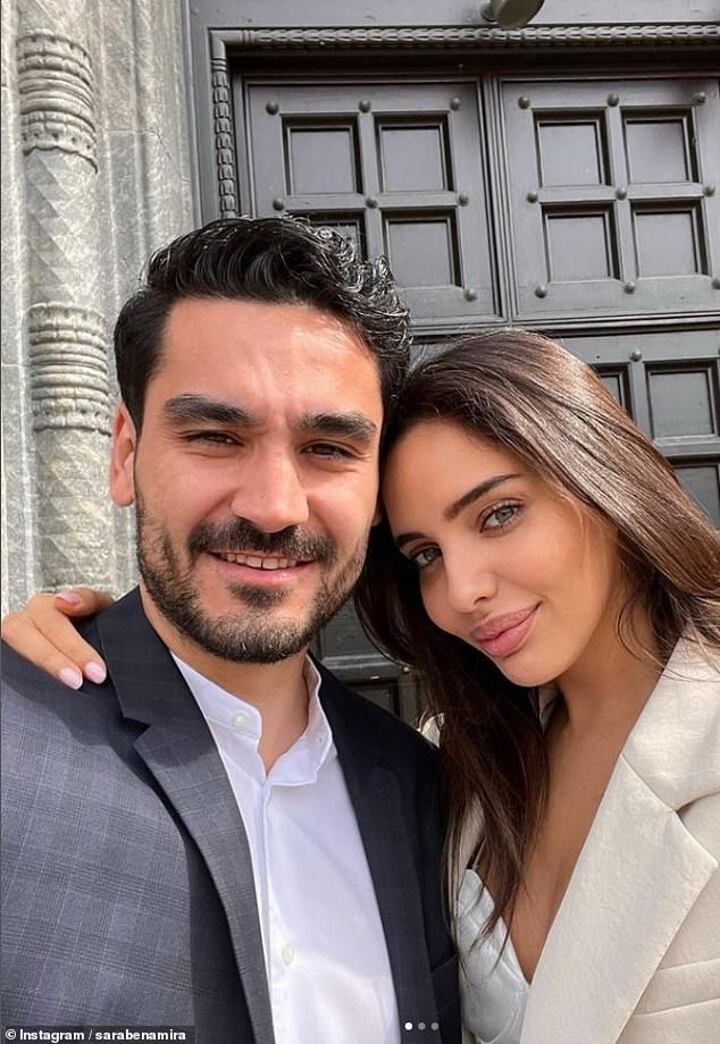 Model and TV personality Sara Arfaoui, 28, is married to Man City's captain Ilkay Gundogan.
Born in France, Sara moved to Italy as a child. She now lives in the northern city with her 31-year-old beau.
The couple met in 2021 and got engaged later the same year.
They announced that they had tied the knot in May 2022, via Instagram, in posts suggesting they had a private registry office ceremony, with the location tagged as Copenhagen, Denmark.
While the jet setting 28-year-old seems to enjoy globetrotting, she has been less than totally complimentary about Manchester.
She has come in for criticism from fans of the city, after claiming that there is no good food to be found there.
Among those admonishing her for her comments, was food critic Jay Rayner who said she had shared a 'ludicrous point of view', adding that 'Manchester's packed full of brilliant, independent restaurants'.
Ines Tomaz
Fiancee to Bernardo Silva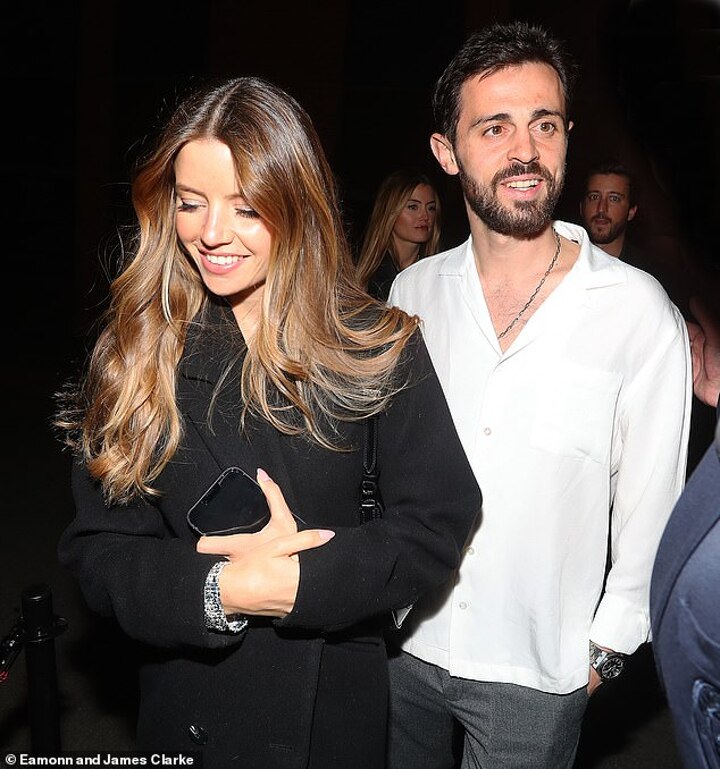 The pregnant fiancée of Bernardo Silva, 28-year-old Ines Tomaz, was pictured with her partner following City's Premier League win partying the night away with the players and her fellow WAGs.
Model Ines recently announced that the couple are expecting their first child together in a post on Instagram.
Ines, who was born in Lisbon, has been in a relationship with the footballer since 2020. It is believed they met just before the Covid lockdown.
WAG Ines, who has some 139,000 followers on Instagram, often uses the platform to share posts about eco-friendly brands and vegan products.
She is a loyal supporter of her partner, and was pictured in Qatar in December 2022 cheering him (and her home nation of Portugal) on in the World Cup.
The pair announced their engagement in 2022.
Lais Moraes
Wife to Ederson Santana de Moraes (Ederson)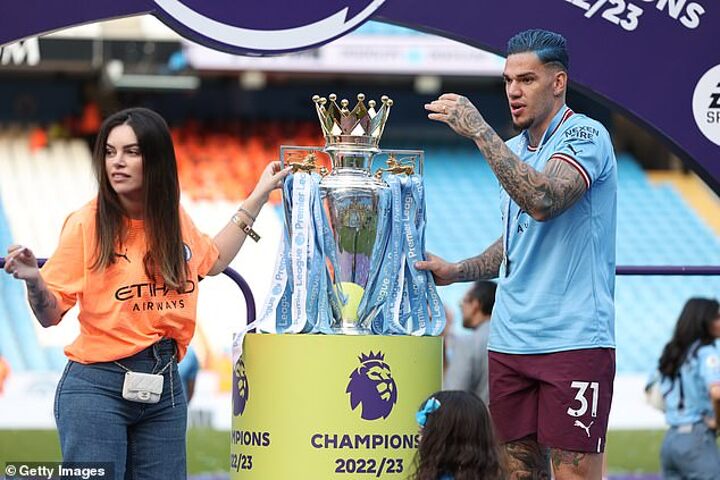 Manchester City goalkeeper Ederson Santana de Moraes (best known as Ederson), who is considered by some to be the best in the world, has been married to his wife Lais Moraes since around 2014.
Originally hailing from Brazil, he now lives in Cheshire with his wife Lais and their children.
Lais, who is considered to be a fairly private individual, was reportedly born in Portugal, with her year of birth not widely known.
From the posts she shares on Instagram, it is thought that Lais is a very involved mother to the couple's three children.
She also appears to be a hugely supportive wife, attending matches at City's Etihad Stadium to cheer on her husband.
INTER MILAN
Agustina Gandolfo
Married to Lautaro Martinez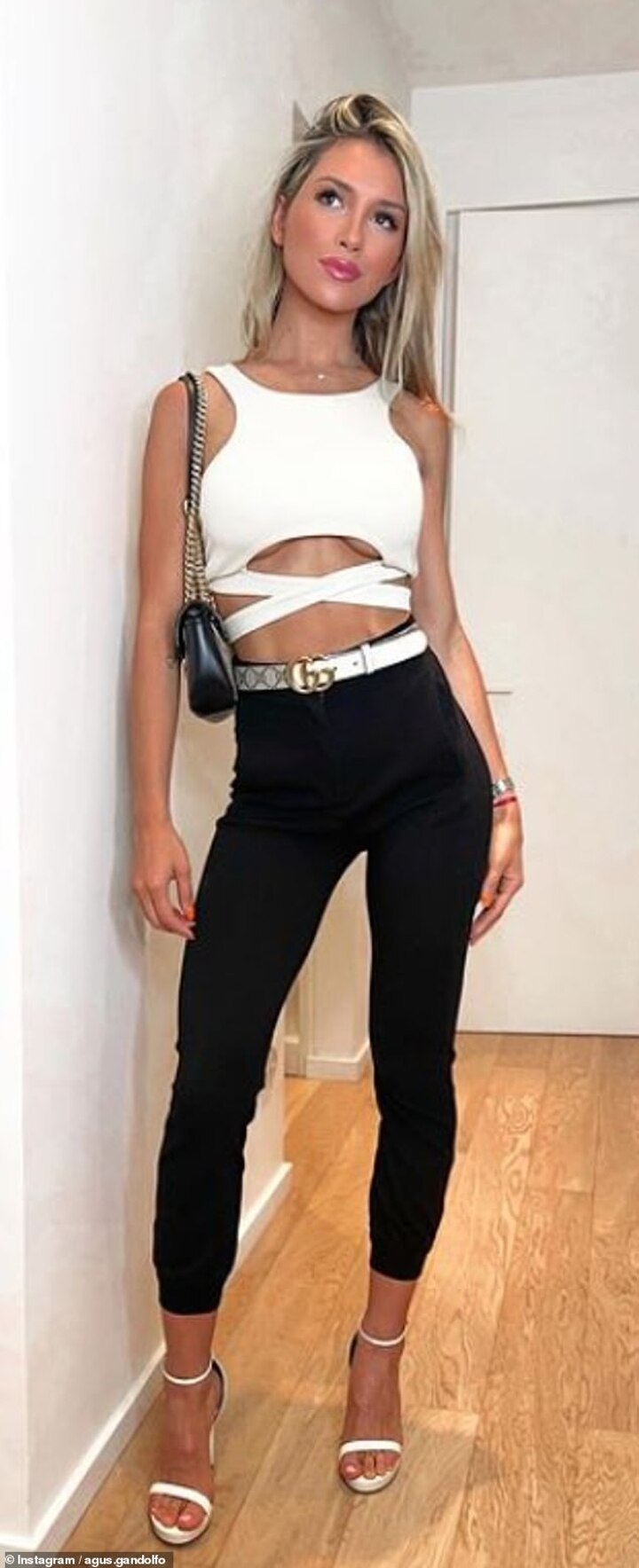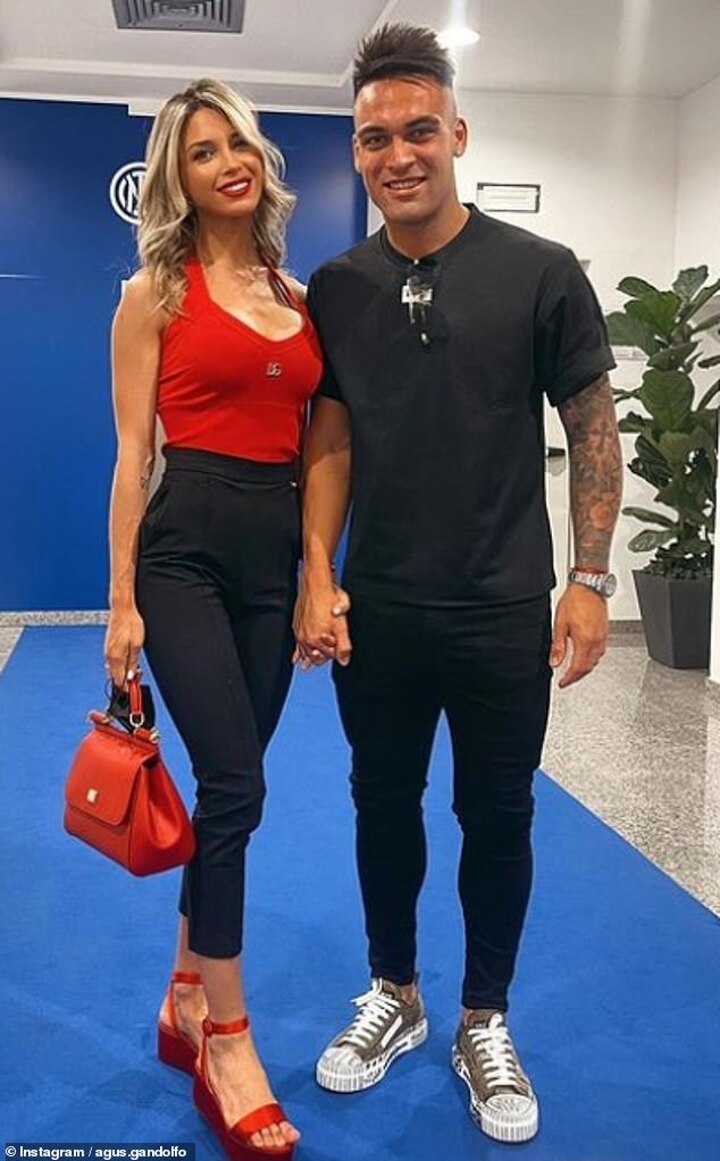 Argentinian Model Agustina, 26, is the ultra glamourous wife of Inter Milan striker Lautaro Martinez.
The pair were introduced by Mauro Icaro's ex-wife Wanda Nara and began dating in 2018.
The lovebirds recently tied the knot in picturesque Lake Como, in a ceremony attended by some famous faces.
Premier League trio Enzo Fernandez (Chelsea), Emiliano Martinez (Aston Villa) and Alexis Mac Allister (Brighton) all made the trip to Italy to attend their friend's big day last weekend.
Martinez posted a number of photos on his Instagram account, with the caption: 'Our dream civil wedding. Thanks to everyone who accompanied us, travelled many kilometers and effort to be close to us on this special day.
'The big wedding is coming soon to continue celebrating in our country. Agostina Gandolfo I choose you and love you forever.'
The pair welcomed their friends and family to the lavish ceremony in northern Italy, wowing guests against the stunning backdrop of Lake Como.
The couple have a daughter, Nina, who was born in 2021.
Agustina has grown her own brand as a fitness and healthy lifestyle expert, and also runs her own restaurant called Coraje in Milan.
The lifestyle blogger made headlines in 2021 by claiming a Milanese restaurant had handed her a menu that didn't have any prices on during a romantic meal with her beau.
She claimed on her Instagram story at the time that the practice is sexist because it assumes the man is going to pay for the meal, not the woman.
Amra Dzeko
Married to Edin Dzeko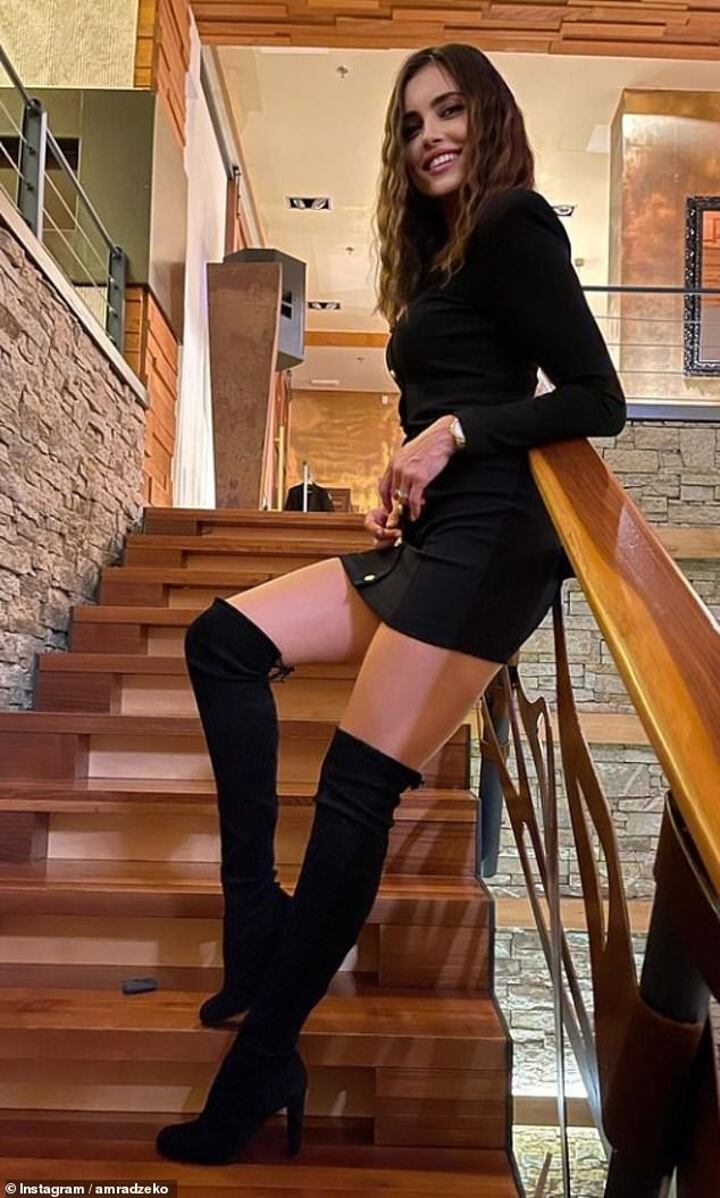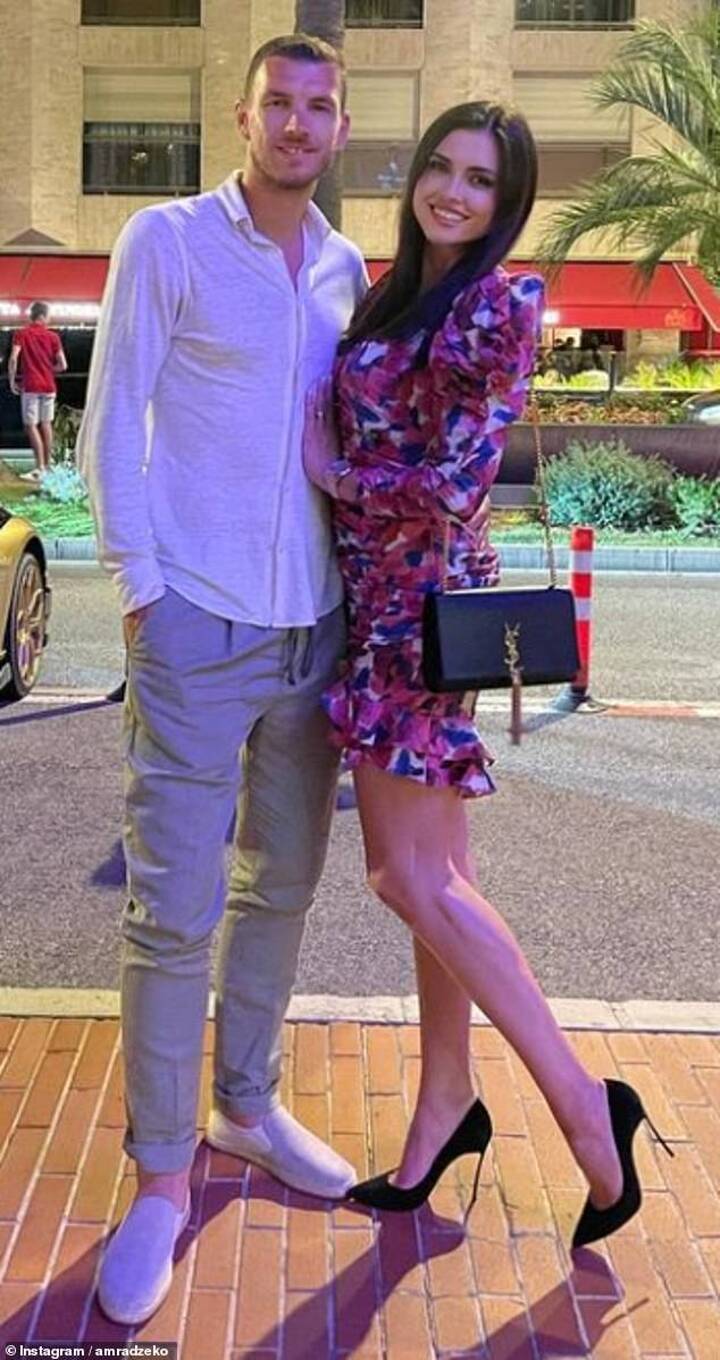 Bosnian supermodel Amra, 38, married Manchester alum Edin Dzeko in a lavish ceremony in Rome in 2016 and has been seen watching her beau from the stands since they began dating.
She began her modelling career aged just 16 in Paris, where she was signed up by the Elite Models agency.
The beauty has appeared in several music videos from international stars including Enrique Iglesias, Blake Shelton and Taio Cruz.
Amra and Edin have four children together, and the happy mother loves to keep her 250,000 Instagram followers updated on their family life.
The busy mother also launched a e-commerce website for handmade cosmetic called Orea, which she promotes on her socials.
Melanie Kamayou
Married to Andre Onana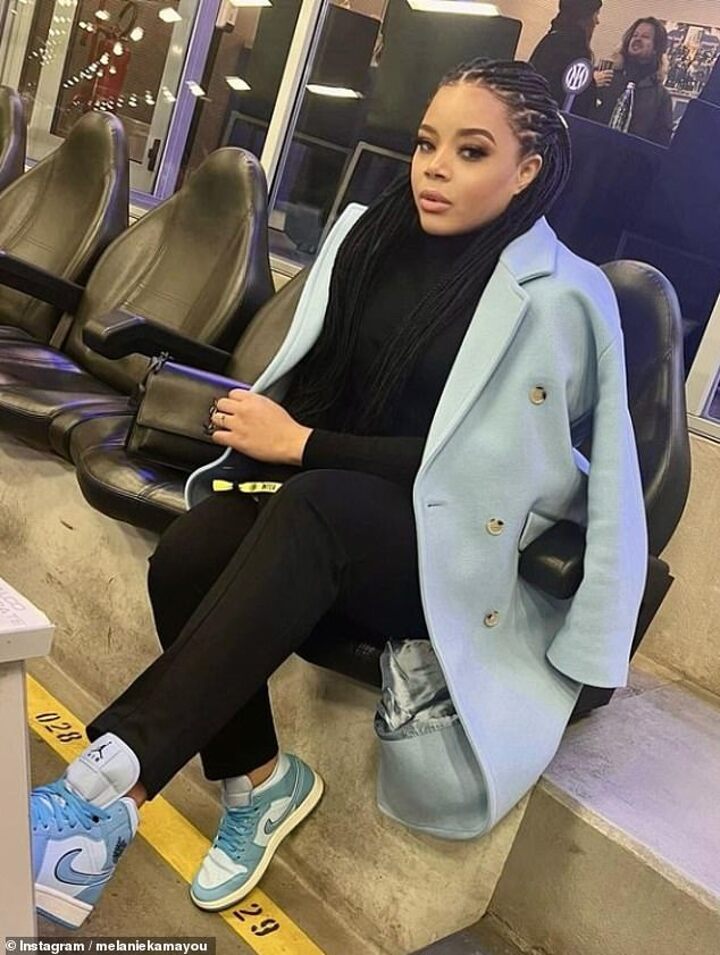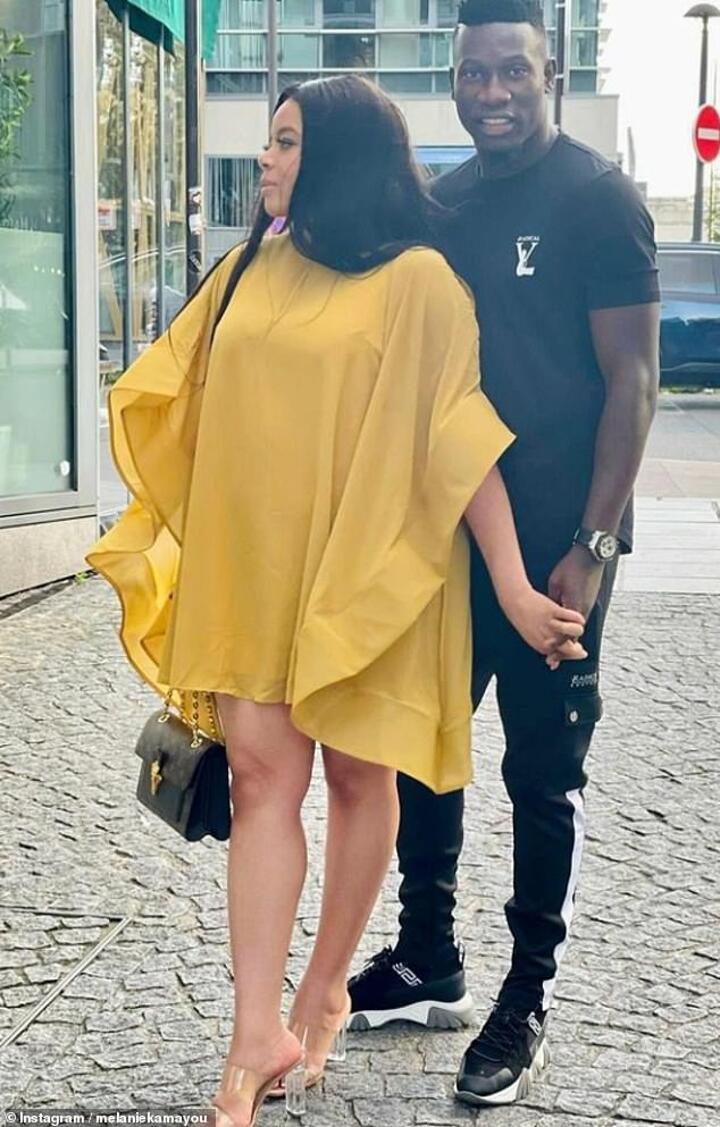 While she enjoys her WAG lifestyle, the glamourous wife of goalkeeper Andre Onana proudly names herself a pharmacist on social media and prefers going by the title Dr.
The beauty, 26, worked as a model and studied at The Official Massachusetts College of Pharmacy and Health Sciences and graduated with a PhD in 2022.
She also co-chairs Onana's philanthropic foundation, which aims to help disadvantaged children.
The couple welcomed a son together in 2019 called Andre Jr, and Melanie likes to share a glimpse into their family life on social media.
She also likes to share snaps of her lavish lifestyle, spent shopping and attending glitzy events, as well as several hours spent cheering on her man on the pitch.
Francesca Cormanni
Married to Matteo Darmian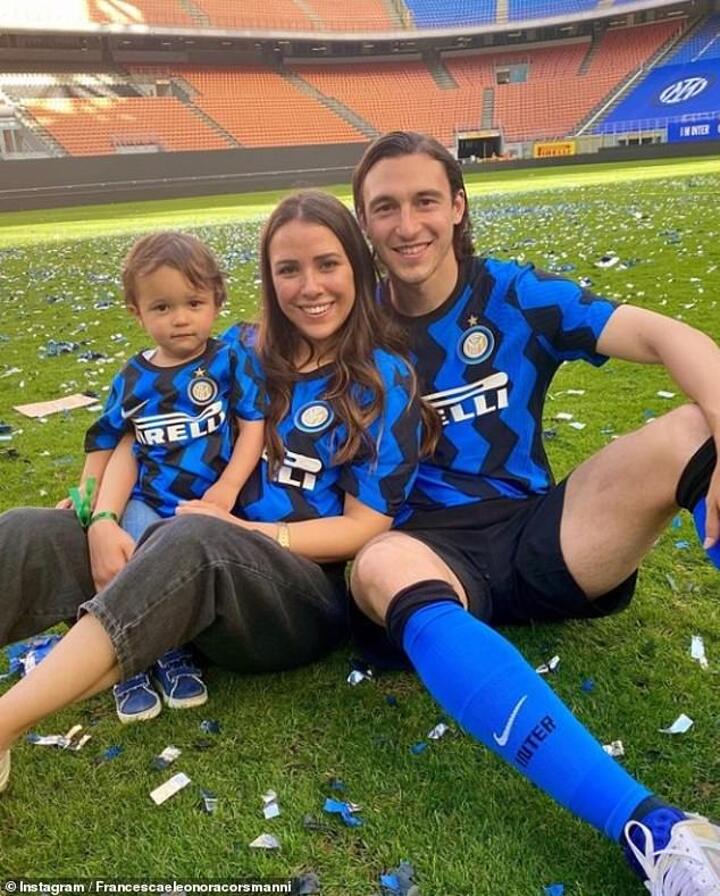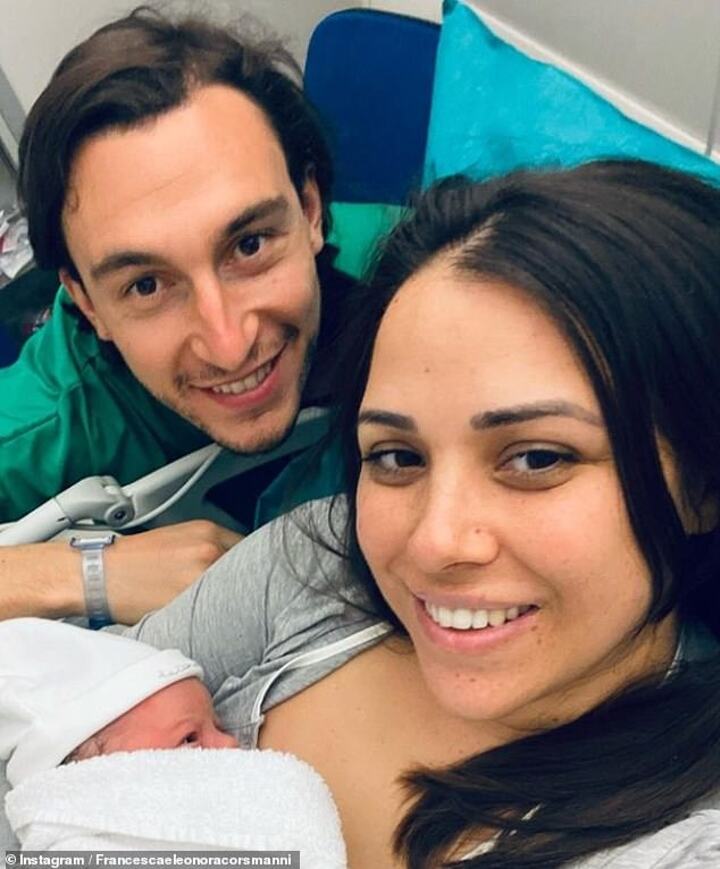 Francesca and Matteo Darmian began dating when they were teenagers, and are now married with two children.
The pair tied the knot during a beautiful ceremony in Italy in 2017, and have welcomed two sons, Achilles, born in 2019 and Gregorio, born in March 2022.
Little is known of Francesca, who likes to keep a low profile and has never given interviews and has not been active on social media since the birth of her second child.
Federica Schievenin
Married to Nicolo Barella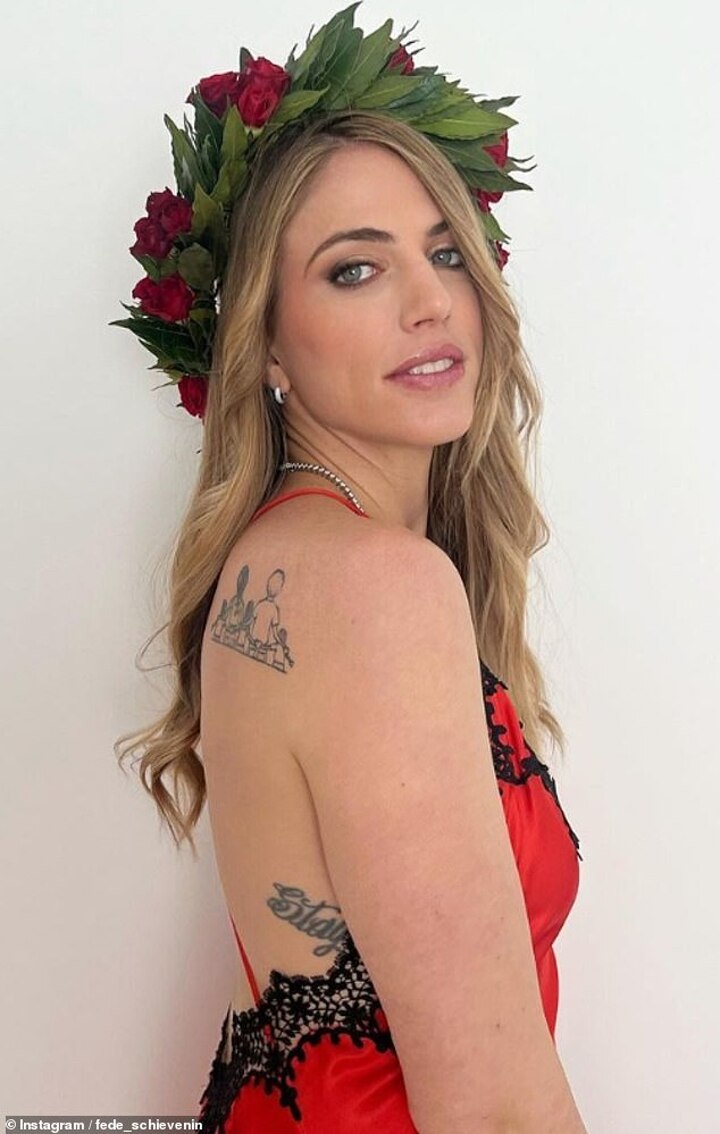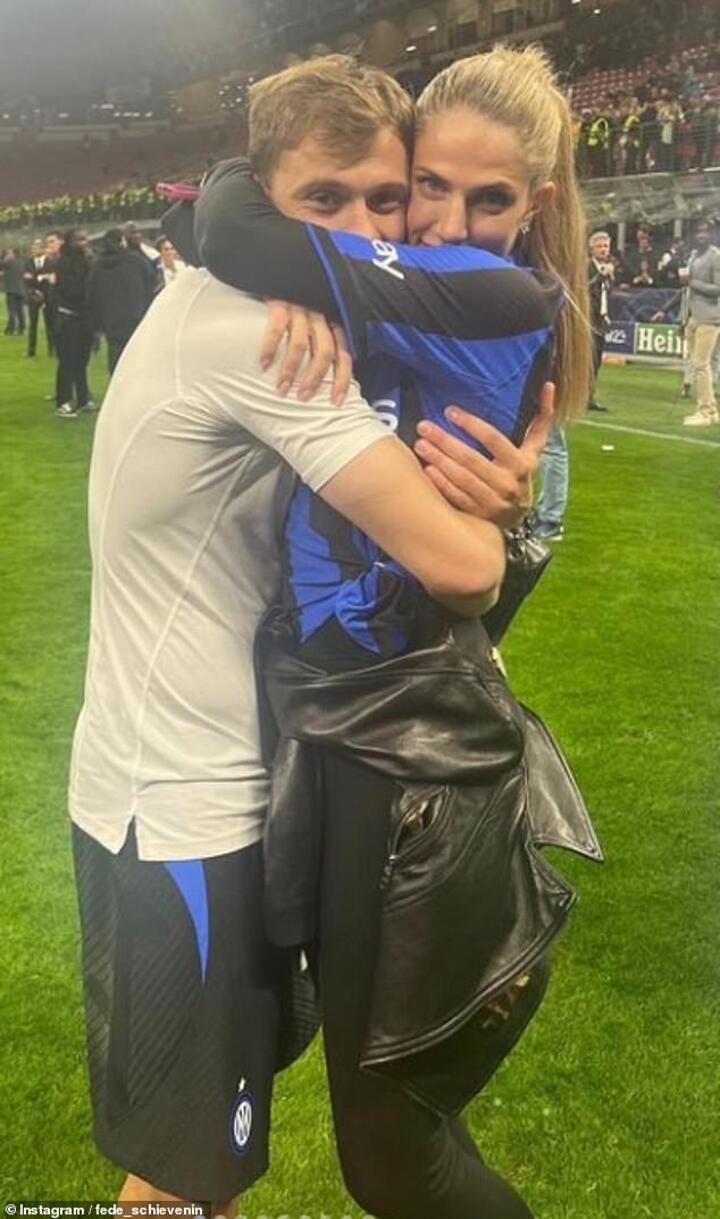 Nicolo Barella has been a leading figure of Inter for years, and led Italy to victory against the UK at the Euro in 2021.
No doubt his stunning wife Federica Schievenin, 33, and their three children will cheer him on as he faces off with Man City this Saturday.
The couple met when they were just teenagers, and married at the tender age of 20 in 2017.
Months later, Federica gave birth to the couple's first child named Rebecca.
They welcomed a second child in 2019, a daughter, Lavinia, and their third, Matilde in 2021.
While little is known about Federica, who tends to keep a low profile, she appears focused on motherhood with her three young children.
She also trained as a personal trainer and got a degree in motor and sport activity sciences, and studied food supplements known as Nutraceuticals, which are a pharmaceutical alternative.
She also studies and practices naturopathy.
Federica often shares snaps of her family on Instagram with her 117,000 followers followers.
Silvija Brozovic
Married to Marcelo Brozovic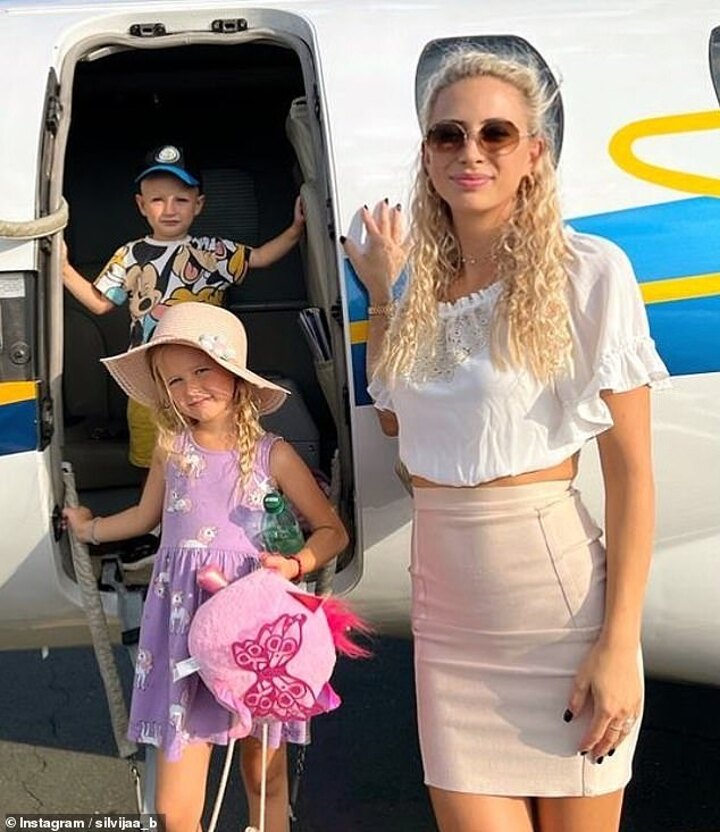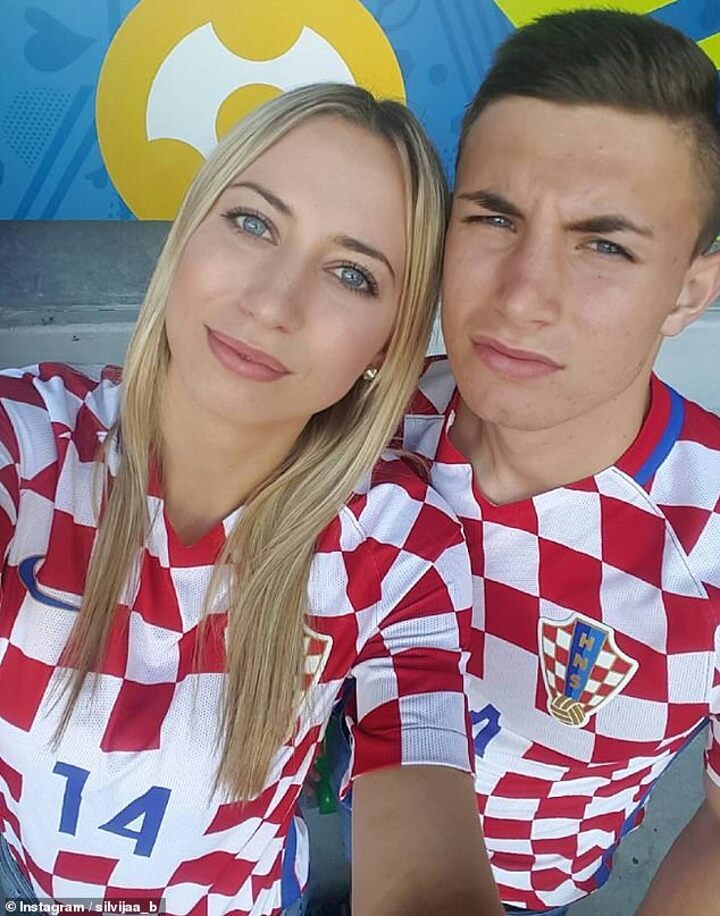 Silvija, 29, will be cheering on Croatian football star Marcelo as he helps Inter Milan conquer on Saturdays.
The pair tied the knot in 2016 after several years of dating and have two children together: Aurora, born in 2017, Rafael in 2019.
The blonde beauty boasts over 17,000 followers on Instagram, and regularly shares snaps documenting her family life.
The rest of her time is spent raising their two children, Aurora and Rafael.
Silvija loves to update fans about her family life, as well as sharing adorable pictures of her and Marcelo's children cheering their daddy on the side of the pitch while wearing Inter Milan jerseys.
Claudia Scarpari
Girlfriend of Francesco Acerbi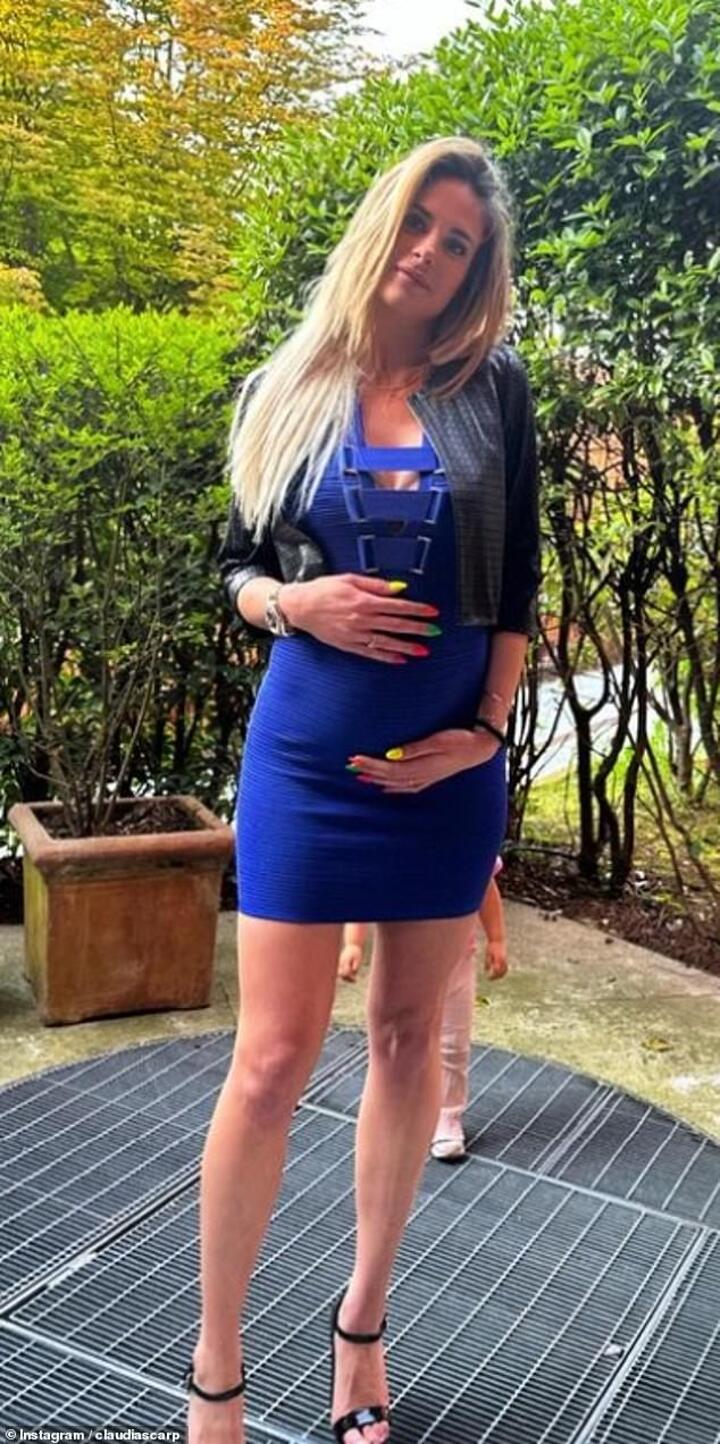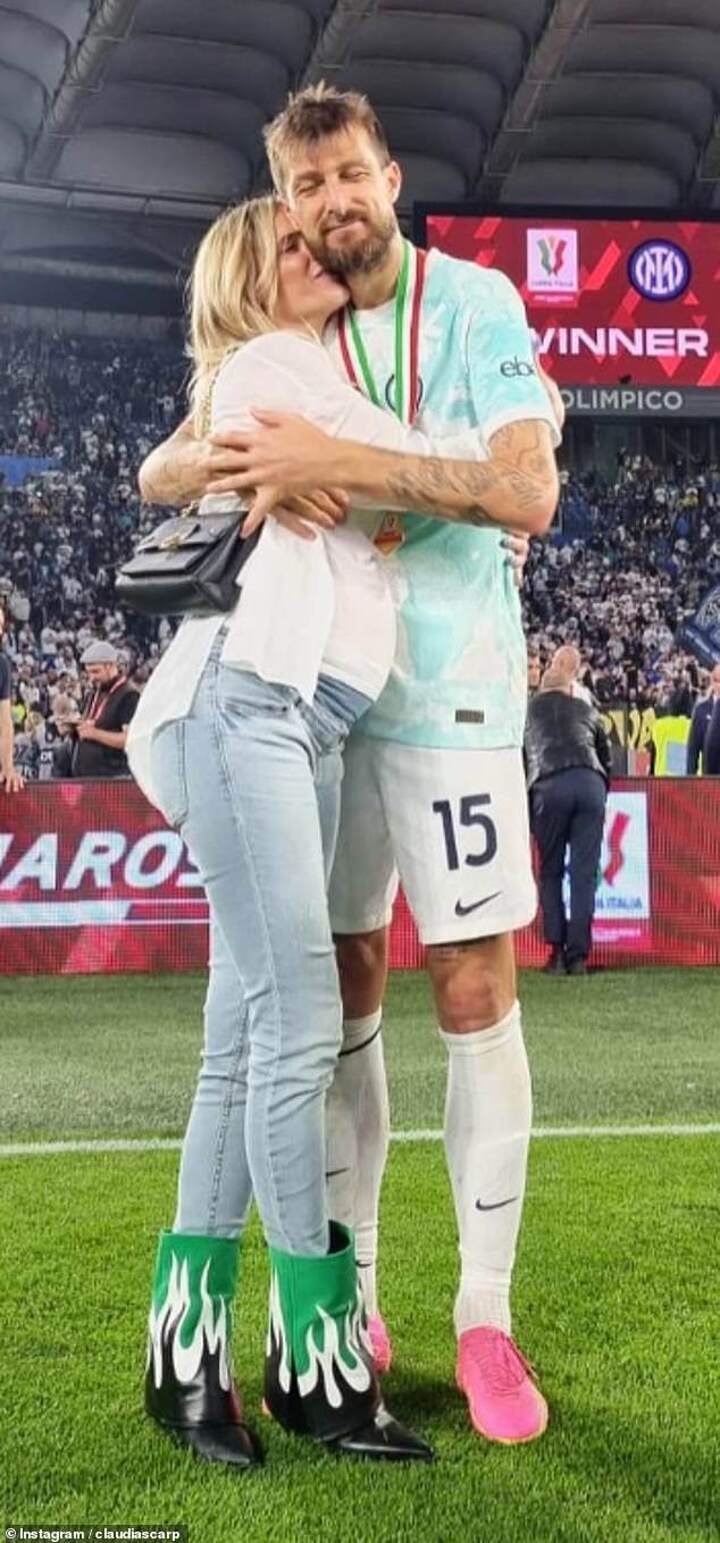 Claudia Scapari, 37, is the girlfriend of defender Francesco Acerbi.
The pair met in early 2020 and went public with the relationship later that year.
Speaking of how they met in 2020, the blonde beauty said: 'We met at the beach and I wouldn't know what he did to win me over, he was simply being himself with that smile and that likability that he has, however I do know that since we met, we couldn't stay away from each other anymore.'
In the same interview, she added that she found it 'enchanting' to watch him play, but admitted she didn't follow football before they met.
However, since falling in love with the defender, Claudia has revealed she had never missed a match, and will always be cheering on her partner.
Claudia already has a daughter and a son from a previous relationship, and has had more children with Francesco.
They welcomed a daughter together in 2021 and are now expecting their second child.
On top of being a supportive WAG, Claudia is a successful lawyer and loves to update fans on her and Francesco's family life.
Jaimy Kenswiel
Girlfriend of Denzel Dumfries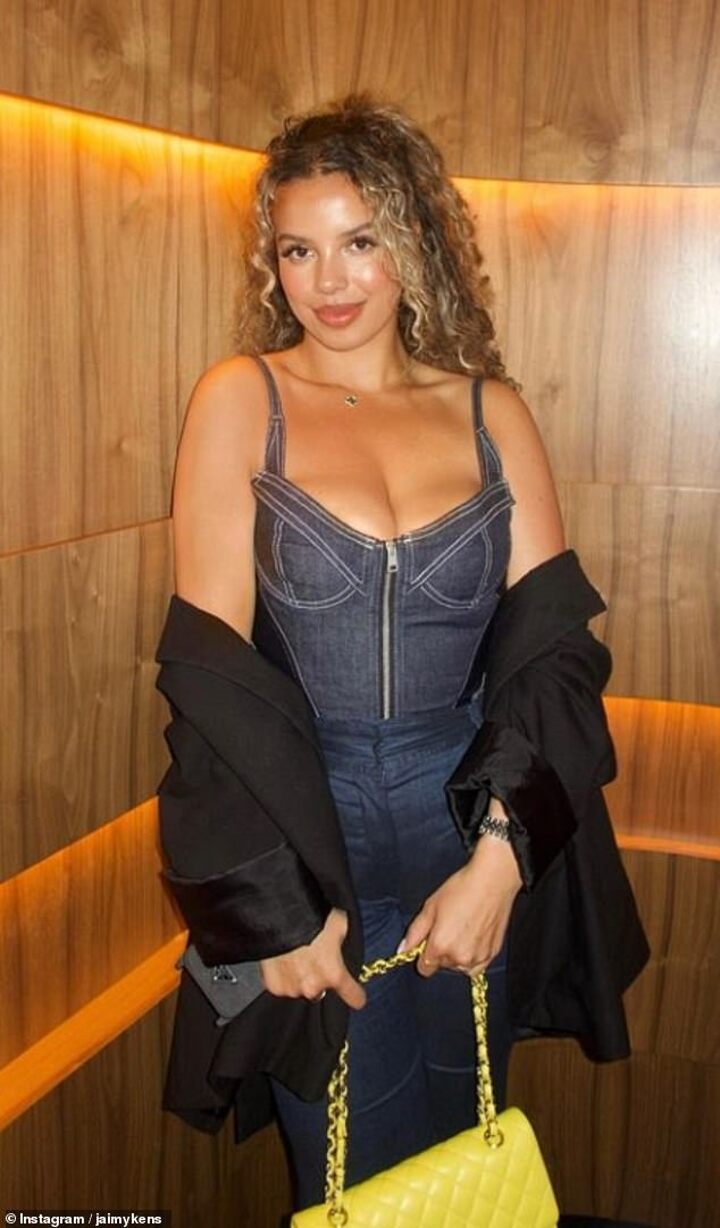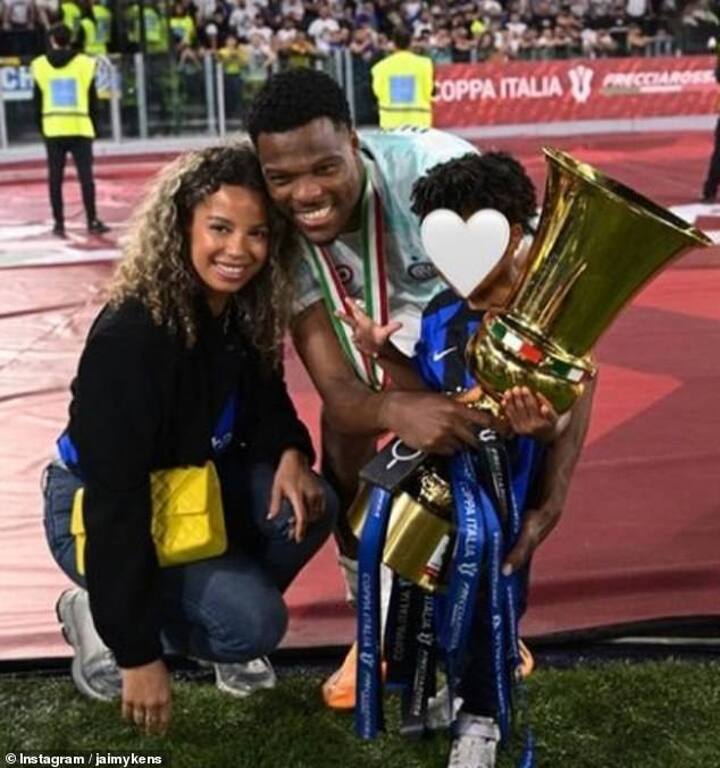 Stunning Jaimy reportedly met Denzel in 2014 when they were teens, and the pair have been together ever since.
The beauty, who is 27 and hails from the Netherlands, is private about her family life, but likes to update her fans on her lavish lifestyle on social media.
According to her LinkedIn, she works as a party planner and a stylist and is the CEO of Lovely Booth, a photobooth service people can hire for special occasions.
When she is not cheering on Denzel by the pitch, she can be seen lounging by the pool in fancy hotels around the globe and trying the cuisine of fancy restaurants.
The pair welcomed a daughter in 2021, but have kept her name private. They haven't shared pictures of her with the public either.
Giulia Mazzocato
Engaged to Federico Dimarco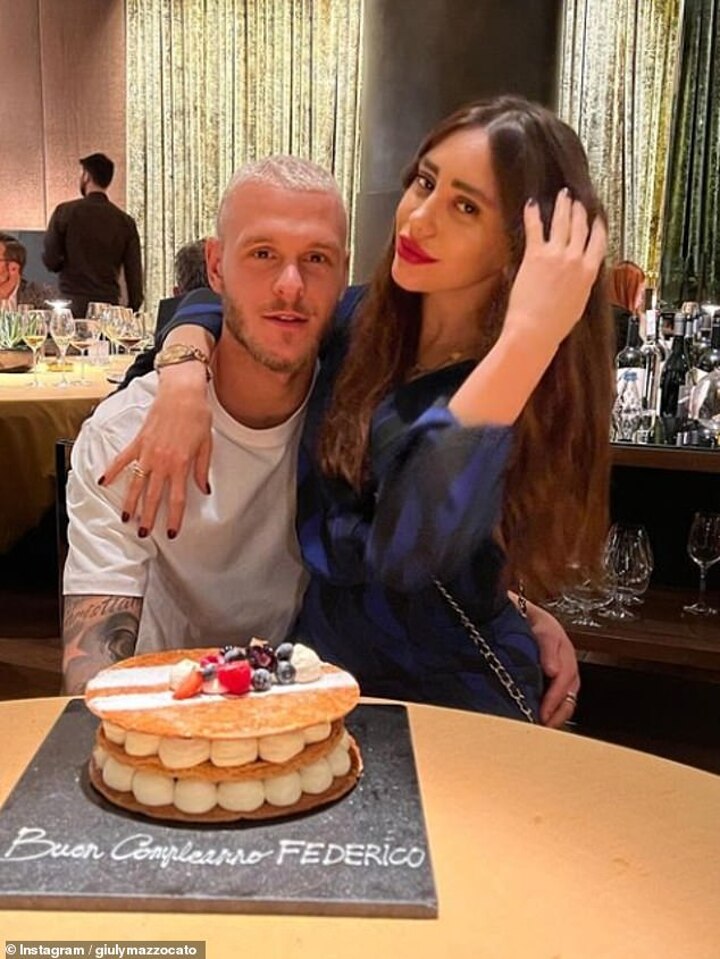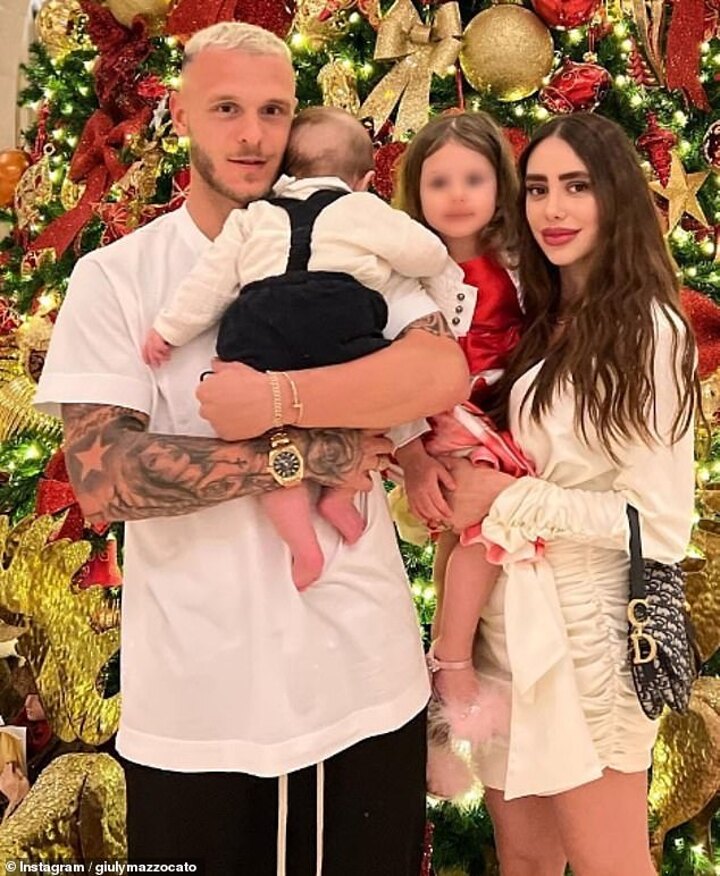 The glamourous fiancée of Federico Dimarco has been one of his constant supporters throughout his footballing career.
Giulia and Federico got engaged after he proposed during a trip to Dubai in December 2021.
The pair have two children together, Chloe, who was born in 2019, and Jordan, who was born in 2021.
The Milan-based mother-of-two describes herself as a personal blogger and counts nearly 14,000 followers on Instagram, where she shares glitzy glimpses of her personal life.
When she is not cheering on her man, Giulia loves to share snaps of her lavish holidays around the globe, but she also keeps the focus on her family, and her children's milestones, like birthday and events like Christmas and Halloween.
Sinem Çalhanoğlu
Married to Hakan Çalhanoğlu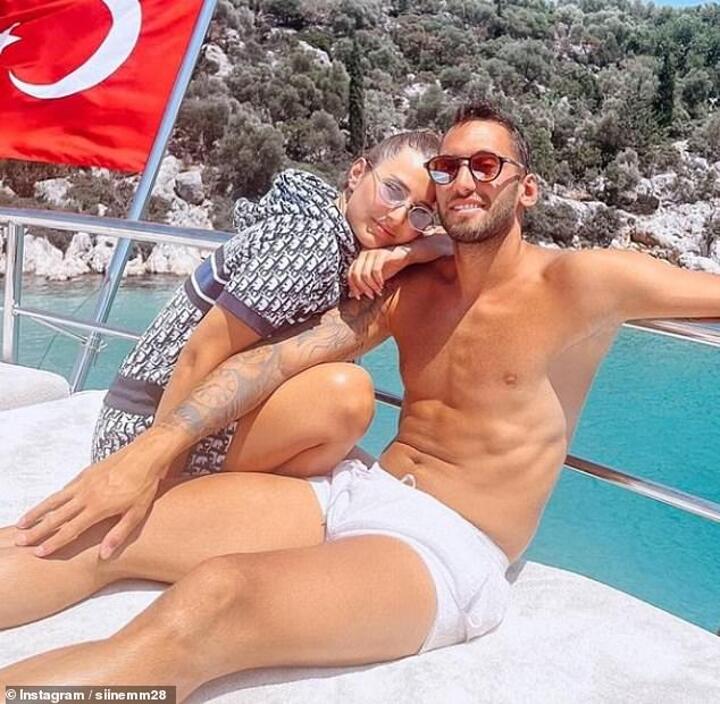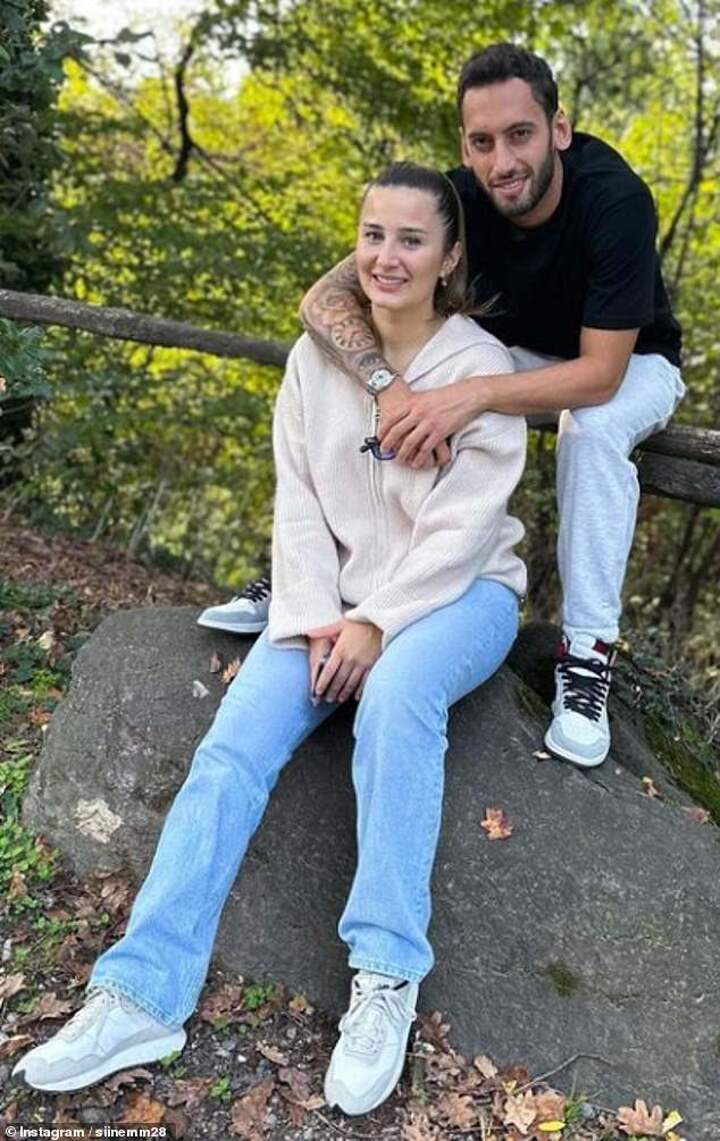 Midfielder Hakan Çalhanoğlu will count on the support of his loving wife Sinem this Saturday as his club takes on Man City.
The pair grew up together in Turkey before falling in love and tying the knot in 2017, but their relationship has not always been smooth sailing.
In fact, Sinem reportedly filed for divorce in 2018 following a rocky patch, but the couple now seem better than ever.
The pair have two children, Liya, four, born in 2019 and Ayaz, one, who was born 2021 and live with them in Milan.
When she's not cheering on Hakan, Sinem likes to keep her 66,000 Instagram followers updated on her life.