The midfielder surpassed the record held jointly by Jozy Altidore, Landon Donovan and Christian Pulisic in the game against Trinidad and Tobago on Monday.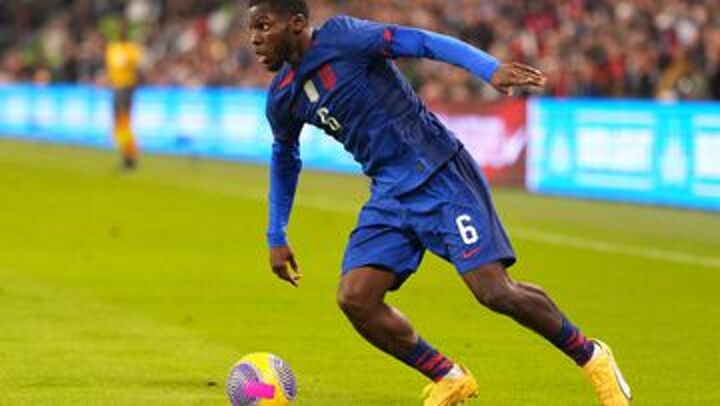 Yunus Musah became the most-capped under-21 in the history of USMNT when he took to the field against Trinidad and Tobago on Monday. The game ended with a 2-1 victory for the Caribbean team but the Stars and Stripes progressed to the semi-final 4-2 on aggregate after the victory at home.
Musah appears most for USA by 21
The AC Milan midfielder, still aged just 20, has become a stalwart for Gregg Berhalter's side and earned his 32th cap in the first leg of the Nations League tie. That put him level with Landon Donovan, Jozy Altidore and Christian Pulisic, who each secured 32 international appearances before their 21st birthday. Musah turns 21 on 29 November, meaning that Monday's game was his final opportunity to beat the record. And the manager gave him just that when he named the starting lineup.
With this, Musah surpasses three players with impressive international resumes. Donovan is the USMNT joint top scorer; Altidore is number three on the all-time scoring charts; Pulisic is the team's current captain.
Who has played the most games for USMNT?
As he took the new appearance record, Musah, with an international career spanning just three years, is averaging around ten appearances a year. However to break the all-time appearance record in the senior team, he would have to continue at that same rate for another 13 years.
The record appearance-maker for USMNT is iconic midfielder Cobi Jones, who racked up an incredible 164 international games. He is followed close behind by Landon Donovan with 157 caps. Check out the top ten most capped players in USMNT history...
Of the current squad, Christian Pulisic is the closest to breaking through to the top ten. The AC Milan forward has racked up 64 appearances since making his debut in 2016.
Yunus Musah grateful for USMNT trust
As stated above, the 20-year-old midfield has become a key player for USMNT, but could easily have opted to play for a different nation. He was born in New York City, to a Ghanaian mother, but moved to Italy soon after his birth. As a child his family moved to England and he played in the academy of Premier League side Arsenal for seven years.
During his time with the Gunners he represented England at youth team level, from Under-15 to Under-18. However in November 2020, while playing for Spanish side Valencia, Musah accepted a senior call-up from the United States.
After playing in friendlies against Wales and Panama, Musah officially declared for USMNT in March 2021. Speaking recently, he said that the faith shown in him by USMNT was a key factor in his decision to represent the Stars and Stripes.
He said: "From the beginning, the whole federation has put all of its trust in me at a young age to play a lot of games - important games as well."
"I'm just so grateful for it, because not everyone gets the opportunity, so I'm really happy about the way I've been treated here."