At the presentation of Robert Lewandowski as a new Barcelona player, Joan Laporta expressed his confidence in being able to register all the summer signings and therefore comply with the financial demands of LaLiga.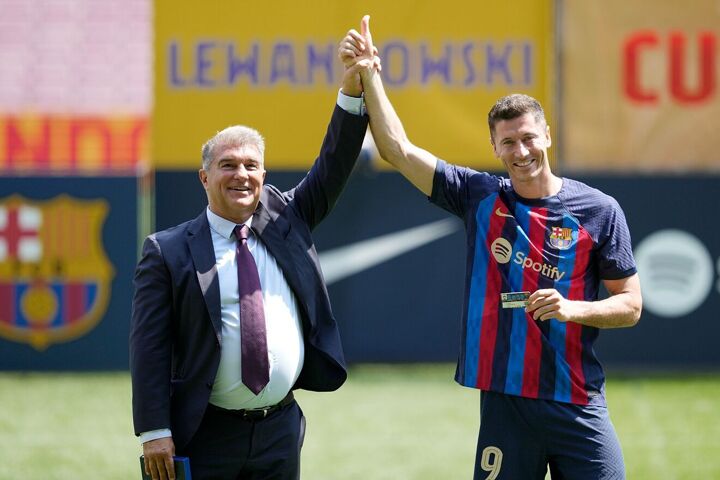 In fact, he boasted about the club's financial operations completed in recent days. The Blaugrana president has revealed that the club has earned 868 million euros, counting the four levers, corresponding to the TV rights and the sale of almost half of Barca Studios, as well as capital gains.
"We have worked to register all of them [new signings]. We have worked hard and well to meet the requirements [of LaLiga]," he said.
"And if we need to do some more business, we will do it. We are waiting. It's a decision for LaLiga to make.
"We have complied with what is required. We are confident that we will be able to register them."
Regarding the new-look Barcelona, Laporta is ecstatic.
"We are building a great team, we have withstood the pressure well. It's been a historic day. And we will keep working," he said.
On Lewandowski specifically, Laporta was delighted with the Pole's arrival.
"This is a historic day. We were able to see it at the presentation. It's one of those days when the Cules feel the club more than ever," he said.
"It shows that Barcelona are more than just a club. Thank you [Robert] for the effort to come. It wasn't easy, but we've done it.
"Starting with you, through your agent, Mateu Alemany, Jordi Cruyff... also the efforts of the board. We have all been watching you because we knew you were special. You have the gift of scoring.
"You are serious, charismatic, elegant and respectful. You earn people's respect. I think this is proof that we are in a new, splendid phase for Barcelona. We are very proud to have you here."
Lewandowski will wear the No.9 shirt, despite the number having previously been occupied by Memphis Depay.
"It was the club's decision," Laporta said. "For reasons that are in the club's interest, for image [reasons], for commercial reasons.
"We thought it was the right decision. Maximum respect to Memphis."