Riqui Puig, 21, and Martin Odegaard, 22, have both found game time hard to come by at Barcelona and Real Madrid respectively, but their responses to the situation are the very different.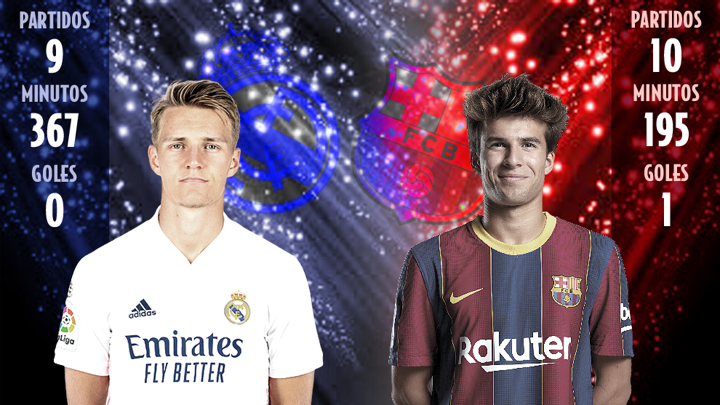 Odegaard has sought a loan move in order to get the minutes he needs to develop, sealing a move to Arsenal on Wednesday until the end of the season, while Puig, despite Ronald Koeman's suggestion he do the same, is determined to stay at the Camp Nou and fight for his place.
Has Odegaard lacked patience, as suggested by Jorge Valdano, or is Puig being too stubborn?
It's true that the Norwegian's situation is a little different, having already played a full season of LaLiga Santander football, and he was prepared to spend another season with Real Sociedad before Zinedine Zidane decided to bring him back to Madrid.
Odegaard also has top-flight experience in Norway and the Netherlands, so it is not surprising that his lack of minutes this season gave him itchy feet.
Puig, meanwhile, spent most of his time in the last two seasons with Barcelona B in Segunda B, yet he has resisted Koeman's suggestion that a loan move would do him good.
The Catalan midfielder is living the dream as a Barcelona first-team player and he's not in a rush to 'throw in the towel'.
After scoring his first Barcelona goal on Sunday, Puig could see more opportunities arise, especially given injuries (Philippe Coutinho), departures (Carles Alena) and the lack of squad depth.
Equally, he may well find himself watching on from the bench while Odegaard starts games in the Premier League.
Time will tell which approach is the more astute, although every player's path is different and nothing's to say each player isn't following the right one for them at this time.
Certainly, it will be interesting to monitor the progress of these two exciting midfield prospects in what remains of the current season.