Milan's financial situation is something which has come under increased scrutiny in recent years, especially since the departure of Silvio Berlusconi.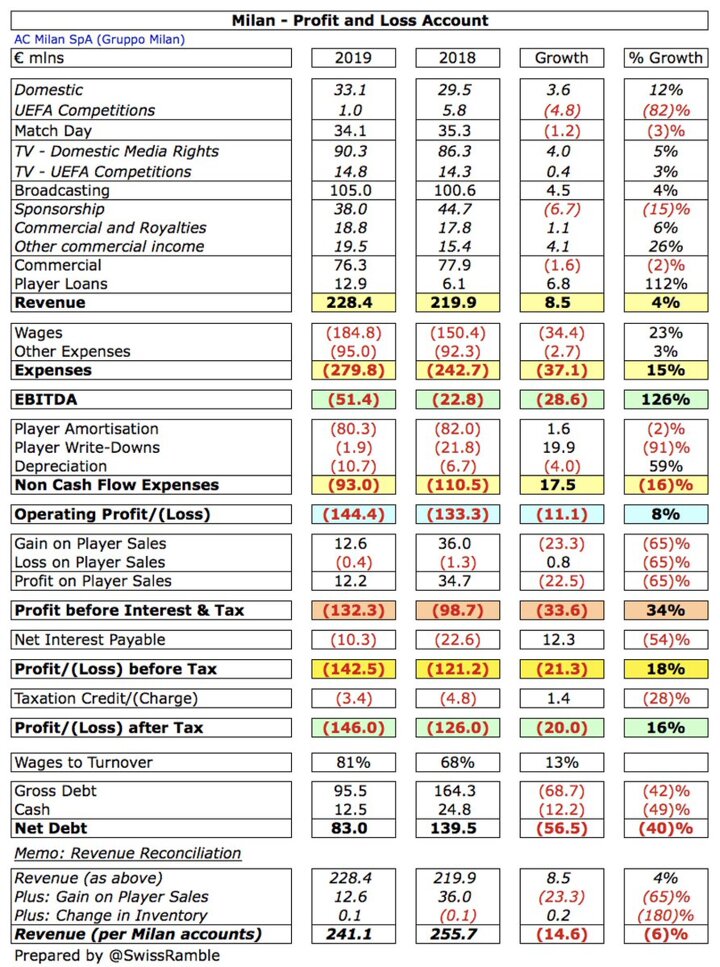 During that time, Chinese businessman Yonghong Li has taken over the club (2017) using loans from American fund Elliott Management, before defaulting on their repayment which meant Elliott seized control of the club.
Below, Twitter account The Swiss Ramble has highlighted all the key figures from Milan's 2018-19 accounts, and they make for pretty grim reading.
It is worth noting that the 2018-19 campaign was Elliott's first in charge of the club, and they have set about attempting to decrease losses and increase revenues in order to improve the financial health of the Rossoneri.
ACMilan's 2018/19 accounts cover a season when they finished 5th in Serie A, their best result for 6 years, but were eliminated at the group stage of the Europa League. Also their first under the ownership of American hedge fund, Elliott Management Corporation. Some thoughts follow.
This was the third different set of Milan owners in 3 years. Silvio Berlusconi sold the club to Li Yonghong in April 2017, partly funded by high-interest loans from Elliott. However, after the Chinese businessman missed a loan repayment, ownership passed to Elliott in July 2018.
Milan loss before tax widened from €121m to €143m, the worst result in the club's history, despite revenue rising €8m (4%) from €220m to €228m, as profit on player sales fell €23m to €12m. Post-tax loss was up €20m from €126m to €146m.
Milan's largest revenue increase came from player loans, up €7m to £13m, though broadcasting also rose €4m (4%) to €105m. On the other hand, commercial dropped €2m (2%) to €76m, while match day fell €1m (3%) to €34m.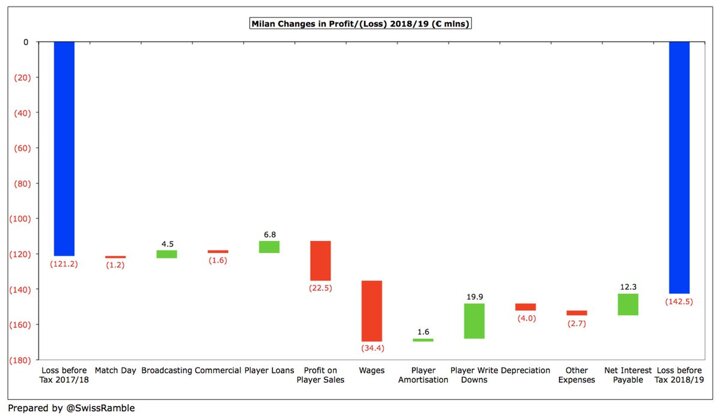 As a technical aside, this "international" definition of Milan's €228m revenue is different to the one used in club's accounts, which also includes €13m gain on player sales plus a tiny increase in asset values, giving revenue of €241m, down €15m (6%) from prior year €256m.
Following major investment in the squad, Milan's wages rose €34m (23%) to €185m, though player amortisation fell €2m to €80m. However, player write-downs were down €20m and net interest was cut €12m (54%) to €10m. Other expenses included €13m player loans (mainly Higuain).
Unsurprisingly, #Milan's shocking €143m pre-tax loss is the worst in Italy by some distance, around €100m more than their rivals Inter €40m, then Juventus €27m. In stark contrast, Atalanta reported the highest profit €35m, while also qualifying for the Champions League.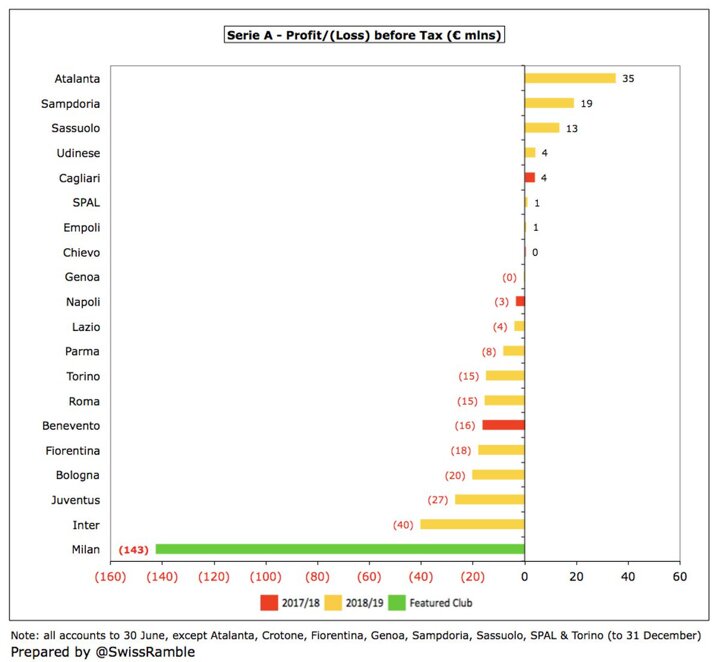 The situation is much the same after tax with Milan again "leading the way", though €3m tax charge resulted in larger €146m deficit. Milan's loss is actually more than the combined deficits at Inter €48m, Juventus €40m, Roma €24m, Lazio €13m, Torino €12m and Napoli €6m.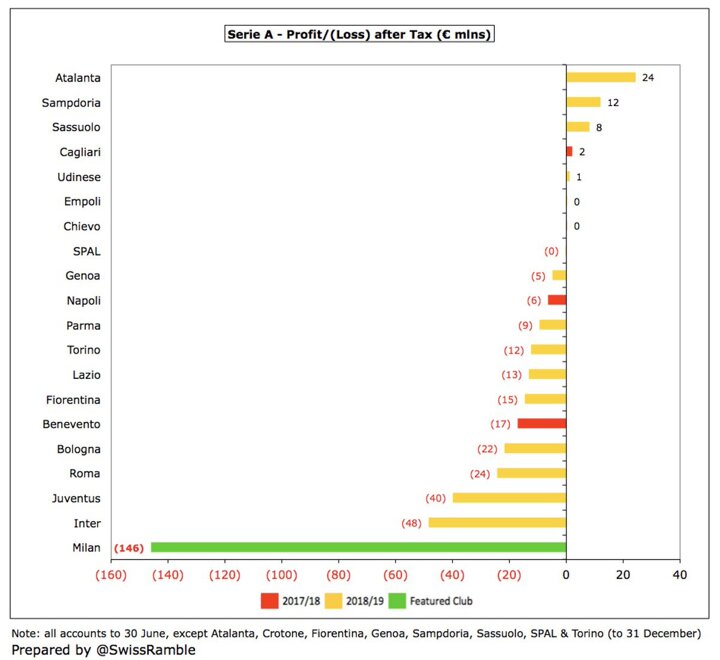 Milan's huge loss was not helped by profit on player sales falling €23m from €35m to €12m, mainly from Manuel Locatelli to Sassuolo. This was one of the smallest gains from this activity in Italy, significantly lower than profits reported by Roma €129m and Juventus €127m.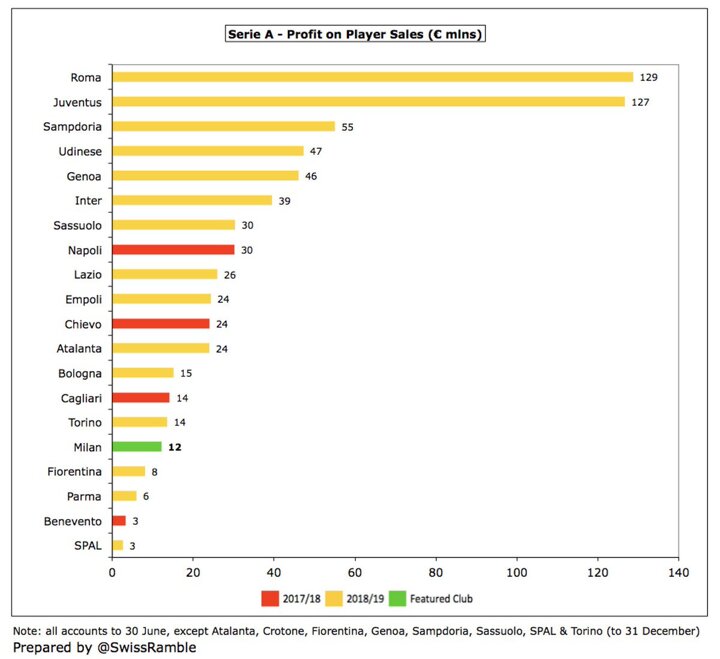 Milan have lost an incredible €543m in last 6 years (before tax). In fact, it's only 5.5 years, as 2017 was 6 months after change in accounting date from December to June. As president Paolo Scaroni wryly said, "Making profits is not easy. This is the great challenge we have."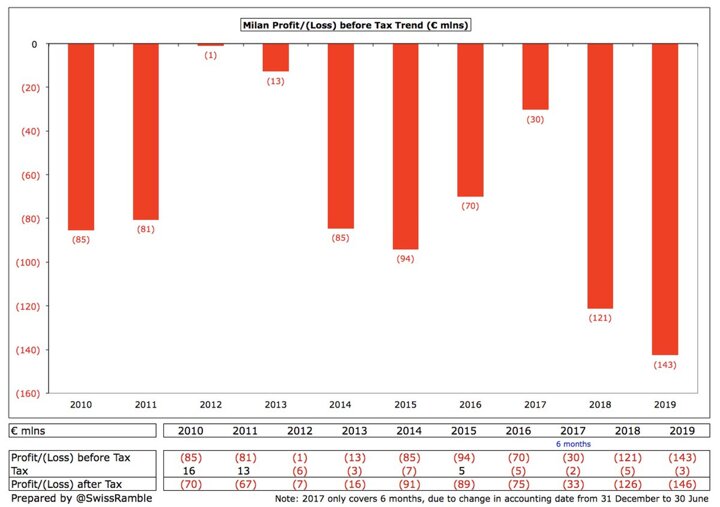 It is worth noting the impact of exceptional costs. In particular, Milan 2018 accounts had €22m player write-downs (mainly Bacca & Kalinic) and €18m provisions for management changes, UEFA FFP fine, etc. The fact that 2019 only included €9m makes the performance even worse.
Unlike many leading clubs, Milan have made very little from player sales. In fact, they have only averaged €11m profit a year since 2014, including actually losing money in two of those years. This is about a third of the €31m reported in the preceding 4-year period.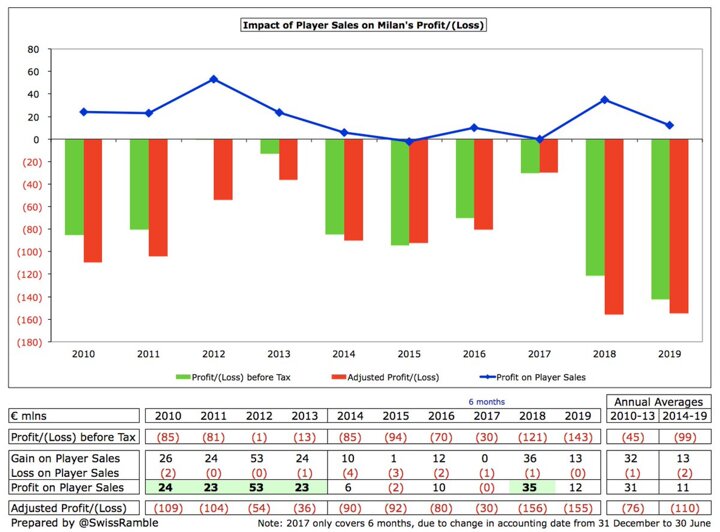 One of the reasons that Milan have struggled financially is they have been very bad at selling players. In last 5 years, they have only made €55m profit here, which is miles below Juventus €417m, Roma €391m and Inter €185m. For more perspective, less than half Lazio €120m.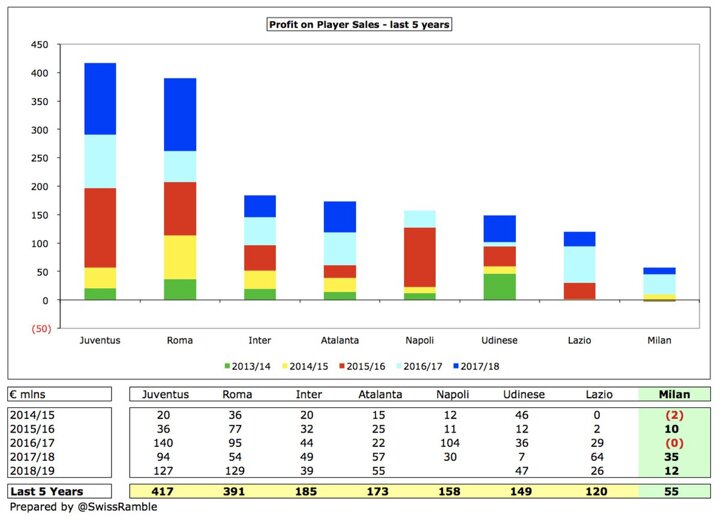 Milan EBITDA (Earnings Before Interest, Tax, Depreciation & Amortisation), a proxy for cash operating profit, fell from €(23)m to €(51)m in 2019. This was as high as €29m in 2013, but has been steadily declining since then.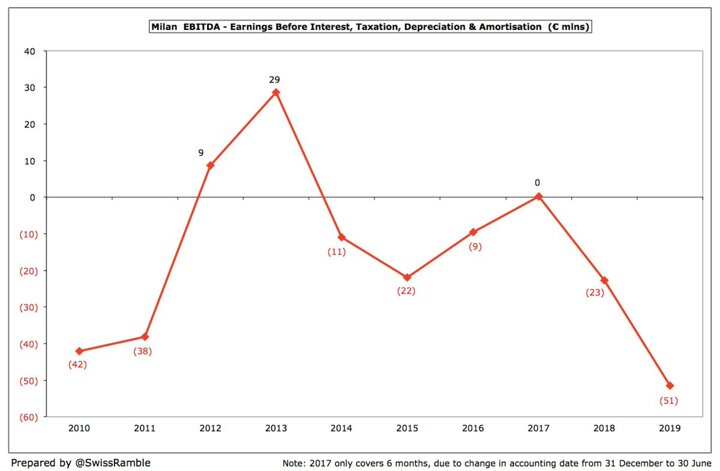 In fact, Milan's EBITDA of €(51)m is the worst in Serie A, a fair way lower than Roma €(29)m. It must be particularly galling that their local rivals Inter have the highest EBITDA in Italy with €81m, followed by Juventus €36m.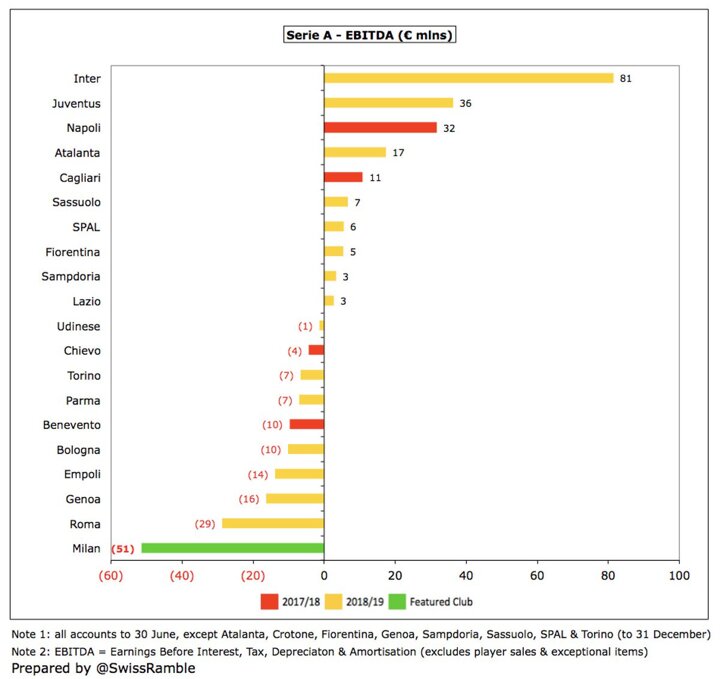 Milan's ongoing revenue declined €39m (15%) since 2012 from €268m to €228m, mainly due to not qualifying for the Champions League, which has driven €35m reduction in broadcasting and €17m fall in commercial. By club's definition, revenue down €88m (27%) from €329m to €241m.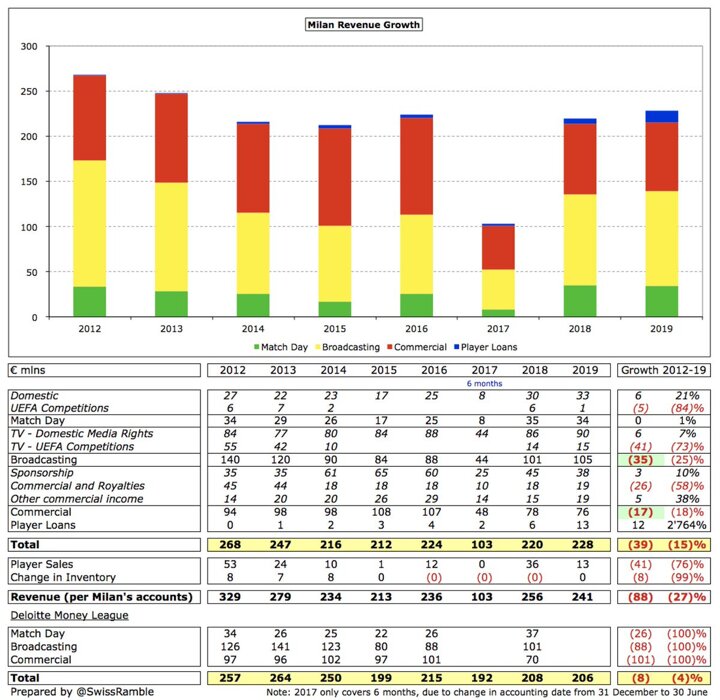 As a result, Milan's €228m revenue is less than half of Juventus €494m and around €150m below Inter €370m. They have also been overtaken by Roma €236m, though are still just ahead of Napoli €207m.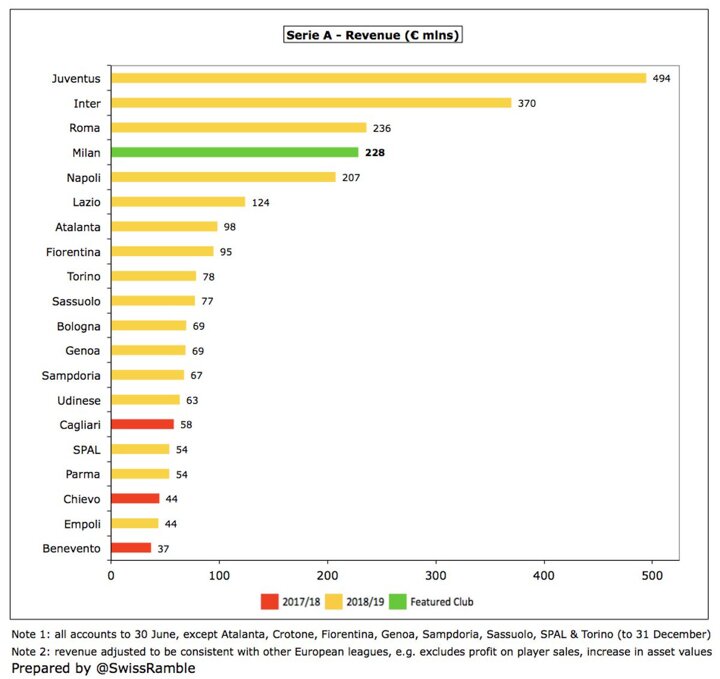 Excluding player loans, Milan are the only leading Italian club to see their revenue fall over the last 3 years – by €8m (4%). In contrast, Inter's revenue has more than doubled in this period, rising €185m (driven by Chinese funds), while Juventus have grown €119m.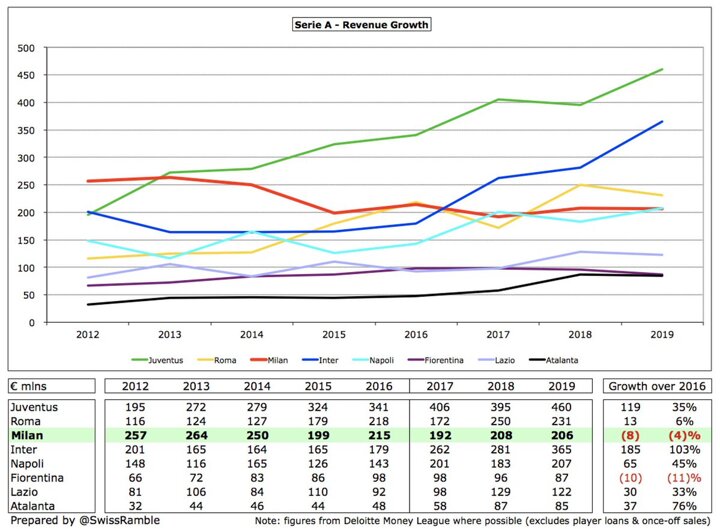 Milan dropped 3 places from 18th to 21st in the Deloitte Money League, which ranks clubs worldwide by revenue. As Scaroni said, "Why are Milan not doing well? Milan have €200m revenue and Real Madrid €700m. It means they can buy better players and pay them more."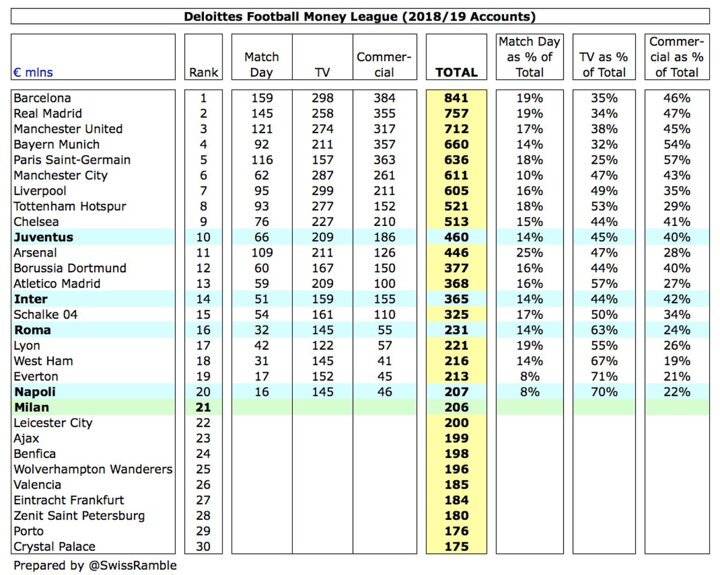 It used to be Milan calling the shots when they were much stronger financially. In 2004 they were ranked 3rd in the Money League, generating €83m more revenue than the 10th placed club. Since then, they have dropped 18 positions to 21st and are now €254m below 10th place.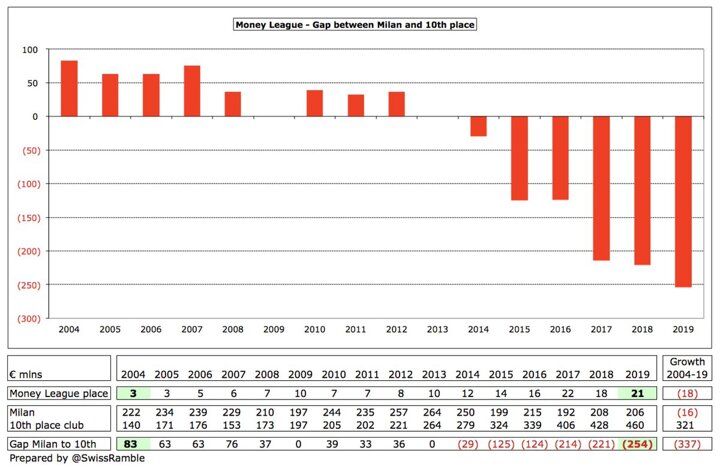 Milan's broadcasting revenue increased €4m (4%) to €105m, due to higher domestic TV, up €4m to €90m, though there was a slight increase in Europa League distributions to €15m. However, the top four earn much more: Juventus €207m, Inter €153m, Napoli €145m and Roma €145m.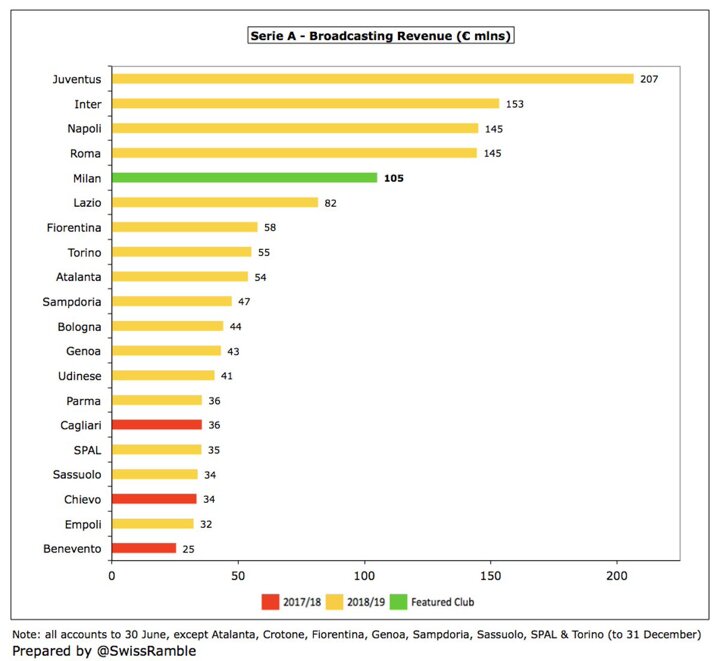 The increase in Milan's domestic TV revenue is due to the higher 2018/19 deal plus a changed distribution mechanism: 50% equal share; 30% performance (15% last season, 10% last 5 years, 5% historical); and 20% supporters. Benefited from equal share increasing from 40% to 50%.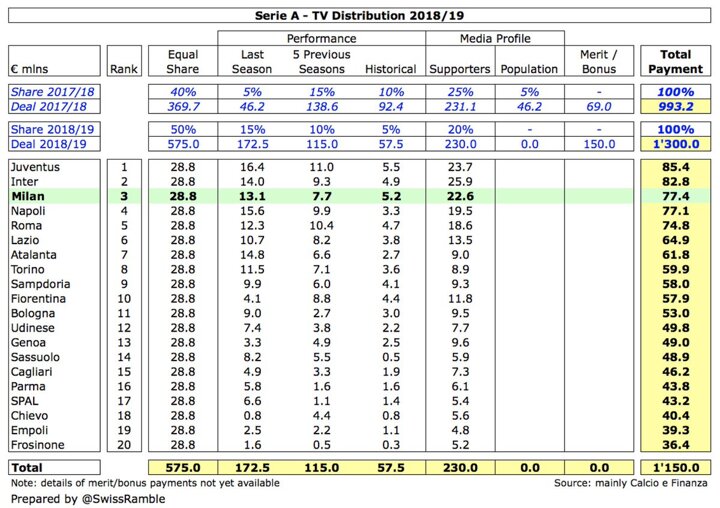 Milan earned €15m from the Europa League, but this almost pales into insignificance compared to hefty amounts earned by Italy's Champions League representatives: Juventus €96m, Roma €58m, Napoli €57m & Inter €52m. One-year Europe FFP ban means will receive nothing in 2020.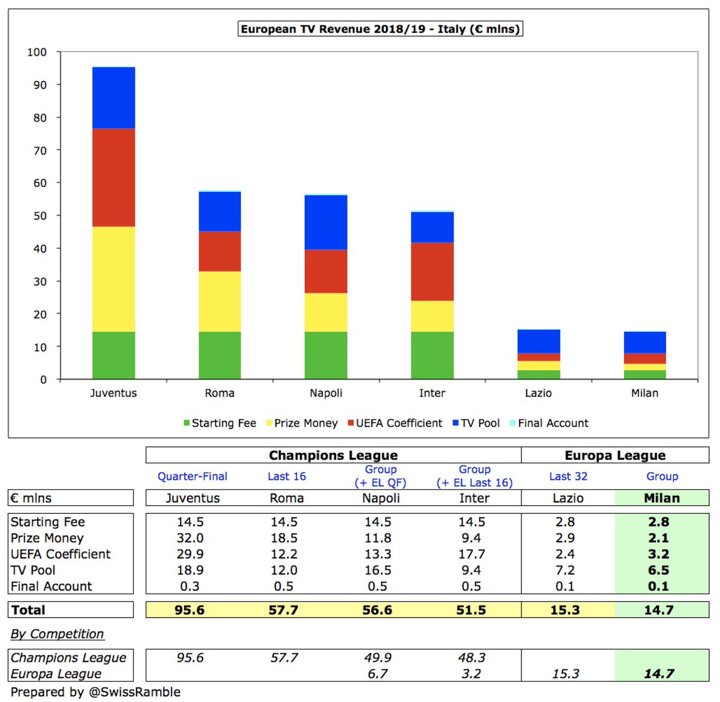 In the Europa League Milan did not progress beyond the group stage, despite winning 3 matches. Their €14.7m earnings were split: starting fee €2.75m, prize money €2.1m, UEFA coefficient €3.2m and TV pool €6.5m. Lazio received €15.3m for reaching the last 32.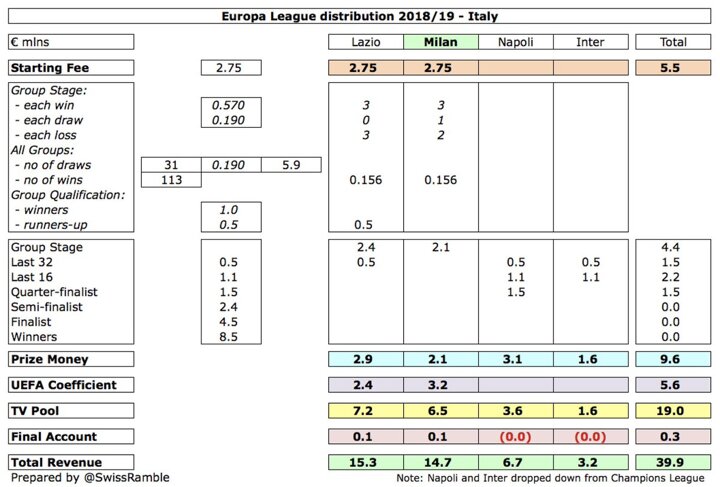 Milan have only received €29m from Europe since 2015, all of which came in the last 2 seasons. This is miles behind Juventus €451m, Roma €285m and Napoli €188m, due to those clubs consistently qualifying for the Champions League in recent times.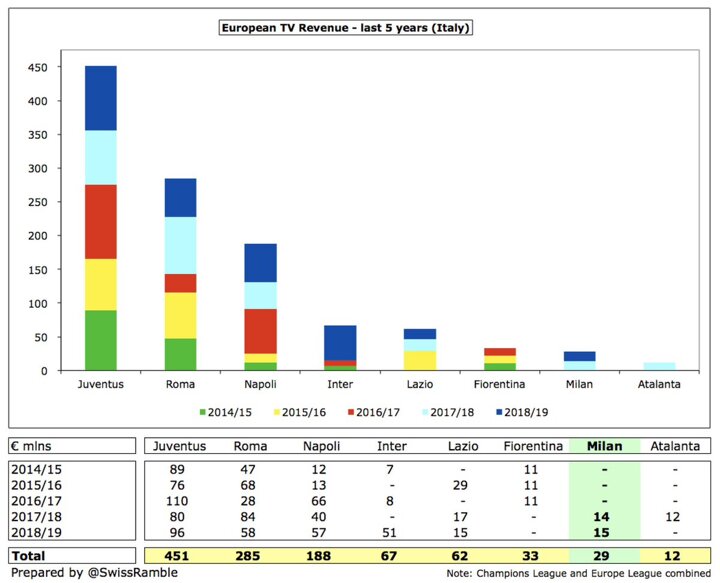 The (financial) importance of Champions League qualification has never been higher, as revenue rose 54% in 18/19, due to new commercial deals. However, the TV pool element, which has been good for Italian clubs in the past, has been largely replaced by UEFA coefficient payment.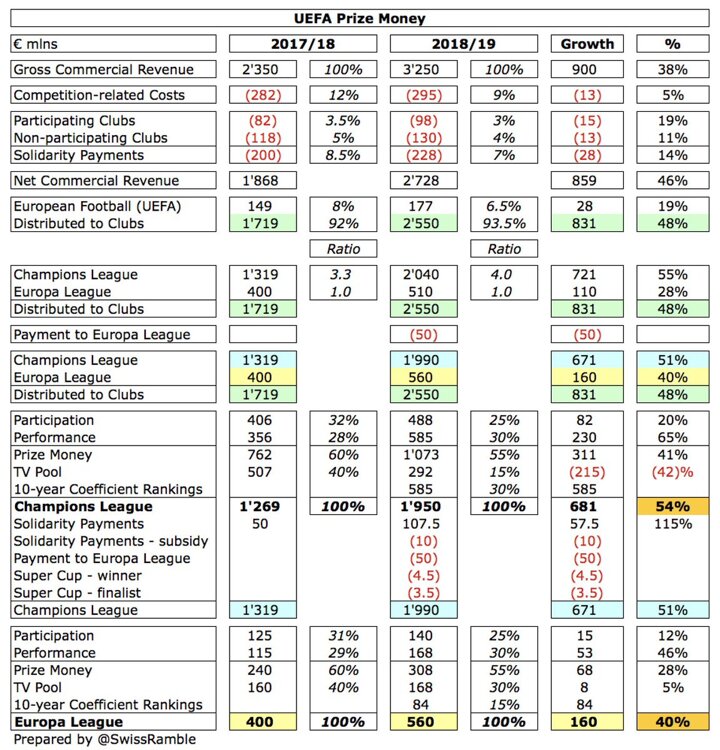 This change in distribution rewards the traditional big clubs, as UEFA coefficient is based on a club's 10-year performance in Europe. However, Milan's ranking of 4th in the Europa League was only worth €3m, while Juve's ranking of 6th in the Champions League earned them €30m.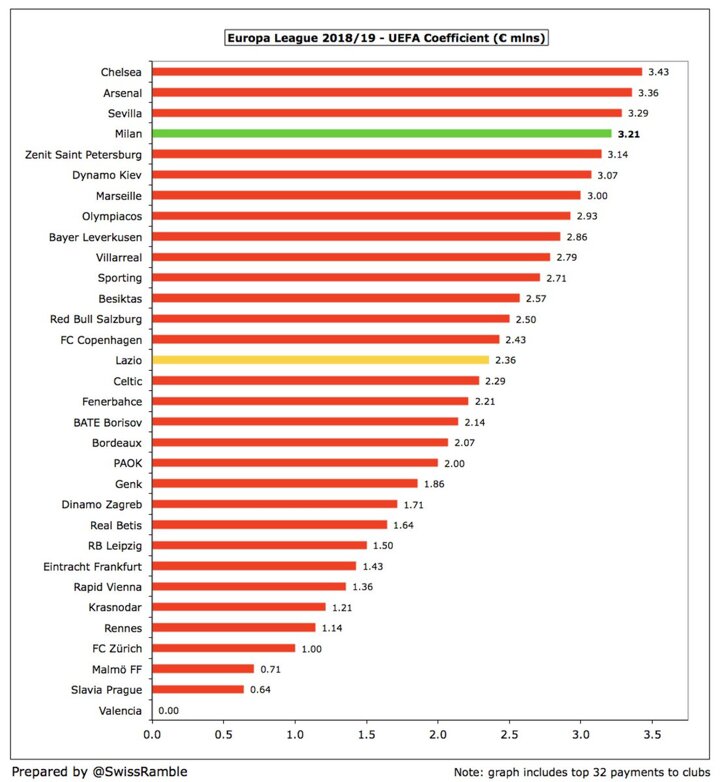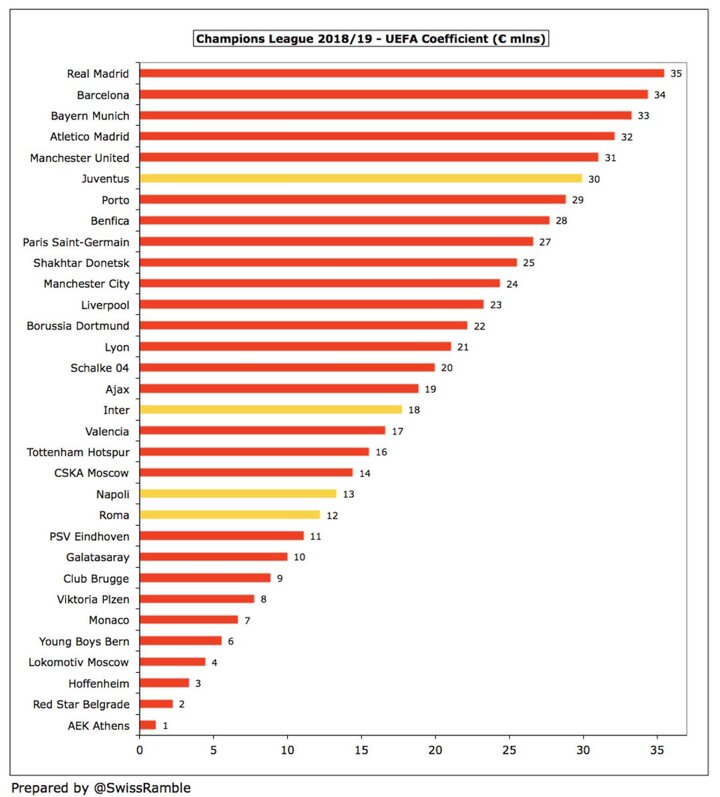 Milan's match day income fell €1m (3%) to €34m, as €4m increase in domestic, due to "dynamic pricing", was more than offset by €5m decrease in Europe, due to 4 fewer home games. They were a fair way below leaders Juventus €71m and Inter €47m.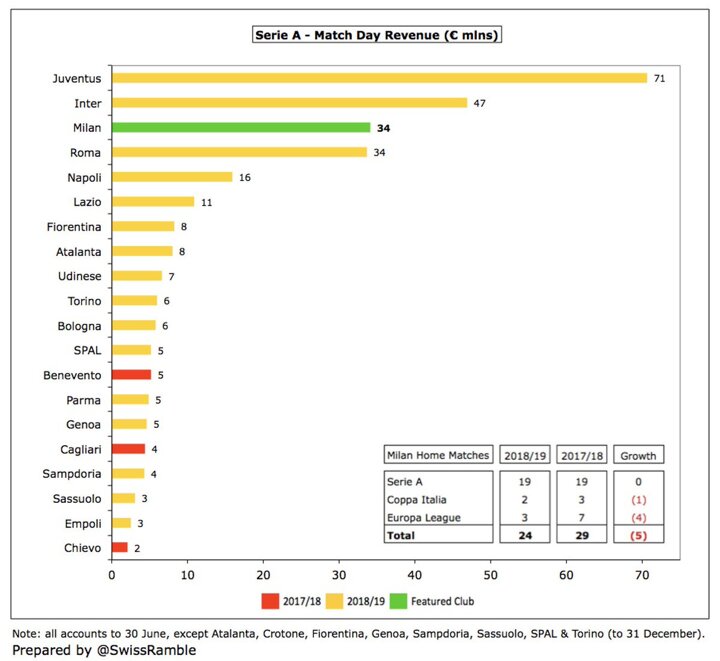 Milan's average attendance increased from 52,676 to 54,639, which is the second highest in Italy, just behind Inter 56,639, then there is a big drop to Juventus 39,193 and Roma 38,622.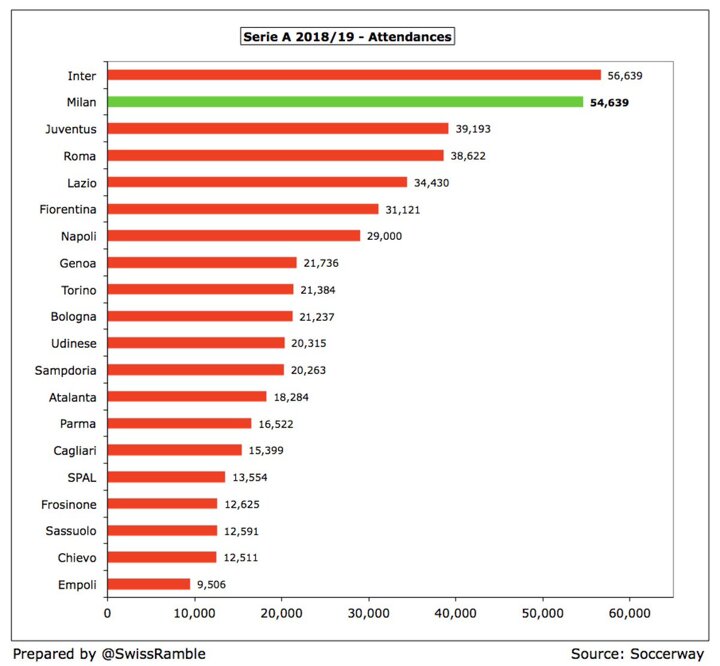 Milan and Inter have been working on a joint project to build a new stadium. After lengthy discussions with the local authorities, it looks like a solution might have been found, which will preserve part of the iconic San Siro. Discussions continue.
Milan's commercial income fell €2m (2%) to €76m, mainly due to lower sponsorship. This is the third highest in Italy, but is significantly behind Juventus €187m and Inter €166m. In fact, the shortfall is now €90-110m, as Milan have lost much of their brand appeal.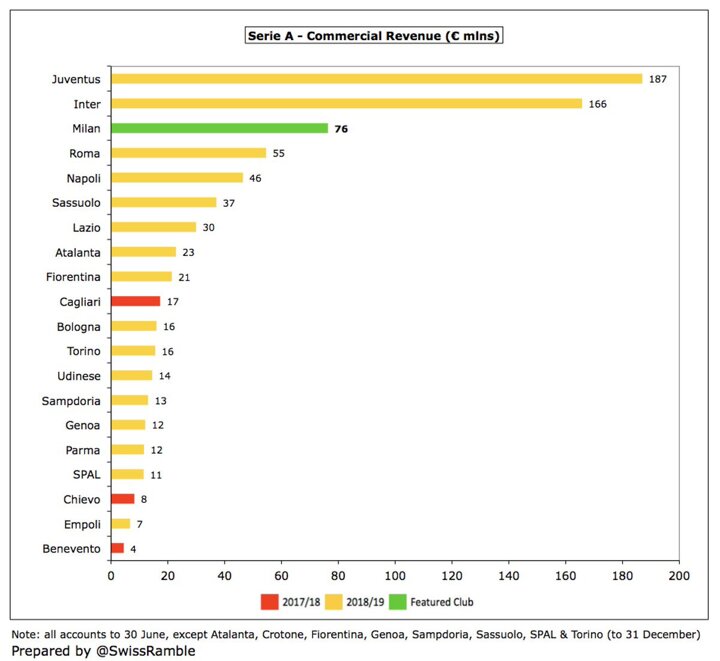 Just 4 years ago Milan's commercial income was the highest in Italy, but has dropped €32m since then, while Juve and Inter have both grown by around €110m in the same period. They had €56m more than Inter, but are now €89m behind their rivals. Return to the CL is imperative.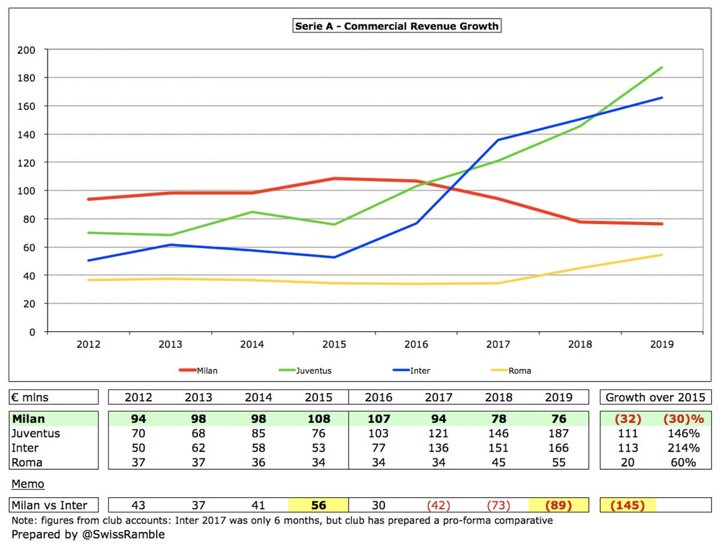 Milan will be looking for improvement when the €14m shirt sponsor deal with Emirates runs out this June, e.g. Juve's Jeep deal is €42m, though they're not in a strong negotiating position. New Puma deal in 18/19 is worth €11m, about the same as previous Adidas agreement.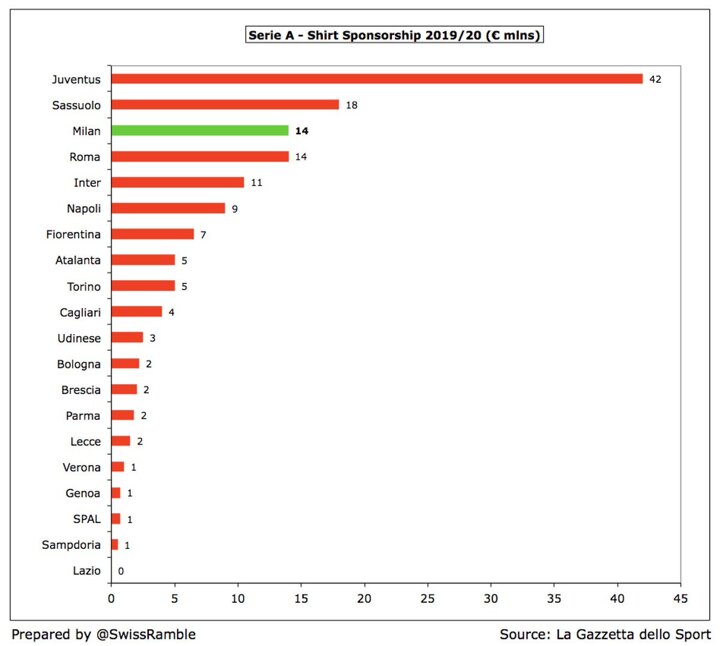 Milan's income from player loans income more than doubled from €6m to €13m, mainly from Andre Silva and Gustavo Gomez. This is an important revenue stream for some Italian clubs, e.g. Juventus €30m, Atalanta €13m, Genoa €9m and Fiorentina €7m.
Milan's wage bill rose €35m (23%) from €150m to €185m, increasing the wages to turnover ratio from 68% to 81%. Following decreases in line with the revenue fall, wages have now climbed back to the same level as 2012.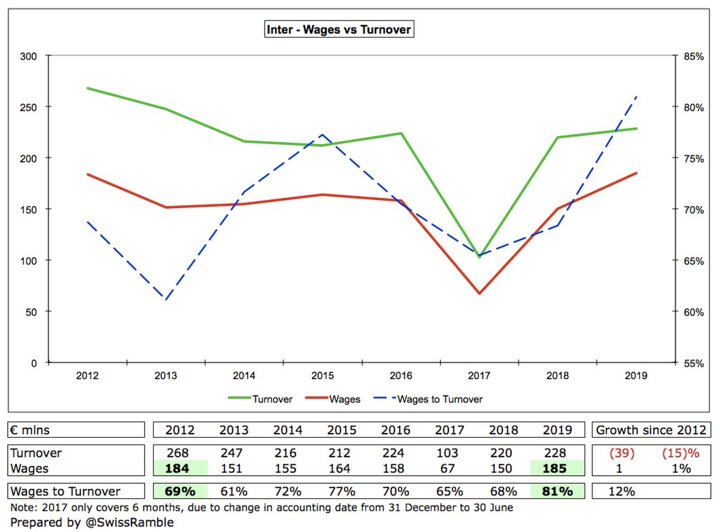 Milan wages have grown €21m (13%) in 3 years, but they have been comfortably outpaced by Juventus €106m (48%) and Inter €68m (55%). Also lower growth than Napoli €33m, Roma €29m and Lazio €27m.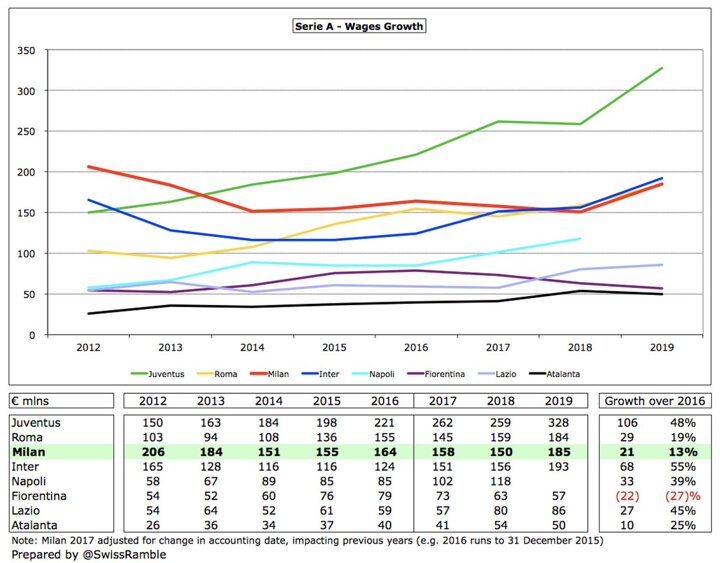 Nevertheless, Milan'ss €185m wage bill is still the third highest in Italy. They are a long way below Juventus €328m, but around the same level as Inter €193m and Roma €184m.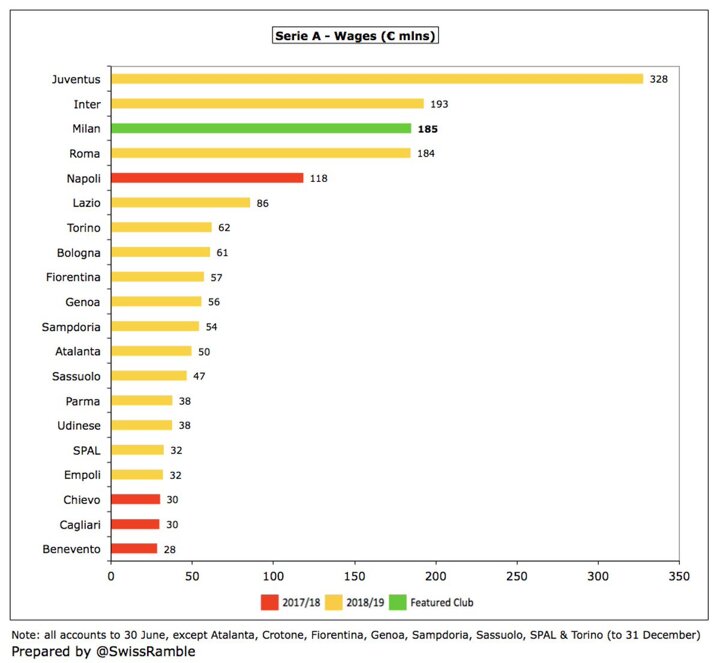 However, Milan's wages to turnover ratio of 81% is the third highest (worst) in Italy, only surpassed by Bologna and Genoa. This is a lot higher than Juventus 66% and, especially, Inter 52%, but Roma 78% is almost as bad. CEO Ivan Gazidis: "we have to spend more efficiently."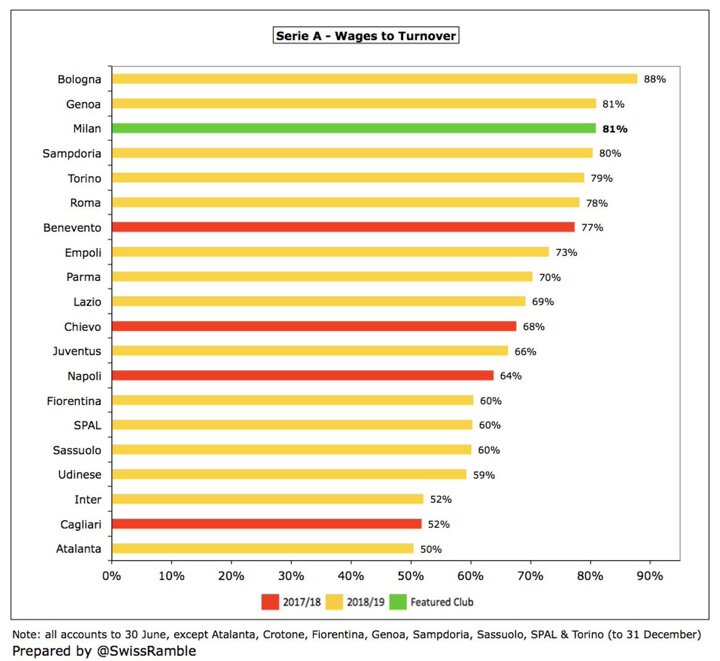 Milan's player amortisation, the annual cost of writing-off transfer fees, fell €2m (2%) from €82m to €80m, though this expense has pretty much doubled in just three years (from €44m in 2016) after the recent transfer campaigns.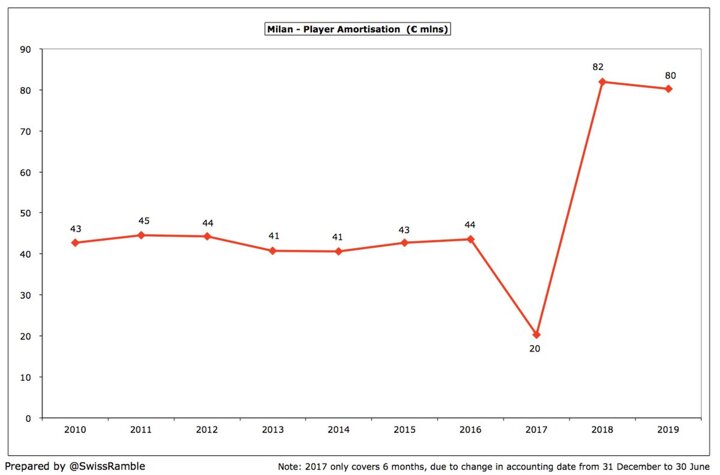 Milan's player amortisation of €80m is the fourth highest in Italy, just below Inter €85m and Roma €83m, though they are all miles behind Juventus €149m.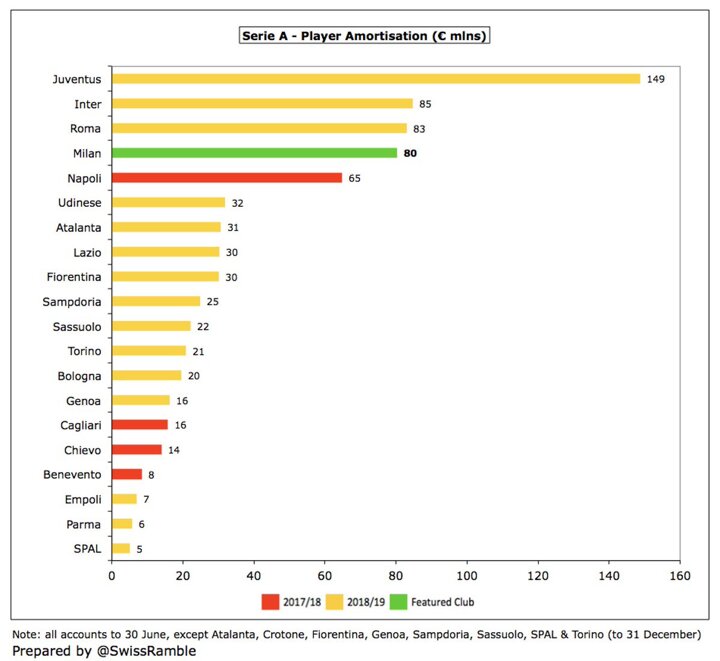 Milan have really ramped up their expenditure in the transfer market with total net spend of €387m in the last 5 years (gross €606m), compared to only €27m in the preceding 5 years.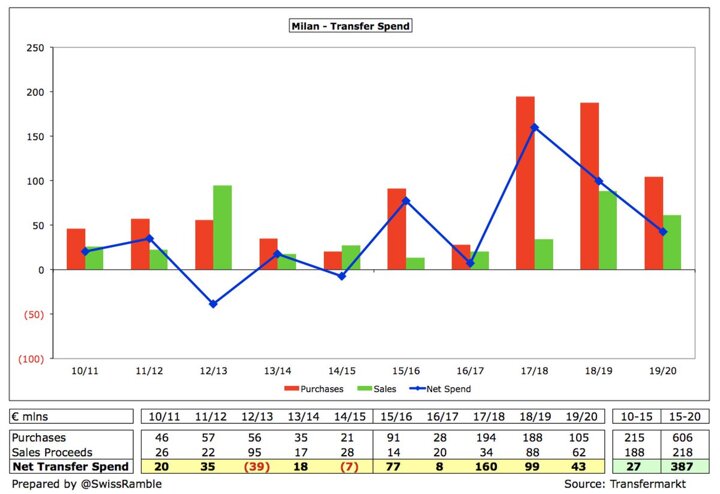 In fact, over the last 5 seasons, Milan have the highest net spend in Serie A with their €387m ahead of Inter €315m, Juventus €284m and Napoli €161m. In contrast. Roma had net sales of €64m.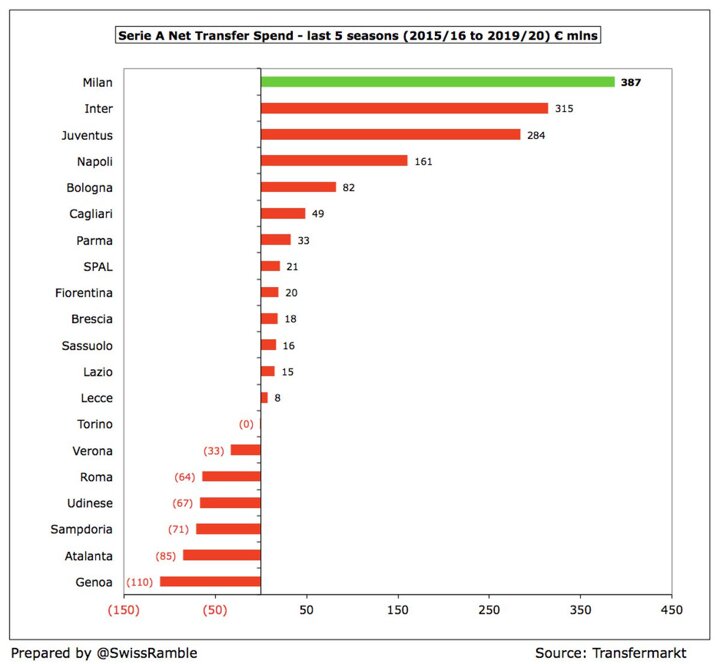 However, in terms of gross spend Milan's €606m were outpaced by both Juventus €998m (partly the Ronaldo factor) and Inter €672m. In 2018/19 player purchases included Paqueta, Piatek, Caldara, Castillejo and Laxalt.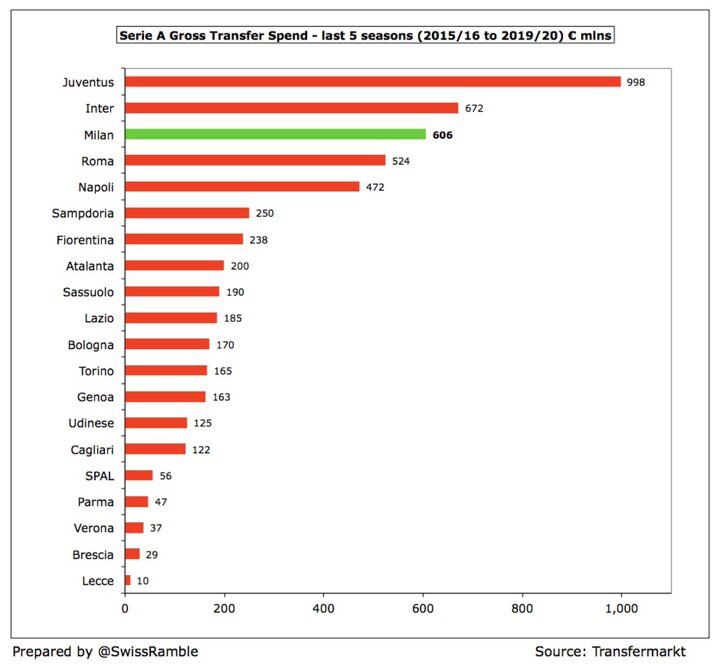 Milan's net debt reduced by €56m from €139m to €83m, as gross debt was cut by €68m from €164m to €96m, but cash fell by €12m from €25m to €13m. Repaid €117m bonds and €10m shareholder loans, but financial liabilities jumped €58m to €94m. Debt down from €260m in 2013.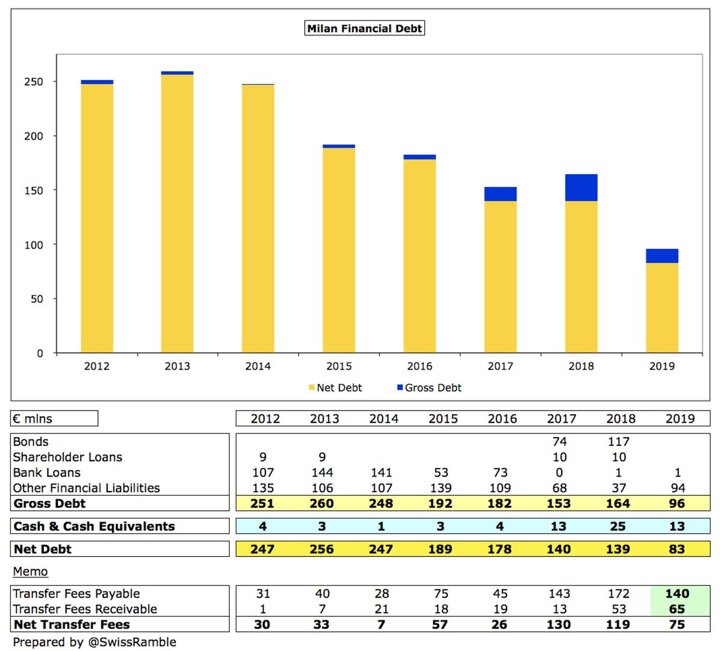 Milan €96m gross financial debt is by no means the highest in Italy, as Juventus €473m and Inter €461m are both approaching half a billion Euros. The only other Italian club with debt above €100m is Roma with €255m.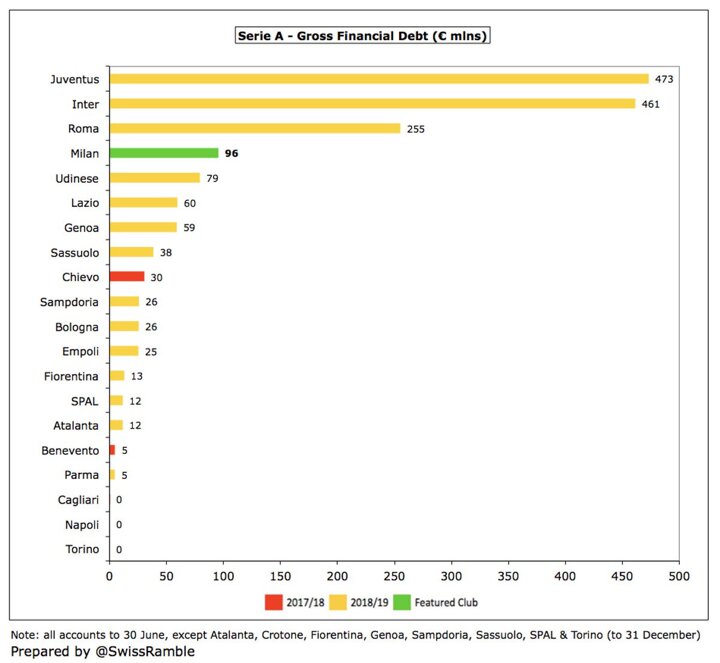 Thanks to Elliott's early repayment of the bonds, Milan's net interest payable more than halved from €23m to €10m. This is the fourth highest in Italy, but a lot better than Inter €29m and Roma €28m.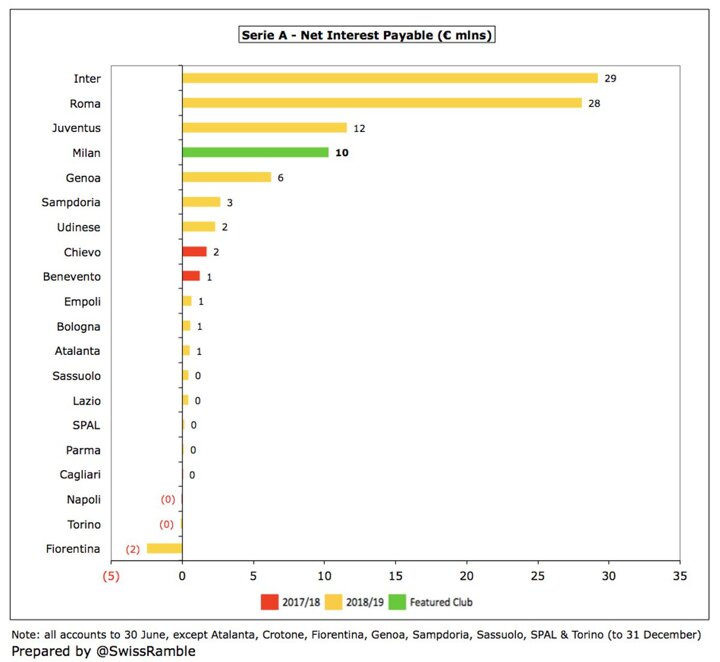 Milan also owe €140m in transfer fees, though are in turn owed €65m by other clubs, so net payable is €75m. Their gross transfer debt is almost identical to Inter €135m, but is lower than Juventus €221m and Roma €164m.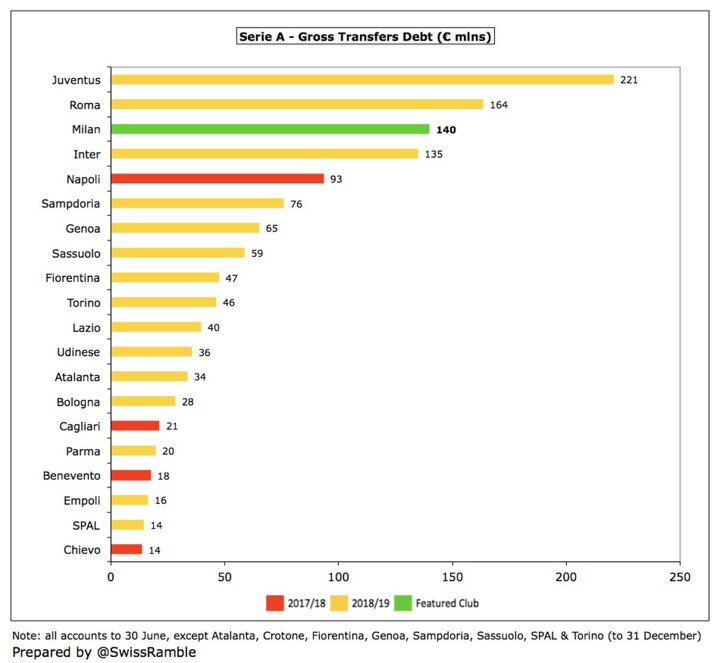 Milan have been very reliant on increases in capital from their owners, including €265m from Elliott in 2018/19 alone. Since 2014 their various owners have had to put in over €600m to cover the club's large losses.
Milan have had problems meeting Financial Fair Play regulations, initially resulting in UEFA banning them for 2 years from European competitions. This was overturned by CAS, but the club eventually agreed a 1-year ban, missing out on the Europa League in 2019/20.
Scaroni pointed out the implications of FFP, "This means that a patron who invests a billion and buys players is no longer possible. You can buy players and play them only if you make profits, and making profits is not easy. This is the great challenge we have in front of us."
Gazidis said, "Elliott wants to take this club back to the top of Italian and world football", but it will not be easy for them to revive this fallen giant. Milan's finances absolutely require them to perform on the pitch, as commercial income needs the Champions League to recover.