Circumstances have sometimes gone against Joao Felix through the early stages of his career with Atletico Madrid, making this a very mixed debut season in Spain for the promising 20-year-old.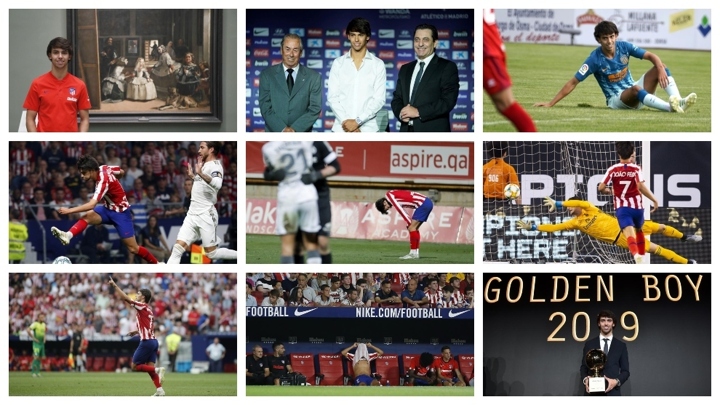 There have been flashes of brilliance, which have taken the breath of supporters away.
However, it has been very mixed and here we look at the highs and lows that he has experienced so far.
A legendary presentation
Joao Felix was presented at the Estadio Wanda Metropolitano along with club legends Paulo Futre and Enrique Collar.
During the ceremony, Felix said that he didn't feel any pressure from the size of the transfer fee and that he was merely thinking about playing football.
The first alarm bells
He was barely 28 minutes into his debut in pre-season when Felix showed signs of his quality, but an ankle injury forced him off the pitch prematurely.
That was the first indication that his season wouldn't be an easy one.
The derby win in the USA
Felix recovered and shone head and shoulders above everyone else when Atletico Madrid defeated rivals Real Madrid in New Jersey in pre-season.
Felix scored a goal and added two assists in the 7-3 victory, leaving fans thinking the second coming of Antoine Griezmann had arrived.
Doubts
As LaLiga Santander started, Los Colchoneros started the season in a winning manner but Felix wasn't playing well.
Diego Simeone wasn't afraid to substitute the club's record signing.
His first goal
The Portuguese international scored his first goal in a competitive match against Eibar and his participation in that comeback victory was noted.
A match vs his idol
Atletico Madrid were drawn in the same Champions League group as Juventus, the team that had eliminated them in 2018/19.
Felix was underwhelming as he went up against his idol in Cristiano Ronaldo.
His only LaLiga derby
Felix has only been able to play in one of the two derby matches against Real Madrid this term, but his display was far below what was shown against Los Merengues in pre-season.
He didn't shine on the pitch.
Injuries
Shortly before the end of the game against Valencia, Felix suffered another ankle injury which left him out of action for the next six matches.
This was one of four injuries which have hindered the Portuguese forward's progress this term.
Golden Boy
In the voting for the 2019 European Golden Boy awards, Felix finished above Jadon Sancho and Kai Havertz, taking 332 votes to secure the honour.
A display of strength in Saudi Arabia
In the Supercopa de Espana, Felix showed the world that he is a footballer with character.
He didn't fold in the face of pressure from Lionel Messi and didn't back down when the entire Barcelona squad surrounded him.
Atletico progressed through to the final and Simeone was impressed by Felix's commitment.
A first knockout
Being eliminated from the Copa del Rey by a lower league team in Cultural Leonesa was a low point in the campaign and Felix's most difficult night.
He played poorly against the lower league team and it showed.
Back to his best
Shortly before COVID-19 arrived in Europe, forcing football to be stopped in Spain, Felix was showing his talent and was back to his best.
He returned from injury against Villarreal and was 'Man of the Match', scoring a goal and earning the praise of his teammates and respect of his coach.
Further frustration
In the match against Real Mallorca, Felix suffered another injury and he was angry when he was substituted in the match.
The period after lockdown has shown promising moments for the youngster, as well as some lingering negatives.