Sergio Ramos turns 35 this Tuesday and he'll celebrate his birthday with his international teammates in Seville, his city.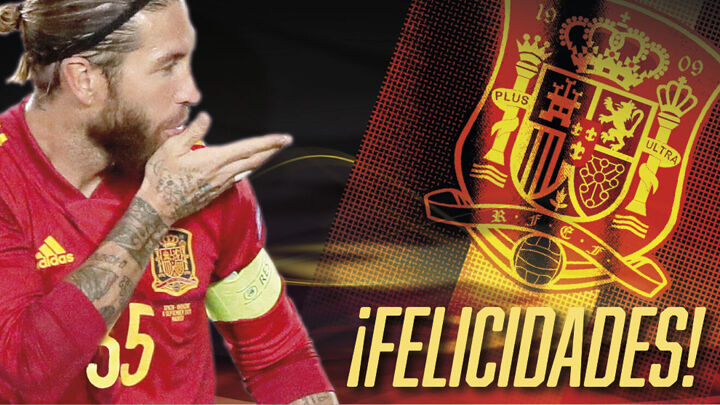 His birthday falls at the beginning of Holy Week, which has increased significance for Ramos' Spain career. On Holy Saturday in 2005, he made his first appearance for La Roja and he hasn't looked back since. Now, he's accumulated an incredible 179 international appearances.
It was in March 2005, during his time at Sevilla, that Luis Aragones handed him is debut as a 19-year-old kid. It came in a friendly against China and he came off the bench to replace Carles Puyol. Days later, he started for the first time in Belgrade at right-back.
"It has been an amazing experience," Ramos said at the time, enjoying his 19th birthday.
"The atmosphere within the team is wonderful and I can assure you that we're all motivated to do something important.
"We've worked very well and I think we have quality players. We have to work hard to do something big, but we have the goal of doing that."
That promise was fulfilled between 2008 and 2012, as Spain did the unthinkable by winning back-to-back European Championships, with a World Cup success sandwiched in between. Now, Ramos turns 35 with the Spanish shirt as part of his skin.
His 17 years with Spain
His appearance against Greece made it 17 consecutive years in which he has represented his country, which he now captains. A 17-year long international career is matched by only Ricardo Zamora, who played 46 times between 1920 and 1936, and Iker Casillas, who debuted in 2000 and played his last game in 2016.
Both Paco Gento and Xavi Hernandez played for Spain for 15 years and Luis Suarez was part of the national team setup for 16. He, though, spent six years without a call up - not featuring from June 1966 until April 1972.
Ramos' birthday bash
To mark the occasion of his birthday, Ramos can hit 180 caps against Kosovo, which would leave him just four games off a record that he has had his sights set on for a while now - that is to take Ahmed Hassan's record as international football's most capped player.
At 35, Ramos is still setting goals and he's not slowing down with age. His 180 caps stand out, particularly in a Spain squad that has seen a lot of new faces come into the setup.
Ramos is focused firmly on the future, and not the past. He's set to play in his fourth European Championship and he already has 15 appearances in the competition, leaving him just one shy of Andres Iniesta and Cesc Fabregas' 16.
At World Cups, he has equalled Casillas' 17 and he'll want to break that record in Qatar next year.