In the absence of Lionel Messi, Antoine Griezmann was expected to step up against Eibar and lead the way for Barcelona. Yet the Frenchman wasn't able to do so and his side were held to a 1-1 draw against the Basque outfit.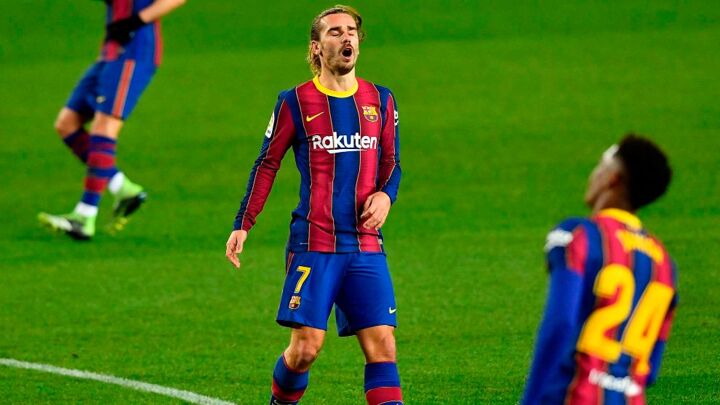 This is the latest setback for Griezmann, who seems to have fallen out of form again after his brief bright spell in the immediate aftermath of his clear-the-air interview with Jorge Valdano.
The 29-year-old had played and played poorly in the home draws with Valencia and with Eibar, as well as in the 3-0 Champions League defeat against Juventus that cost the Blaugrana top spot in their group and that means they'll have to tackle Paris Saint-Germain in the next round.
On the other hand, Griezmann didn't play a single minute of the recent 3-0 win away at Real Valladolid in which Barcelona delivered one of their best performances of the season in a new three-at-the-back system.
Ronald Koeman used that system again on Tuesday night against Eibar, this time starting Griezmann in the injured Messi's place, but it wasn't the same.
It's true that Real Valladolid and Eibar are stylistically very different and that the efforts of the Basque side also explain the different outcome, but Griezmann also had a far smaller impact than Messi had at the Estadio Jose Zorilla.
It's getting to the point where Barcelona fans must be wondering why the No.7 is still starting for the team.
When he plays with Messi, the two seem to clash footballistically. Then, even when Messi isn't there, Griezmann isn't able to assume control of the team in the same way.
Koeman often takes the misfiring forward off before the end of matches, with Griezmann having been substituted off 13 times so far this season from his 17 starts. On Tuesday, this was the latest example of that as he came out on 66 minutes.
Only twice has the Frenchman been brought on as a substitute, as he either tends to start or not be introduced at all.
On one of those occasions, his skill saw him take advantage of a tired Dynamo Kyiv side to score the last goal of the 4-0 away win in the Champions League.
He wasn't signed to be a super sub, but maybe this is a role Griezmann can play more often.
Starting him with or without Messi hasn't been working.